DRESSING TABLE NECESSITIES IN 1897
Various Articles for Making a Lady's Toilet
A sensible girl will not keep a lot of cosmetics and drugs on her toilet table, but there are a few articles she should always have in a convenient place.
She should have an array of glass-stoppered bottles containing alcohol, camphor, glycerine or vaseline, alum, borax and ammonia.
Camphor for the mouth and throat
A little camphor and water should be used as a wash for the mouth and throat if the breath is not sweet.
Powdered alum applied to a fever sore will prevent it from becoming unsightly or noticeable.
Insect stings or eruptions on the skin are relieved by alcohol.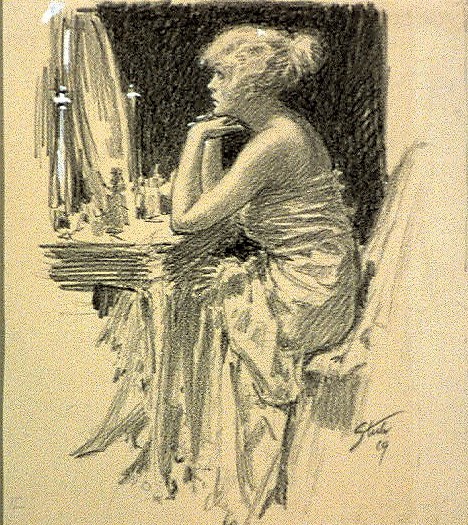 Picture entitled "God knows why they all show at once. I'm not old enough to look like a hag" by Frederic Dorr Steele (Library of Congress)
Remedies for perspiration
A few grains of alum in tepid water will relieve those whose hands perspire freely. A few drops of sulphuric acid in water are also beneficial for this purpose, as well as desirable for washing the feet when they perspire freely.
In addition to soap for bathing, white castile should be kept for washing the hair. Occasionally a little borax or ammonia may be used for this purpose, but care should be taken in their application, as they are rather harsh in their effects.
A little fresh cold cream should be kept on the toilet table during the cold weather, and applied to the lips and hands every night if the skin seems at all rough or chapped. (New York Sun)
VINEGAR OF THE FOUR THIEVES: Recipes & curious tips from the past Do you want to know Thomas Jefferson's recipe for Vinegar of the Four Thieves or how to make Ox Tail Soup?
Have you ever had 'blueberry pickles', 'batallia pie' or 'snow birds'? You will learn all this and more in "Vinegar of the Four Thieves." This book is a collection of household tips, medical cures, clothing care and old recipes from the 1800's and 1900's. Many of the tips, such as the household cleaners, cooking tips and ways to control pests, still work and are helpful in today's 'green' environment while others such as 'how to cure a dog of eating eggs' will make you laugh. Either way, this book will help you appreciate the difficult life your grandparents endured.
With Bonus: First two chapters of novel

Ribbon of Love