Transcribed from The Tuscaloosa News, Tuscaloosa, Alabama June 29, 1937
By Marian Young
Hackensack, N. J. June 29
The story of Jessie Simpson, 18-year-old "Miss Jersey of 1930" who lost both of here legs in a recent railroad accident, is the newest proof that although all the world loves a lover, its cheers go to the fighter who won't be licked.
If the world had heard only that the tragic accident postponed Miss Simpson's marriage to a young man in Hackensack, the story would have been forgotten by now. However, when it became known that the attractive brunette had no intention of remaining an invalid and was busily trying to figure out a way to continue to earn her living, a kindly world turned not only a sympathetic ear but a helping hand.
A famous watch company has made it possible for Jessie Simpson to earn a living with her beautiful hands and arms. She will model their new curvex watches until the day comes when she can have artificial legs. In fact, so impressed are they with her ability to model watches and with the shining beauty of her face and hair that they have given her a six months' contract, one which does not exclude other modeling jobs.
Character Enslaves Her Sponsors
Impressed by tales of the former telephone operator's courage, realizing that her smooth olive skin and long curly black hair are unusually lovely, such important artists as Howard Chandler Christy, Dean Cornwell, Arthur William Brown and Hal Phyfe proclaimed willingness to further foster her modeling career when she is able to walk again. All have asked her to pose for them as soon as she can.
"But don't think for a moment that her beautiful hands and face alone brought her these chances to make a living and be a happy, useful citizen," said one watch company executive.
"To understand what has happened, one must know something of Jessie's spirit and courage as well as her good looks. The sheer loveliness of her personality and her splendid determination never to be a burden to her family or friends have mad us her willing subjects."
Says Arthur William Brown: "Jessie Simpson's courage of soul is evident as an integral part of the beauty of her face. Her hands have character – and beauty. I never engage a model by her face and figure alone. I always look at her hands. Hands can express so much, can accentuate other charming features."
And Hal Phyfe, noted photographer, adds that Miss Simpson is flawlessly beautiful – a perfect photographic model.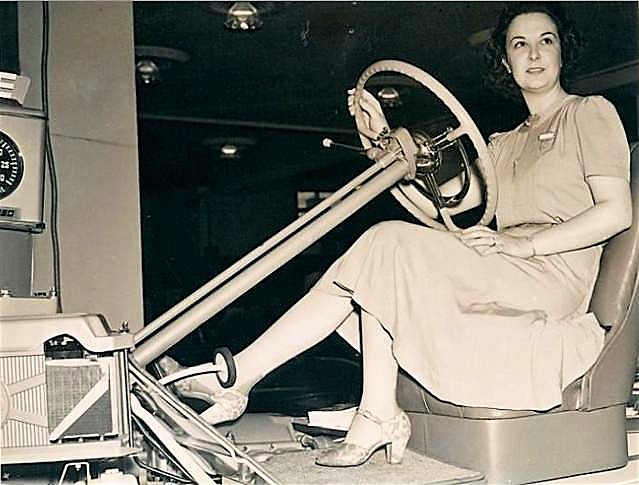 Jessie Simpson, driving with artificial legs
Rapid Recovery Amazes
Meanwhile, there is unexpected gaiety in the Simpson home. All the members (mother, father, small brothers, and sisters) have taken their cue from Jessie and are happy, cheerful and vibrant with plans for her future.
Even the family doctor (who brought Jessie into the world, cared for her through childhood and saved her life after the accident) is astonished at the way the family have carried on. He predicted that it would take a year for his mangled patient to recover – even to sit up. She is sitting up now and wagers that she will have artificial legs and be walking within six months.
She still wears her fiance's fraternity pin and makes plans for a future happy home life as well as a professional one.
More information about Jessie Simpson from other news articles
After graduating from high school, Jessie got a job at Sears, Roebuck and Co. in Hackensack, New Jersey. There she met James Steward. He was an advertising manager and a graduate of Alabama University. Later, Jessie left Sears for a job as a receptionist at the New York Telephone Co., but she and Jim continued to date.
The railroad accident
One morning when Jessie was running late, her mother drove her to the train station. The train was pulling away, so Jessie raced across the platform toward it. She slipped and plunged forward and the wheels of the train ran over her. Still conscious when she she was pulled onto the platform, she whispered to her mother, "Call Jim."
The doctors had no choice but to amputate both her legs, one at the calf, the other above the knee. She slowly recovered and Jim Steward visited her daily.
She sued the Erie Railroad for damages and was finally awarded $30,000, but the railroad was tangled in bankruptcy and she received no money.
A Manhattan reporter, "Red Gallagher wrote a story about her which later resulted in modeling jobs such as the one in the article above. After six months modeling watches, Jessie earned $1000 and was able to buy artificial legs
Learned to walk again with artificial legs
Jessie learned to walk again and drive a car. She never delved in self-pity. Instead, she lived a full life, playing golf and riding horses. She even opened a beauty parlor and hired additional beauticians.
Jessie Simpson married Jim Steward on January 17, 1940, and they had a child a few years later.