"Black Hawk (1767- October 3, 1838) was a band leader and warrior of the Sauk American tribe in what is now the Midwest of the United States. Although he had inherited an important historic medicine bundle from his father, he was not a hereditary civil chief. Black Hawk earned his status as a war chief or captain by his actions: leading raiding and war parties as a young man, and a band of Sauk warriors during the Black Hawk War of 1832.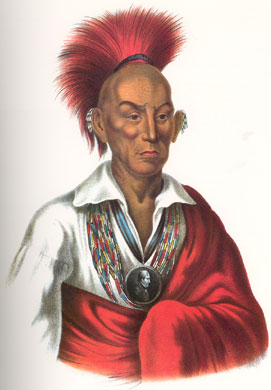 An illustration of Black Hawk, from History of the Indian Tribes of North America
During the War of 1812, Black Hawk had fought on the side of the British against the U.S., hoping to push white American settlers away from Sauk territory. Later he led a band of Sauk and Fox warriors, known as the British Band, against European-American settlers in Illinois and present-day Wisconsin in the 1832 Black Hawk War. After the war, he was captured by U.S. forces and taken to the eastern U.S. He and other war leaders were taken on tour of several cities. Shortly before being released from custody, Black Hawk told his story to an interpreter; aided also by a newspaper reporter, he published Autobiography of Ma-Ka-Tai-Me-She-Kia-Kiak, or Black Hawk, Embracing the Traditions of his Nation… in 1833 in Cincinnati, Ohio. The first Native American autobiography to be published in the U.S., his book became an immediate bestseller and has gone through several editions. Black Hawk died in 1838 (at age 70 or 71) in what is now southeastern Iowa. He has been honored by an enduring legacy: his book, many eponyms, and other tributes." (Wikipedia)
Black Hawk died in 1838 and a description of his burial was published in the Lexington Union.
Burial of Black Hawk
(Transcribed from Lexington Union., Lexington, Mississippi, November 24, 1838)
A few days ago we announced the death of this celebrated chief. TheTown Gazette gives the following account of his burial:
His body, we understand was not interred, but was placed on the earth in a sitting posture, with his cane clenched in his hands, enclosed with slabs or rails. This is the manner in which the chiefs of the Sac nation are usually buried, and was done at his own special request. A considerable number of whites, we understand were present at this disposition of his remains.
FreeHearts: 2nd edition A Novel of Colonial America
Col. John Washington (ancestor of President George Washington), Randall Revell, Tom Cottingham, Edmund Beauchamp ward off Indian attacks and conquer the wilds of Maryland's Eastern shore in 17th century colonial America in this historical novel, inspired by true events.