During the 1930s, Great Depression era, many writers were employed to interview people around the United States, so their experiences and life history could be recorded The program was named the U.S. Work Projects Administration, Federal Writers' Project and it gave employment to historians, teachers, writers, librarians, and other white-collar workers. This is a transcribed unedited interview by Mrs. John Elterich of May Swenson on August 18, 1938.
Folklore
New York
STATE New York
NAME OF WORKER May Swenson
ADDRESS 228 West 22nd Street, Manhattan
DATE August 18, 1938
SUBJECT Reminiscence of Bronx, 1885
THE FROG HOLLOW GANG
When I was in my teens, we lived near 149th Street at the corner of Cortlandt and Morris Avenues. And at the end of the block was a ravine with a little creek running through it. A gang of petty thieves lived down there much like hoboes in a "jungle" – in shacks they had, oh, I guess, nailed together or plastered together out of wooden slats and sheets of tin.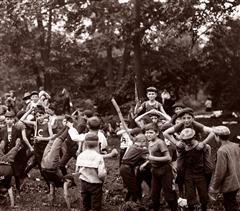 They were known as the Frog Hollow Gang, for the ravine was full of frogs what with the river and all and it being rather swampy.
Our neighborhood was scared to death of the Frog Hollow Gang and every door was barred at night. Some of the neighbors kept a light burning in the hall all night. It was said that those men could see in the dark like cats or owls but couldn't see in daylight and that if you kept a light burning they would be blinded and would go away. Of course, my father pooh-poohed that idea, but we children used to believe it.
Our mothers used to scold us children by saying, "Don't do this or don't do that or the Frog Hollow Gang will get you!
Funny, but now that I think of it I can't recall a single person around our place who ever was robbed by the gang. But there were their shacks down in the hollow and once in a while we'd catch sight of one of them fishing in the creek when we kids would stand on the edge of the hollow in daylight and look down, you know.
Finally the police came along and cleaned them out and the City made a sort of park out of Frog Hollow—a pretty little place too. But we children always felt queer about going there to play – and at night especially, with the sound of the frogs and all, nobody would go near it.
Some stories include:
The true story of the first Mardi Gras in America and where it took place
The Mississippi Bubble Burst – how it affected the settlers
Did you know that many people devoted to the Crown settled in Alabama –
Sophia McGillivray- what she did when she was nine months pregnant
Alabama had its first Interstate in the early days of settlement