Few people have heard of Roberta "Bertha" Boyd, but her heroism is well-known in New Brunswick, Canada.
Tended the lighthouse
Roberta was born on 16 June 1862 to John and Kate Boyd. Her father, John Boyd, was the keeper of the Spruce Point Light near St. Stephen, New Brunswick. While her father was away, Roberta and her mother would tend the light. It was on one of these nights that Bertha became a heroine.
Bertha's mother was in her sitting room with her two daughters on a cold night when suddenly they heard a piercing cry from the stillness outside.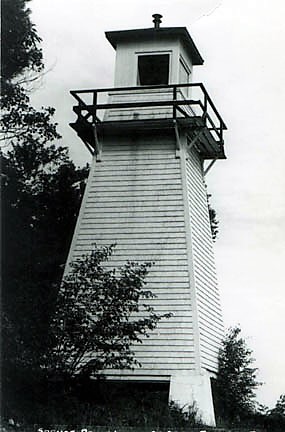 Spruce Point Lighthouse, Photo from Lighthouse Explorer – Michel Forand, Lighthouse Explorer –  New Brunswick, Canada
Cries from the St. Croix River
"What is that?" they all exclaimed together. One of the daughters rushed to the window to look out into the dark night.
"I can't see anything," she declared.
The cry came again, mingled with the sound of men's voices.
"I wouldn't wonder if it were a party of men from St. Stephen or St. Andrew, who have been caught in the darkness," their mother said.
"Mother of God, save us!" came the desperate cries from the St. Croix River.
I must help
Bertha threw on her shawl. "They are in trouble, whoever they are, and I've got to go and help them."
Bertha was only nineteen, but she was strong and accustomed to the water and could handle a boat as well as any man.
"Oh no!" cried Mrs. Boyd. "You are too young. I can't let you do this."
"But you must, mother," Bertha replied firmly.
Her younger sister jumped up and said, "I'm going with her."
The mother's tears fell fast, but she could not forbid her brave girls to go. The girls reached the river and started to launch the boat, but her younger sister panicked and turned back. Bertha remained and pushed her little craft off. She was guided only by the sound of the men's cries.
Found overturned sailboat
She rowed halfway across the St. Croix before she found the overturned sailboat with a young man clinging to it for dear life. His hands were stiff from the cold and she assisted him as he pulled himself into the skiff.
An older man was still in the water. His feet were entangled with the ropes of the sailboat and he was weakly holding on the boat. Bertha and the younger man finally managed to free him and pull him into the boat.
In short order, Bertha rowed them back to the lighthouse. The men were very grateful and could not thank her enough.
When the Dominion government heard about Bertha's exploit, they sent her a fine gold watch and a beautiful boat. When asked about her heroic act by a newspaper reporter, Bertha said, "Please don't speak of it. Indeed, I did nothing worth describing."
After her father's death on 15 September 1892, Boyd became keeper of the light. She served as keeper at Spruce Point until at least 1922 (when records were no longer published).
Boyd married Herbert LeRoy Hannah on 18 October 1900 in The Ledge, St. Stephens Parish, New Brunswick.
She died on 10 January 1944. The Spruce Light lighthouse was replaced by a red and white circular tower and is no longer operational
SOURCES
Clark, Kate Upson, Aurora Daily, Aurora, Illinois, August 23, 1890
Wikipedia
FreeHearts: 2nd edition A Novel of Colonial America
Col. John Washington (ancestor of President George Washington), Randall Revell, Tom Cottingham, Edmund Beauchamp ward off Indian attacks and conquer the wilds of Maryland's Eastern shore in 17th century colonial America in this historical novel, inspired by true events.