A Misused Title
(Transcribed from the Birmingham Iron Age April 16, 1874)
The title of Esquire (with us frequently abbreviated to Squire) originated in chivalric times, when sons of gentlemen, from the age of seven years, were brought up in the castles of superior lords—which was an inestimable advantage to the poorer nobility, who could not otherwise have given their children the accomplishments of their station. From seven to fourteen, these boys were called pages, or valets; at fourteen, they bore the name of esquire. They were instructed in the management of arms, in the art of horsemanship, in exercises of strength and activity, so as to fit them for tournament and battle, and the milder glories of chivalrous gallantry.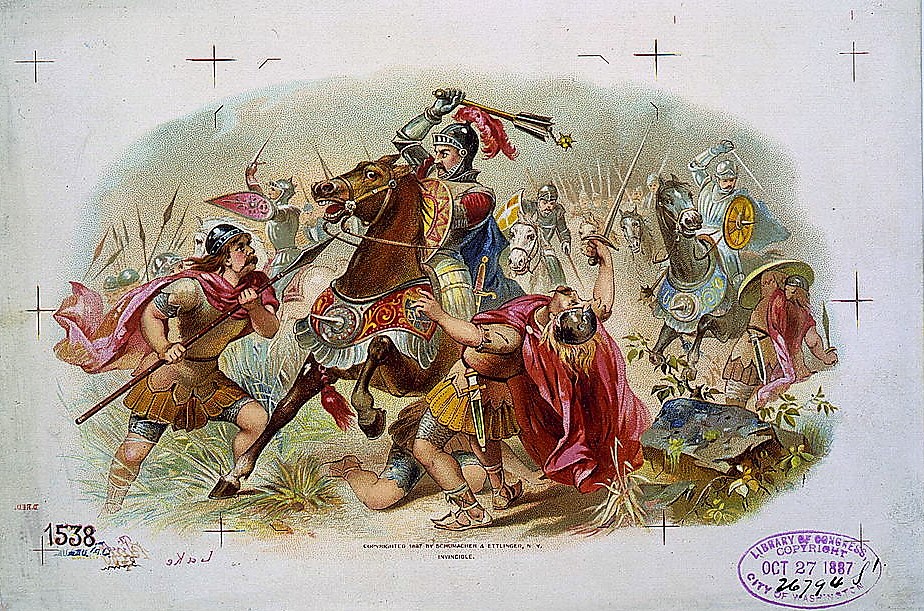 Tobacco label showing knights in battle with barbarians who are attacking them from all sides. 1887 (Library of Congress)
Long after the decline of chivalry the word was only used in a limited sense, for the sons and peers of knights, or such as obtained the title by creation or some other legal means. Blackstone defines esquire to be all who bear office of trust under the crown, and who are styled esquires by the king in their commissions and appointment; and bring once honored by the king with the title of esquire, they, and only they, have a right to that distinction for life.
Start researching your family genealogy research in minutes.

 

This inexpensive Ebook has simple instructions on

 

how to get started with FREE sources. Download 

WHERE DO I START? Hints and Tips for Beginning Genealogists with On-line resources 

to your computer immediately with the a FREE APP below and begin your research today!
Reviews
"This book was very informative and at a very modest price. Thank you for your great newsletter and this book."
"The book was clear & concise, with excellent information for beginners. As an experienced genealogist, I enjoyed the chapter with lists of interview questions. I'd recommend this book to those who are just beginning to work on their genealogies. For more experienced genealogists, it provides a nice refresher."