Hog calling, or pig calling is the art of making a call to encourage pigs to approach the caller. Many contests as to who has the best call are held at State Fairs in the fall of the year.
Here is a fun film of how it was done in 1940. Some of the contestants had a unique style. The location where the contest took place is not stated other than it was in the United States.
Hog calling must have been popular in the late 1930s and 1940s.  Interest was at fever height in Louisiana for a 1937 hog-calling contest at the Capitol between Rep. Robert L. Mouton; of Louisiana, and Rep. Otha D. Wearin, of Iowa. So much so that Governor Richard Leche of the bayou state made a special trip, bearing a live porker; to assist Rep. Mouton in his pre-contest training. The contest was a result of a controversy between the two solons of the merits of the hog callers of their respective states.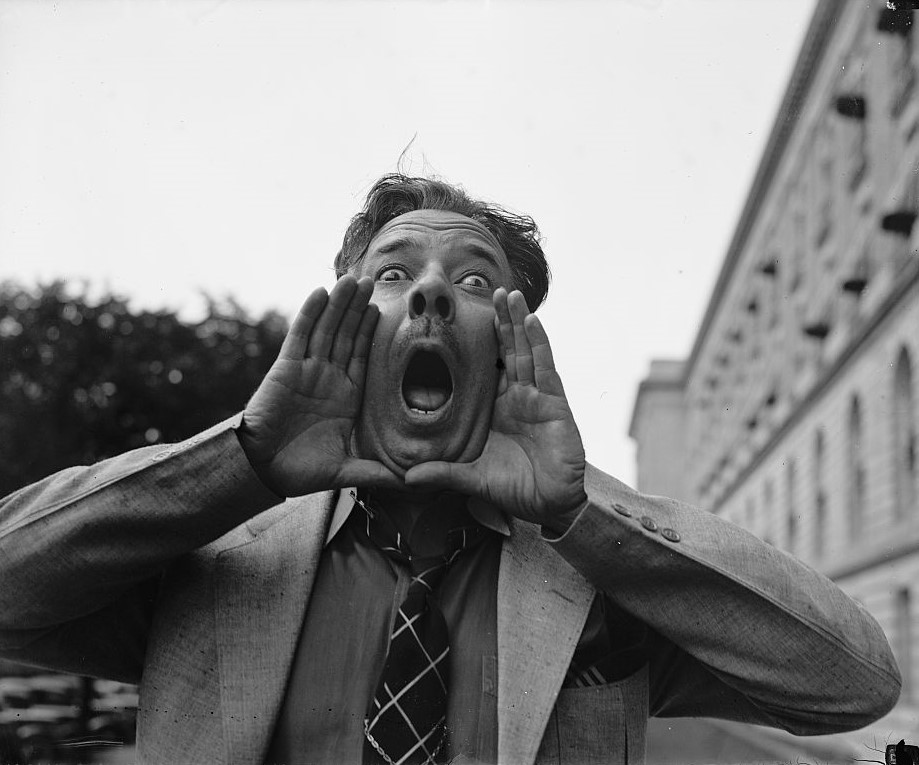 Hog caller, Washington D. C. June 9, 1937 (Library of Congress)
Congressional hog caller. Washington, D.C. June 9, 1937. The Capitol Plaza reverberated with sounds of the barnyard today as Rep. Robert L. Mouton, of Louisiana, went into serious training for his coming hog. calling contest with Rep. Otha D. Wearin, of Iowa. The contest, which will take place on the Capitol steps sometime in the new future, is the result of an argument between the two solons as to the abilities of the hog-yodelers from the respective states. Judging from his demonstration today the cameraman is willing right now to place the mantle of champion of Rep. Mouton. 6/9/37  (See more about this contest at: LOST CAPITOL HILL: CALLING HOGS ON THE HILL)