How to discover a medical quack
(Humorous story transcribed from Memphis Daily Appeal., August 08, 1858)
SCENE IN COURT
Hon. David Paul Brown, of the Philadelphia Bar, relates the following good story in a late work of his:
A quack had instituted a suit for medical services against one of his neighbors, and the suit being brought for the use of another, became himself the witness.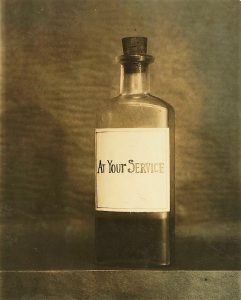 The Medicine bottle 1913 by Lewis Wickes Hine (Library of Congress)
A Mr. Williams, who was employed to defend the suit and expose the quackery and ignorance and worthlessness of the service rendered, subjected the doctor to the following examination:
Counsel — Did you treat the patient according to the most approved rules of surgery?
Witness — By all means, certainly I did.
Counsel — Did you decapitate him?
Witness — Undoubtedly I did; that was a matter of course.
Counsel — Did you perform the Caesarian operation upon him?
Witness — Why of course; his condition required it, and it was attended with great success.
Counsel — Did you, now, doctor, subject his person to autopsy?
Witness — Certainly; that was the last remedy I found.
Counsel — Well, then, doctor, as you first cut off the defendant's head, then dissected him, and he still survives it, I have no more to ask, and if your claim will survive it, quackery deserves to be immortal.