Do you know who said the following quote?
If you tell a big enough lie and tell it frequently enough, it will be believed.
Digital age causes lies to spread
The digital age and the internet have given everyone, who has access to the web, the ability to speak his/her mind to the world. This access has also allowed any person to speak on any subject, establish a website, (even anonymously) online, and relate personal views, no matter how outrageous or untrue. Since the internet is not censored, many unscrupulous people throughout the United States and the world have taken advantage of this privilege. They have created false stories, articles, etc. to support a personal agenda.
Lies have toppled governments and destroyed lives. Hitler knew the power of repeating lies and used them to topple the democratic government of Germany and make himself dictator.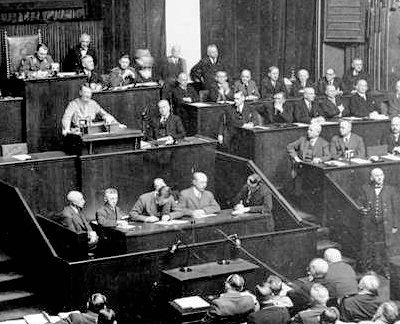 March 23, 1933 – Hitler appears before the Reichstag in Berlin to reassure them that – if granted – his new powers under the Enabling Act will be used sparingly.
Hitler lied to the German people
He used lies so convincingly when he spoke to the German people that they willingly gave up their democratic government in 1933 and allowed him to become a dictator. He told the people that it would only be for a limited time. The following excerpt is from The History Place, The Rise of Adolf-Hitler
On March 23rd, the newly elected Reichstag (equivalent to Parliament) met in the Kroll Opera House in Berlin to consider passing Hitler's Enabling Act. It was officially called the "Law for Removing the Distress of the People and the Reich." If passed, it would in effect vote democracy out of existence in Germany and establish the legal dictatorship of Adolf Hitler. The people had so much trust in Hitler that only one person, Otto Well, stood up and opposed Hitler.
Lies have power
Repeated lies and words have power. In this digital age, we should all be careful what we share and retweet to others. We should always check out the sources of stories and articles to ensure it is not a lie. The quote below by Hitler reveals what he knew about lies.
Make the lie big, make it simple, keep saying it, and eventually they will believe it
Click on the link below to read more about how Hitler tricked the German people into legally abolishing their democracy and establishing him as dictator in one month in the article below and the website: The History Place, The Rise of Adolf-Hitler
SOURCE
The History Place, The Rise of Adolf-Hitler