UPDATED WITH PART OF PRESIDENT TRUMP'S INTERVIEW WITH FOX'S BILL O'REILY – Additional portions of the interview will be presented on "The O'Reilly Factor" on Monday, February 6, at 8:00 pm ET and Tuesday, February 7, at 8:00 pm ET
As you know, this website is devoted to discovering true facts, and stories to share. For some reason, two recent headlines attracted my attention yesterday and I began to dig further as to their accuracy.
The more I researched for information, the more alarmed I became. No matter what political party you belong to, Democratic or Republican, please take the time to follow the links and read these news stories, do further research on your own, and draw your own conclusions.
If you lived through the days of the cold war when Nikita Krushchev was leading the Soviet Union, then I'm sure you remember the day in the film (above) when the shoe banging incident  took place during the United Nations Assembly held in New York in 1960. Krushchev also frequently made the statement –  "We will bury you" to all countries who had a capitalistic government, particularly the United States. After completing my research, Khrushchev's words, "We will bury you" are ringing in my ears.
Are we headed
for more same scary days again?
These two recent headlines caught my eye first:
Additional information on Hungary and Prime Minister Viktor Orban
I completed additional research on Hungary and Prime Minister Viktor Orban and I discovered this amazing story on Hungary's recent transformation from the most democratic country to a dictatorship. I know there are many links, but please take time to read them all. Whether you are a Republican or Democrat, each story provides a link to a timeline of events taking place that may be re-shaping our country and the world and we must all be aware. (The stories are not long and easy to understand)
Further research on Hungary revealed the following article —
I found this information on Alexander Dugin from Wikipedia
https://en.wikipedia.org/wiki/Aleksandr_Dugin
Then this happened yesterday
Mikhail Gorbachev was the President of the Soviet Union and President Reagan when the Soviet Union broke up.
Mikhail Gorbachev was the president of the Soviet Union and is the author of The New Russia.
There is so much more information and facts that I could add but I will stop here. Is Khrushchev's proclamation, "We will bury you" coming true? We must stop fighting each other over the election results and ban together as Americans to protect our precious, but fragile democracy!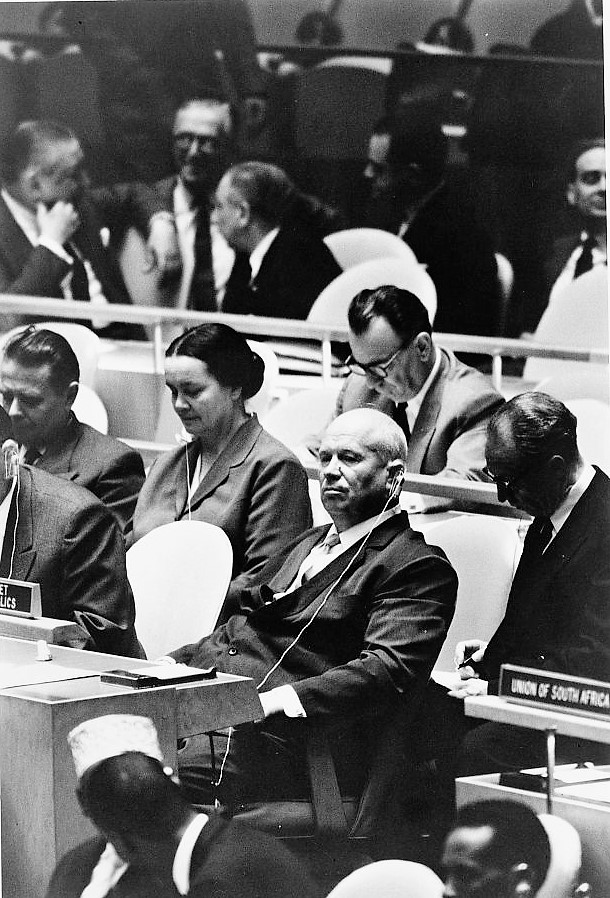 Nikita Khrushchev, leader of the Union of Soviet Socialist Republics, at a meeting of the United Nations General Assembly, New York, New York, September 22, 1960 (Library of Congress)
1984 (Signet Classics) – Written in 1948, 1984 was George Orwell's chilling prophecy about the future. And while 1984 has come and gone, his dystopian vision of a government that will do anything to control the narrative is timelier than ever…"The Party told you to reject the evidence of your eyes and ears. It was their final, most essential command."