(continued from Part I Matrimonial Scandal)
Matrimonial Scandal in England Part II
(This story is part II of the article on Lady Lytton of England that has been transcribed from Memphis Daily Appeal, August 08, 1858)
THE WAR BETWEEN BULWER LITTON AND HIS LADY
She transferred property to him when they married
Lady Lytton when married to Sir Edward, possessed a small property worth about £400 per annum; and it is stated that her husband being then in far less affluent circumstances that at present, she transferred this to him in order to give him a qualification for a seat in Parliament. Her experience of the marriage state was an unhappy one, and in 1836 a separation took place by mutual consent, Sir Edward consenting to pay her £400 a year during his life, which has been her allowance from that to the present time, notwithstanding he is, or is reputed to be, a wealthy man, his annual income being estimated at from £8,000 to £10,000.
Four hundred a year being unequal to the ordinary requirements of a lady who had moved in the higher classes of society – leaving luxuries out of the question – Lady Lytton became involved in debt, which of late has claimed about one-half of her income, and of course every year saw her sinking deeper and deeper into the mire.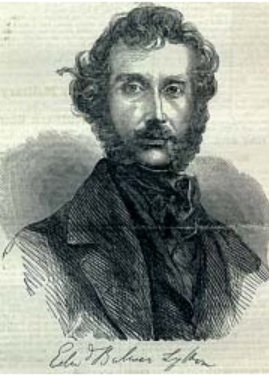 Edward Bulwer-Lytton. His Harold, the Last of the Saxons (1848) was the source for Verdi's opera Aroldo.
One of chief complaints against Sir Edward was the smallness of the means he allowed for her support; and certainly if, as is state, his own income is £10,000, it was a very unreasonable one – for the allowance of £8 a year to his wife by a man whose income is £200 would be just in the same proportion; and there are few who would not decry and condemn the injustice which such a payment by a person having £200 would exhibit. By the deed of separation, Lady Lytton was to possess in her own right any property she might acquire thereafter, which has been chiefly from her publications – in some cases remunerative, but in others miserable failures.
Endeavored to increase income
Lady Lytton has for some years past endeavored to obtain an increase of her allowance, which, in consequence of the liabilities she had incurred and was obliged to meet as she best could, had fallen to about £180 per annum; but her appeals, if not wholly disregarded, were quite unsuccessful. Continually smarting under the denial of her claims, and rendered desperate probably by accumulating difficulties, she determined to adopt a step which might possibly prove more effective in this behalf than the means she had previously employed.
Sir Edward having recently accepted office as a Cabinet Minister, the seat he held in Parliament as one of the members of Hertfordshire became vacant, and according to custom it was necessary for him to meet his constituents in order to his re-election. Lady Lytton resolved to be present upon that occasion and to take a conspicuous part in the proceedings. Before she left Taunton she caused handbills to be circulated to Hartford, in which it was announced that she would address the assembled citizens on the day of the nomination. The proceedings at the hustings have already been detailed in our columns.
She was closely watched
For several months past her ladyship was under the impression that she was closely watched, and she seemed to be suspicious that the object of this espionage was the miserable fate which has at last fallen upon her. Circumstances occurred about a month ago, that were of a character to confirm her apprehensions. At that time a gentleman came to Taunton and took up his residence at the Castle Hotel, which stands in close contiguity to the house in which she resided. He had had a good deal to do with the subject of her separation from Sir Edward, being, in fact, the honorable baronet's solicitor, and she held him in great aversion. He remained here some short time, it is said, and then left, but not before his sojourn had become known to her ladyship. On the 12th of June another gentleman arrived in Taunton, and, calling at Clarke's Hotel, sent his card to Lady Lytton, with a request for an interview.
This was a Dr. Thompson, and he was accompanied by a nurse from a neighboring lunatic asylum. After some reflection, her ladyship consented to his admission, but took the precaution to request the landlady's presence during his stay. Mrs. Clarke was present accordingly, and we are informed that the conversation which ensued between Lady Lytton and Dr. Thompson, originated and sustained by him, referred wholly to subjects that were calculated to excite intense anger and indignation on her part. This interview lasted five hours, and at last she asked if he had not come from Mr. Loaden, Sir Edward's solicitor, to which interrogatory he answered, "I am."
Her ladyship, who had preserved unwonted calmness, then asked, "I sth farce played out? and if not, how much longer is it to last?" Dr. Thompson replied, "The farce is ended, and your ladyship will not from this hour hear any more upon these painful matters." It may be stated that during the interview two police officers, a solicitor and a medical gentleman were in an adjoining room, the object of whose presence it is not difficult to imagine. But Lady Lytton's calmness rendered their services unnecessary. Previous to his departure Dr. Thompson requested her to put upon paper what demands she wished to make upon her husband, and she complied, writing, in substance, as follows: Sir Edward to pay my debts, the claims of which swallow up the greater part of income, and increase my income to £500 a year. Upon his doing this I solemnly promise never in future to molest him in any way, nor even to mention his name."
Overwrought with feelings
Dr. Thompson promised to lay these requirements before Sir Edward immediately on his return to London, and then withdrew, Lady Lytton giving vent on his departure to her overwrought feelings in a flood of tears, which could not be restrained for a considerable period, notwithstanding the consolations offered by the landlady, whose kindness to her throughout these painful and sad proceedings has been very great, and even the nurse, whose opinion as to the state of her ladyship's mind has undergone a considerable change during the time she was in her presence.