Going to bed in 1852
Going to bed we have always considered as one of the most sober, serious, and solemn operations a man can be engaged in during the whole twenty-four hours.
A young lady is different
With a young lady, it is altogether a different sort of thing. When bedtime arrives, she trips up stairs with a candle in her hand and—if she has had pleasant company during the evening—with some agreable (sic) ideas in her head. The candle is placed on the toilet and her luxuriant hair speedily emancipated from the thraldom of combs and pins.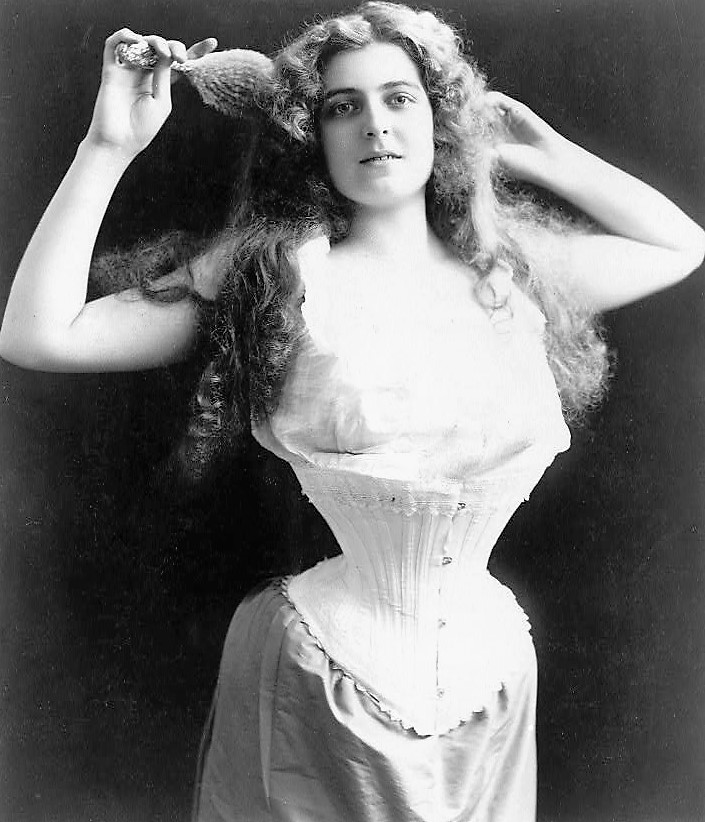 Woman wearing corset, brushing her hair, half-length portrait, standing, facing front 1899 (Library of Congress)
If she usually wears "water curls" or uses the "iron," her hair is brushed carefully from her forehead, and the whole mass compactly secured, if not, why then her beautiful tresses are soon hid in innumerable bits of paper. This task accomplished, a night-cap makes its appearance, edged may be with plain muslin, or may be with fine lace, which hides all save her own sweet countenance.
As soon as she ties the strings, probably she takes a peep in her glass and half smiles half blushes at what she sees. The light is out—her fair delicate form gently presses the couch—she doubles up "spoon fashion"—and, like a dear, innocent, lovely creature as she is, she falls gently into sleep with a sweet smile on her still sweet face.
A man is more savage
A man, of course, under the same circumstances, acts quite differently. Every movement in his chamber indicates the coarse rough mould of his fallen nature.
When all is ready he snuffs the candle out with his fingers like a savage. For a few moments he thinks of all the peccadilloes he may have committed during the day—vows a vow to amend soon—grunts—turns over—stretches himself—then all is silent—and then the heavy snoring of the slumberer. (sic)
Is there not something preternaturally solemn about sleep? A something about it of dread and apprehension? The recumbent position—the closed eyes—the parted lips —the pallid countenance—the operations of the mind suspended, and the breath alone indicating that vital principle.
SOURCE
Transcription of an article in The Southwestern Monthly, Volumes 1-2 Wales & Roberts, 1852