EXACTLY ONE-HUNDRED YEARS AGO AMERICA WAS IN A SIMILAR CRISIS
"The crisis facing America today is not whether we need a larger army and navy, but whether we shall have a united America back of that army and navy, and whether America, with her many races and divided allegiance, will survive as a great nation."1
Are we repeating history?
This statement could be made about America today, but it was actually written after the election of 1916. One-hundred years ago, America was reeling on the eve of a bitter presidential and congressional election. "Incumbent President Woodrow Wilson, the Democratic candidate, was pitted against Supreme Court Justice Charles Evans Hughes, the Republican candidate. After a hard-fought contest, Wilson defeated Hughes by nearly 600,000 votes in the popular vote and secured a narrow majority in the Electoral College by winning several swing states with razor-thin margins. Wilson's re-election marked the first time that a Democratic Party candidate had won two consecutive Presidential elections since Andrew Jackson won re-election in the 1832 election. Coincidentally, this was the last election before the ratification of the Nineteenth Amendment to the United States Constitution, which granted women the right to vote."
Disagreements occurred in the election regarding appropriations, sectional influences, selfishness and party fortunes of 1916. The Mexican Revolution and World War I affected countries throughout the globe. Wilson and most American voters wanted to stay out of the war and maintain a policy of neutrality. Wilson's campaign slogans were "He kept us out of war" and, "Amerca First". The "America First" slogan was used to describe Wilson's position of neutrality toward the war,2 but it was used prior to this time by William Randolph Hearst.
Wanted an alliance with Germany
William Randolph Hearst, a large newspaper publisher had used the slogan, America First, prior to WWI. Hearst was in favor of German-American alliance, according to the following letter. (National German-American Alliance: Hearings Before the Subcommittee of the Committee on the Judiciary United States Senate, 1918, United States Congress)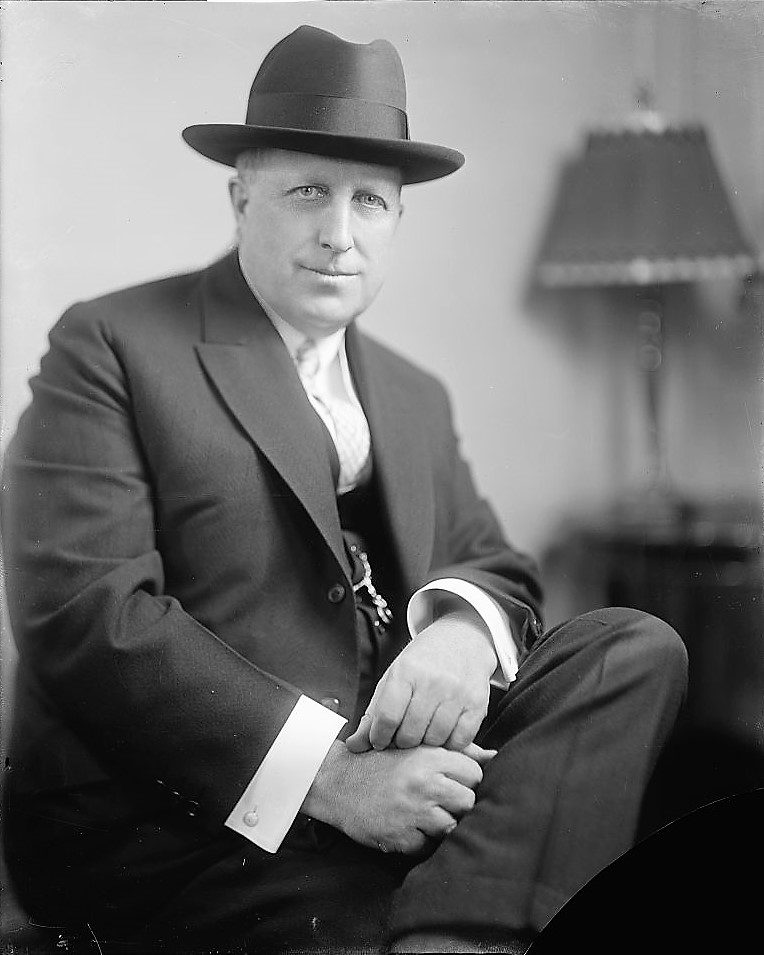 William Randolph Hearst (ca. 1905-18, Harris and Ewing Photographers Library of Congress)
"The time has now come for the German-American National Alliance to broaden the field of its activities and to extend its hand to Germany, in order that the two countries may go forward in common on the path of progress. For this purpose, it is desired to found an international German-American alliance with a branch in Berlin, in order that an understanding of German art and German ideals in America as well as the study of German social and economic relations may be furthered and in order to promote the most cordial political relations between the two countries. The proposal is therefore made that this convention authorize its president to name a delegation of 10 or 12 distinguished citizens who have this matter at heart to go to Germany in the year 1908 and to take action in the interest of this great project, and "Mr. Hearst promises to cooperate with this delegation and through his eight papers in five cities to bring its purposes and aims to the knowledge of the government and of the people of Germany [United States]. In order further to meet the expenses of this movement, Mr. Hearst offers to bear all the costs of the above-named delegation, including those of the public functions in which it shall participate in Europe. "Respectfully,"William Randolph Hearst."
Hearst was decidedly pro-Germany before and after WWI. He used the phrase "America First " as according to a 1921 article entitled,  Hearst! He would destroy Arms Conference and compel renewed armament race, Excerpt from The Textile Worker, vol. 9, 1921, American Unions The article condemned Hearst and his papers for their influence on the American people.
"Hearst is for a continuance of the race for armament. He is for piling up the burden of which all nations are now striving to rid themselves.  
He is for the race to see which nation can first accomplish suicide. In that capacity, he is one of the foremost enemies of the present international conference in Washington. He is one of the foremost enemies of international peace. He is one of the foremost enemies of a continuing organic relationship between the nations. He is a sinister junker, seeking to call the world back to the road which leads to war."
Further, in the article:
"Hearst not only tries to persuade his millions of readers to look forward to war but preaches, in the words of one of his editors, the policy of 'magnificest isolation,' or in the words employed by Hearst himself, the 'patriotic policy of America first, America always, America alone."
"Mr. Hearst does not want a new world but distinctly states in so many words that he favors guiding our policy by 'our American traditions' as he interprets them. Apparently, he would have us the only nation in the world which refuses to advance or to learn.
President Woodrow Wilson's America First Speech
President Woodrow Wilson is better known for the phrase American First phrase when he used in October 11, 1915 in address he delivered at the celebration of the Daughters of the American Revolution, Washington D. C. Below is an excerpt from his speech where he relates his views on America First."3 The  United States had not yet entered the WWI at the time of this speech. The United States entered WWI on April 6, 1917, after Americans were killed when two ships were sunk by the Germans.
Every political action, every social action, should have for its object in America at this time to challenged the spirit of America: to ask that every man and woman who thinks first of America should rally to the standards of our life. There have been some among us who have not thought first of America, who have thought to use the might of America in some matter, not of America's origination. They have forgotten that the first duty of a nation is to express its own individual principles in the action of the family of nations and not to seek to aid and abet any rival or contrary ideal.
President Woodrow Wilson addressing Congress 1917 ( Harris & Ewing, Library of Congress)
America has a heart
Neutrality is a negative word. It is a word that does not express what America ought to feel. American has a heart and that heart throbs with all sorts of intense sympathies, but America has schooled its heart to love the things that America believes in and it ought to devote itself only to the things that America believes in; and, believing that America stands apart in its ideals, it ought not to allow itself to be drawn, so far as its heart is concerned, into anybody's quarrel. Not because it does not understand the quarrel, not because it does not in its head assess the merits of the controversy, but because America has promised the world to stand apart and maintain certain principles of action which are grounded in law and in justice. We are not trying to keep out of trouble; we are trying to preserve the foundations upon which peace can be rebuilt. Peace can be rebuilt only upon the ancient and accepted principles of international law, only upon those things which remind nations of their duties to each other, and deeper than that, of their duties to mankind and to humanity.
America has a great cause which is not confined to the American continent. It is the cause of humanity itself. I do not mean in anything that I say even to imply a judgment upon any nation or upon any policy, for my object here this afternoon is not to sit in judgment upon anybody but ourselves and to challenge you to assist all of us who are trying to make America more than ever conscious of her own principles and her own duty. I look forward to the necessity in every political agitation in the years which are immediately at hand of calling upon every man to declare himself, where he stands. Is it America first, or is it not?
1The Immigrants in America Review, Volume 1, 1916
3America First, President Woodrow Wilson, America First Patriotic Readings, Jasper Leonidas McBrien. American book Company, 1916, p, 75