The Faint Beginnings of Christmas
by
Henry Jefferson
(Excerpt from a newspaper article in the Boston Evening Transcript published December 22, 1900)
The Christmas Day of the forefathers was a proscribed festival. Not only did the Puritans abstain from any celebration of the natal day of the Savior of mankind, because of their abhorrence of forms and ceremonies, of whatever nature in their religious worship, but for the reason that the observance of Christmas in some way had become associated with kings and the doings of kings, and this connection, however real or fancied, of itself was sufficient to set this now modern feast day of all the year out of the bounds of a Puritan's consideration.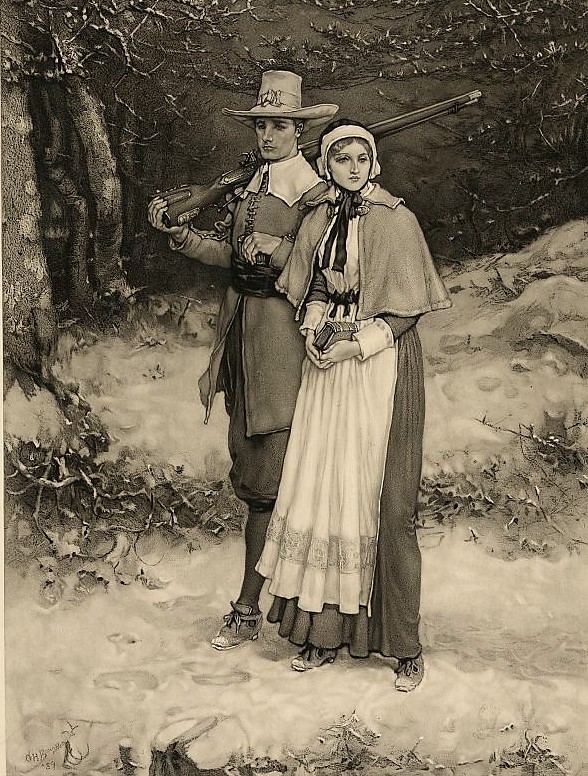 Print showing a puritan husband and wife walking through snow on their way to church, he carrying a rifle, she a prayer book or bible. Thomas Gold Appleton engraver March 31, 1884 (Library of Congress)
Stick to customs of the land they left
But not altogether so. For William Bradford, in his "History of Plymouth Plantation," under date of 1621, thus refers to the attempt of at least some of the people of Plymouth to stick to the customs of the land they had left across the sea:
"On ye day called Christmas Day ye Governor called them out to work (as was usual) but the most of this new company excused themselves and said it went against their consciences to work on that day. So the Governor told them if they made it a matter of conscience he would spare them until they were better informed. So he led away the rest and left them. But when they came home at noon from their work, he found them in the street at play; openly, some pitching the bar and some at stoole-ball and such like sports. So he went to them and took away their implements and told them that it was against his conscience that they should play and others work."
Christmas was not celebrated in 1656
Again, in volume vii (?) of the "Records of the Long Parliament,' "His Excellency, Oliver Cromwell, the Lord General," is credited with the passage of this resolve, Dec. 24, 1652:
"Resolved, That no observation shall be had of five and 20th day of December, commonly called Christmas Day, nor any solemnity used or exercised upon that day in respect thereof."
In 1656, in a debate in Parliament upon the suppression of Christmas, one of the speakers is quoted as follows:
"You see how these people keep up these superstitions to your face, stricter in many places than they do the Lord's Day. One may pass from the tower to Westminster and not a shop open nor a creature stirring."
Fine imposed on those who celebrated
The Massachusetts Legislature, in 1651, influenced by the still stronger feeling against the Yule-tide merry-making then felt by their kinsmen under Cromwell, anticipated the action of the home Parliament, and imposed a fine of five shillings upon "whosoever shall be found observing any such day as Christmas, or the like, either by forbearing labor, feasting, or any other way upon any such account."
This law, let it be said in justification of the ancestry of the good people of New England, was repealed in 1682.
Faith and Courage: 2nd edition -A Novel of Colonial America Inspired by real people and actual events, the family saga of colonial America continues with Ambrose Dixon's family. Faith and Courage presents the religious persecution of Quakers in Pre-Revolutionary War days of America intertwined with a love story.
In this action-packed novel, George Willson witnesses the execution of King Charles II and is forced to leave the woman he loves to witch hunters in 17th century England as he flees to his sister, Mary, and her husband Ambrose Dixon's home in Colonial American. Ridden with guilt over difficult decisions he made to survive, George Willson and the Dixon's embrace the Quaker faith which creates more problems for their survival in the New World.