Rolling ship and witches
(Excerpt from Boston Ship Yards, Rise and Decline of a Great Industry from the Boston Evening Transcript published December 22, 1900)
In 1631, the year after Governor John Winthrop's arrival in Boston, he built on the Mystic a barque of thirty tons' burthen, to which he gave the pretty name of the "Blessing of the Bay," and from this enterprise of his grew up the great industry which placed Boston in this respect in the foremost ranks of the world. Between 1631 and 1640 other vessels were built on the Mystic, at Marblehead, and at Salem.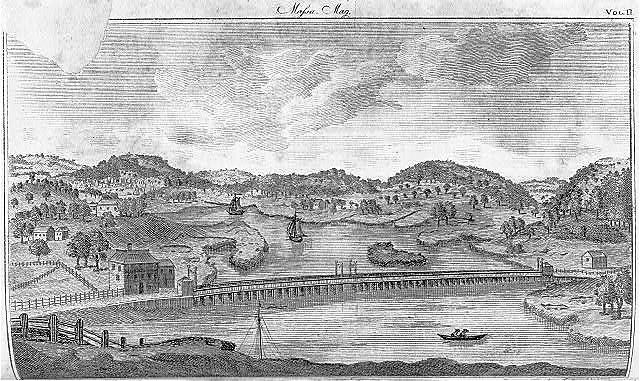 View of the bridge over Mystic River & the country adjacent from Bunker's Hill, engraved by S. Hill ca. 1790 (Library of Congress)
Story in connection with a witch
There is this story told in connection with one of these, the "Welcome". While she was riding at anchor before Charlestown, all ready to sail with eighty horses on board and one hundred and twenty tons of ballast, she fell to rolling so deep it was feared she would founder. And this in spite of the fact that the weather was calm. Great weight was placed on one side to trim her, and she would heel over on the other side.
The county court of Boston was then in session and learning that the husband of Margaret Jones of Charlestown who had just been executed as a witch was on board, sent officers to arrest him, one of them saying: "The ship would stand still as soon as he was in prison." Governor Winthrop is authority for the statement that no sooner was the warrant shown than the rolling of the ship began to stop, and after the man was in prison it moved no more.
Bestselling novel 

RIBBON OF LOVE: 2nd edition – A Novel of Colonial America (Tapestry of Love Book 1) 

is the story of a first family in colonial America who fled to America to escape religious persecution, and eventually migrated to Alabama before it became a state.