From this open letter written in a magazine in 1852, it appears that young ladies were not in the habit of going outside for exercise.
A LETTER FOR THE GIRLS OF 1852
Come, girls, get on your sun-bonnets, find your old gloves, put on your thick shoes, and come out into the sunshine. It is quite time to begin to think of your outdoor work. It is time for gardening and to see about improving your door yards.
Have you trees and shrubbery about the door, to invite the birds and the cool breezes, to gladden your homes in summer? If not, now is the time. Coax those tall brothers of yours to take the spade, and an old axe, if necessary, and go with you to the borders of the forest to procure shade trees.
I wonder if you have any rose bushes about your premises? If you have not, your neighbors have, and I know they would not grudge a few small roots, that by a little care will, in a few years, add much to the beauty of your homes.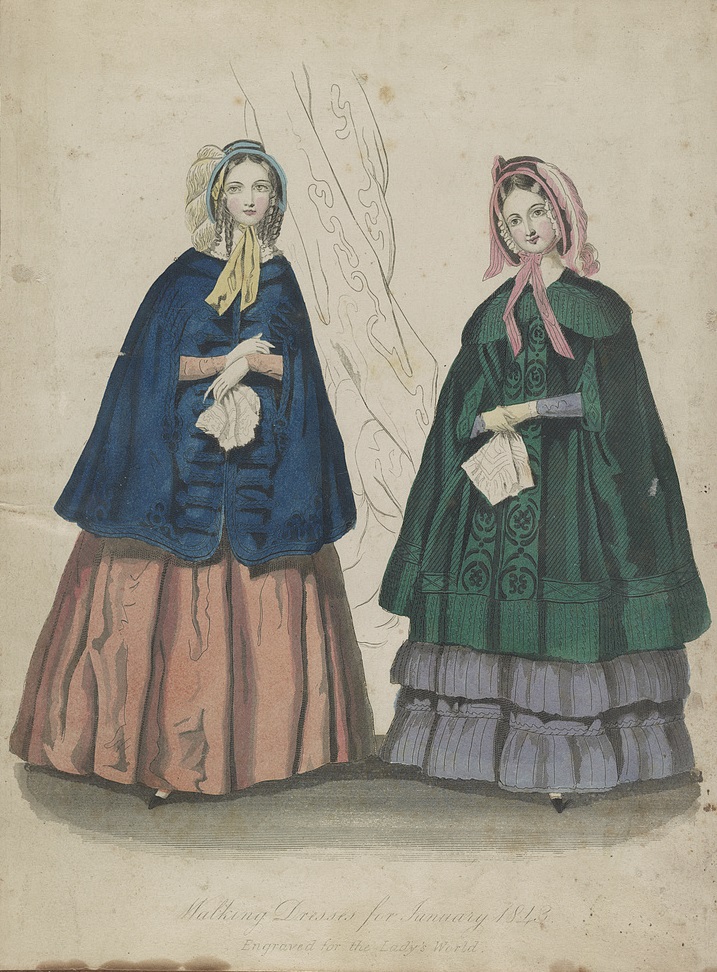 Walking dresses for January 1843 Engraved for the Lady's World by Larkin G. Mead (Library of Congress)
In a few years, you will have a beautiful vine
A climbing rose, trained over the window, and a honeysuckle over the porch, will pay in perfumery for the little trouble they cost; and any of your friends who possess them, will be happy to aid you if they see you bent on improving your grounds.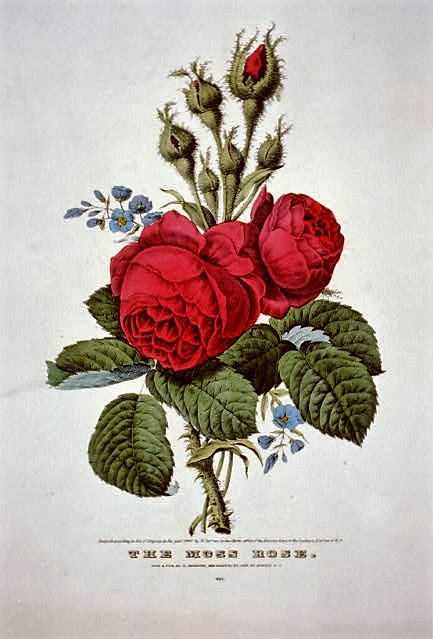 The moss rose by N. Currier 1847 (Library of Congress)
A small slip of honeysuckle that would be trimmed off and thrown away as a useless pruning, can be buried in the same manner that grape slips are, and in a few years you will have a beautiful vine to embellish your arbor.
By the way, don't forget how easily grapes are cultivated, and what a luxury they afford. Keep an eye out, and when there is an opportunity, secure a few dozen of fine slips, and get your father to appropriate a few rods of ground for the purpose of cultivating them.
More desirable than interesting paleness
Now, don't look sour, and say it isn't ladylike to work in the garden. I told you to get your gloves on purpose to keep your hands from being needlessly soiled, and your complexion will be sufficiently preserved from the sun by a good sun-bonnet; while the vigor and buoyancy acquired by exercise in the open air will give a tone of beauty much more desirable than any "interesting paleness" you can acquire by sitting roomed up in the house all day.
Get an appropriation of ground for a flower bed or two, if possible. If not, see to it that the beds of common vegetables are bordered with flowers. Plant some around the doors and windows too—some pretty running plant like the morning glory, cypress vine, flowering pea or bean, and see to it that they do not get choked out with weeds.
Half an hour every day, will plant the seeds and keep in order an amount of beauty truly astonishing.
The humblest log cabin can be made an attractive home by a little labor, that should rather be called a pastime.
Perhaps you think your fathers will hardly smile on your efforts. It may be that they even speak contemptuously of flowers. If so, there is no need of a better ministration to their spirits. I never yet met the man who was not pleased after once witnessing a successful effort to make home cheerful by such simple adornings.
Discordance: The Cottinghams Inspired by true events and the Cottingham family that resided in 17th century Somerset, Maryland and Delaware, colonial America comes alive with pirate attacks, religious discord, and governmental disagreements in the pre-Revolutionary War days of America.