Swimming and outdoor bathing were discouraged in the United States, especially among the Christian population so there was little need for a bathing or swimming costume until the 18th century.
Beauty Contests 1880s
In the 19th century, the woman's double suit was common, comprising a gown from shoulder to knees plus a set of trousers with leggings going down to the ankles. In the United States, beauty pageants of women in bathing costumes became popular from the 1880s. However, such events were not regarded as respectable. Beauty contests became more respectable with the first modern "Miss America" contest held in 1921, though less respectable beauty contests continued to be held.
Annette Kellermann
Annette Kellermann,  an Australian professional swimmer, vaudeville star, film actress, writer, and business owner. was one of the first women to wear a one-piece bathing costume.  Instead of the then-accepted pantaloons, and inspired others to follow her example. Kellerman's swimming costumes became so popular, that she started her own fashion line of one-piece bathing suits.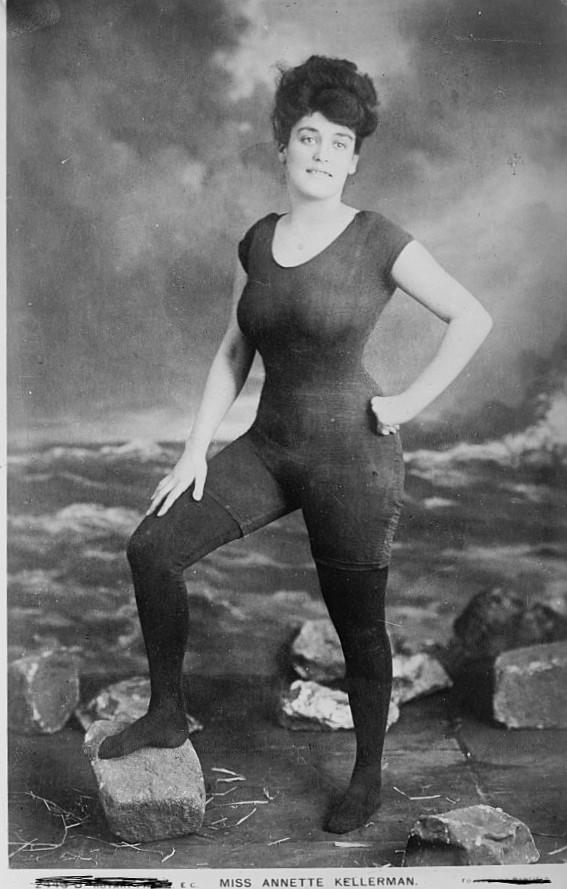 These swimsuits in this vintage film were probably very daring for women in their day of 1933!
Annette Kellerman appeared in several movies, usually with aquatic themes, and as the star of A Daughter of the Gods was the first major actress to appear nude in a Hollywood production.
Ribbon of Love: A Novel of Colonial America – Ribbon of Love is a wonderful love story of Henry and Mary living and struggling to succeed as one of the first families in the colony of Virginia in the 1600s. In addition to the love story, the descriptions of the clothing, home furnishings, personalities, family life, church and community are most intriguing. The exhilarating action and subplots keep the reader in constant anticipation. It is almost impossible to put the book down until completion.