There are many of blocks like this that still remain which date from the 1850s and 1860s. Can you guess what they were used for?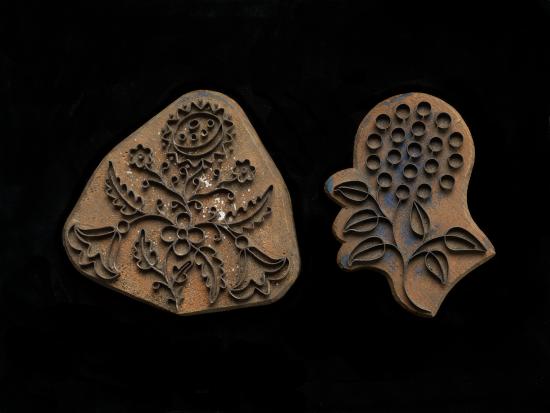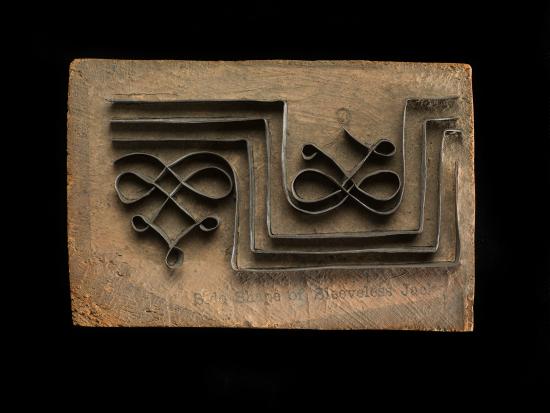 During the late 1850s and 1860s these blocks were used to stamp embroidery and braiding patterns on fabric. Fancy goods stores, as well as individuals, owned these blocks. A fancy goods store would stamp designs for you to embroider or to attach braid to a garment.
Below are two nightgowns that came with the block donation that was stamped and embroidered. They are made of white cotton fabric and embroidered with white thread. They have center front openings with buttons and buttonholes down the entire length. The blocks used to stamp the designs are pictured with the nightgowns. (Smithsonian)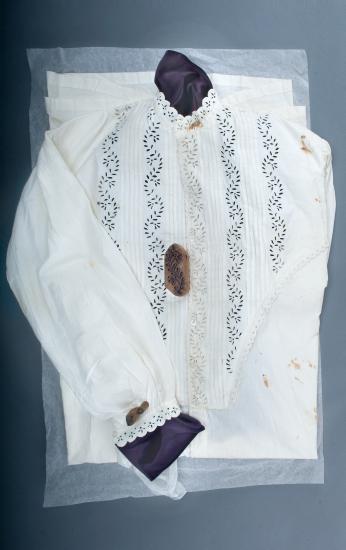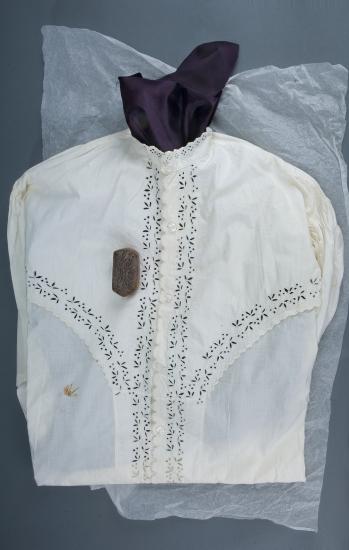 To make one of these stamping blocks you had to have a piece of wood with the end grain up. The wood would be soaked overnight. A pattern was placed on the top and then narrow strips of metal were pounded evenly into the wood. The strips of metal could be copper, pewter, zinc, or brass. Then when the wood dried it firmly held in the metal. All the strips had to be pounded into the same height or it wouldn't stamp correctly. The designs that form a continuous line were used for braiding. It was fashionable to add braiding to plain fabric to dress it up, like in the picture below.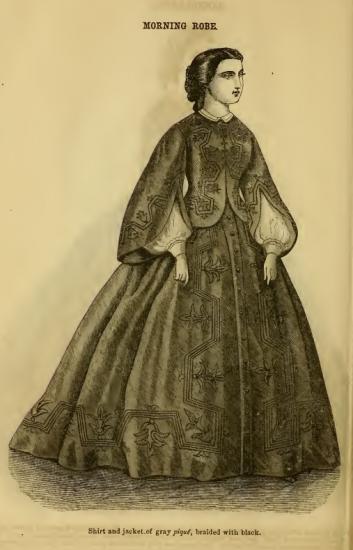 These blocks went out of use in the 1880s when Briggs & Co. patented an iron-on method to transfer a design from a piece of paper to a piece of cloth.
REVIEW FROM READER: Ribbon of Love was a wonderful love story of Henry and Mary living and struggling to succeed as one of the first families in the colony of Virginia in the 1600s. In addition to the love story, the descriptions of the clothing, home furnishings, personalities, family life, church and community are most intriguing. The exhilarating action and subplots keep the reader in constant anticipation. It is almost impossible to put the book down until completion. – Dr. Don P. Brandon, Retired Professor, Anderson University 
Read Kindle books on your computer or smart-phone with Amazon's free app. Click below to see how.
Did you know you can read Ebooks on your computer? Click below to see how.