"Annie OakleyAnnie Oakley (born Phoebe Ann Mosey; August 13, 1860 – November 3, 1926) was an American sharpshooter and exhibition shooter. Her "amazing talent"[1] first came to light when the then-15-year-old won a shooting match with traveling-show marksman Frank E. Butler (whom she married). The couple joined Buffalo Bill's Wild West show a few years later. Oakley became a renowned international star, performing before royalty and heads of state."1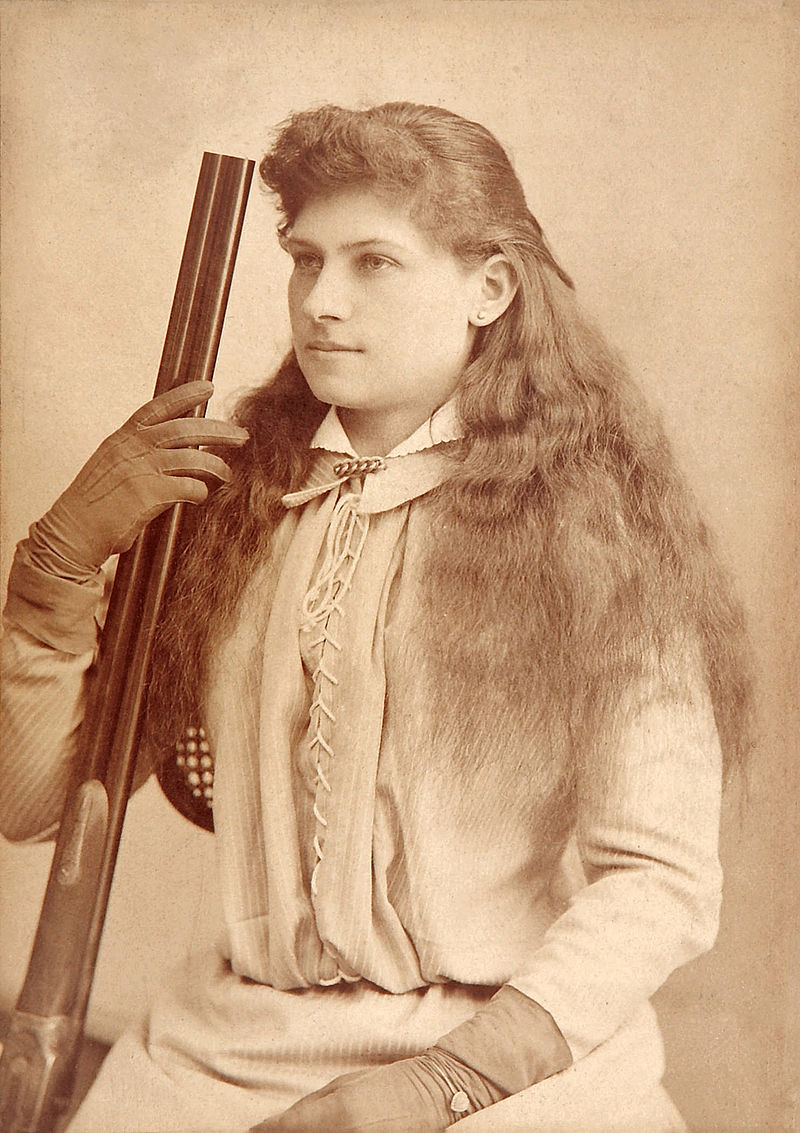 Annie Oakley in 1880s (Baker's Art Gallery, Columbus, Ohio – Public Domain)
This remarkable, historic film from l894 was taken in Thomas Edison's new video studio reveals her skill. We added music to the original silent film.
Baily's Magazine of Sports and Pastimes, Volume 47 of 1887 described Annie Oakley in one of Buffalo Bill's Wild West Shows:
"Miss Annie Oakley, who was reared in Ohio, is a more mature young lady, for she has attained to the surprising age of twenty-one, but she began shooting at ten, and was " before the public " when she was fifteen. It is recorded of her that she once shot a ten-cent piece held between the finger aad thumb of an attendant at thirty feet, which was warm for the attendant; but still there is some— thing in the look of Miss Oakley that inspires confidence, and though the " Van " Driver is not prepared to say that he would hold a ten~cent piece between his finger and thumb at any distance, he offers her his sincere homage for her skill, also her pluck, for she is as good a rider as she is a shot. She has broken a vicious horse that no one could ride, has him now, and sometimes rides him " as high " as fifty miles in one day.
Discordance: The Cottinghams
 Inspired by true events and the Cottingham family that resided in 17th century Somerset, Maryland, and Delaware, colonial America comes alive with pirate attacks, religious discord, and governmental disagreements in the pre-Revolutionary War days of America.