The Great Comet of 1861
While the United States was focused on the outbreak of the War Between the States that broke out on April 12, 1861, another event took place that drew everyone's eyes to the Heavens when a great comet appeared in the sky.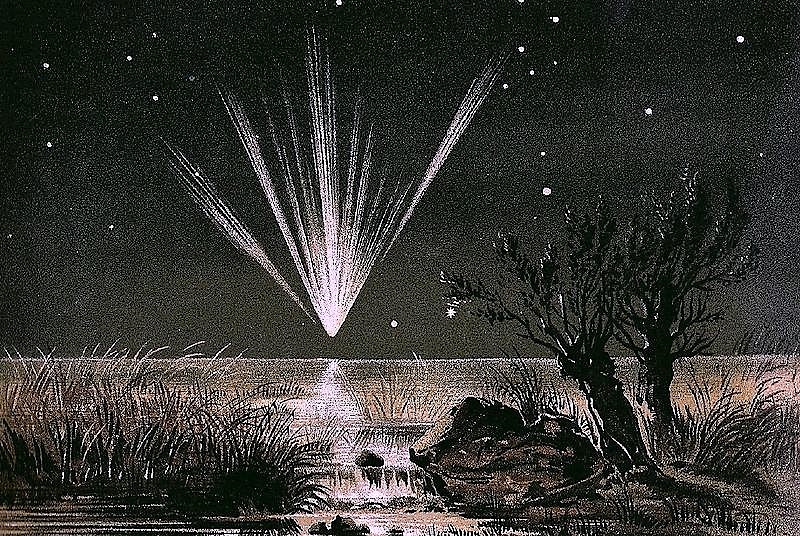 Image of what the great comet of 1861 may have looked like (Library of Congress)
First discovered in May, 1861
The actual beginning of the Civil War took place at Fort Sumter, South Carolina on April 12, 1861. On May 13, 1861, an unexpected comet was first sighted in Australia on May 13, 1861, by John Tebbutt of Windsor, New South Wales, Australia. The comet remained visible for many months, but it was not visible in the northern hemisphere until June 29th. In this excerpt from letter to his father, written on July 3rd, 1861, John E. Hall included a note about the comet in his letter.
Wednesday morn 3 1861
Dear father I have not yet had a chance to send this letter to the office but will do so this morning. Our post master (Bob Hallonquist) has resigned and no other arrangements have yet been made to get letters to the office. All of our letters & things should be directed to Manassas junction. Col Seibels went to the junction yesterday and brought back last night the box with the pistol and money that you sent to Bolling and Len. I opened them and gave Len his money (twenty dollars) which he said was al correct. I shall carry Bollings things to them him to day.
We had another alarm in camp last night about ten oclock. But most of the men thought it was a false alarm and did not get much excited. Crenshaw is doing very well to day.
We had a splendid view of the comet last night, it was brilliant and beautiful. Tom McKeithen and Frank Rives request me to ask you to see their fathers and get them the to assist you in getting a negroe. I hate to ask so much of you. I know it is asking too much.
My love to all
Your &c
Jno E Hall
Closest to Earth on June 30th
On June 30, 1861, the comet, (formerly designated C/1861 J1 and 1861 II) made its closest approach to the Earth and even cast shadows at night. It was said that the comet "may have interacted with the Earth in an almost unprecedented way. For two days, when the comet was at its closest, the Earth was actually within the comet's tail, and streams of cometary material converging towards the distant nucleus could be seen."1
The comet was no ordinary comet. It was the brightest comet to light the skies in around fifty years and was even visible during daylight hours.
On June 30th, 1861, the CSS Sumter, commanded by Raphael Semmes, ran the blockade, the following was reported by Hubbard, an astronomer:
A brilliant comet crossed the skies. With a fiery head and a long streamer of light the dazzling comet cut across the mid evening in a sudden, unexpected visit. Was it just an astronomical phenomenon or was it prophetic of something more? One paper said the scientists were astonished, and they were timid frightened because it had 'taken the country by storm.
"By August, the comet was no longer visible to the naked eye, but it was visible in telescopes until May 1861.2"
Prior to statehood, Alabama was a vast wilderness with a large Native American population. It is only natural that when new immigrants from other states arrived, conflicts over the land would arise. Soon, these small conflicts exploded into war.
Alabama Footprints Confrontation is a collection of lost and forgotten stories that reveals why and how the confrontation between the Native American population and settlers developed into the Creek-Indian War as well as stories of the bravery and heroism of participants from both sides.
Some stores include:
Tecumseh Causes Earthquake
Terrified Settlers Abandon Farms
Survivor Stories From Fort Mims Massacre
Hillabee Massacre
Threat of Starvation Men Turn To Mutiny
Red Eagle After The War
Amazon.com – Read eBooks using the FREE Kindle Reading App on Most Devices
READ THIS BOOK FOR FREE ON YOUR COMPUTER!
THEN SIGN-UP FOR THE 30-DAY FREE TRIAL BELOW: