The Science of House-keeping
(transcribed from Union Springs' Times, Alabama May 9, 1866)
The other day, several ladies warned a certain editor that his journal was not satisfactory to them on account of the absence of "useful hints, receipts," etc.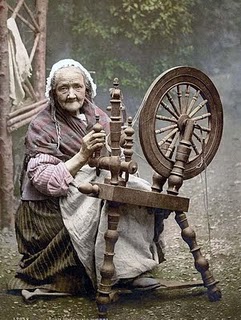 Whereupon the recreant journalist endeavored to satisfy the complaining ladies, and among others, submitted the following hints:
Always mend clothes before washing.
Whip your children every day before dinner. "Twill give you a good appetite and put a healthy glow upon their complexion.
Vinegar is good to set colors of red, green, or yellow; therefore, if you have clothes of this color, and with to preserve their hue – pickle them.
Use paregoric sparingly – it costs a good deal and tastes well – consequently, children often have the green apple ache.
Count your clothespins, spoons, towels, forks, and handkerchiefs, &c., every month
Milk is good for crying babies – cow's will do if no other can be obtained.
Would you like to know Thomas Jefferson's recipe for Vinegar of the Four Thieves or how to make Ox Tail Soup? Discover this recipe as well as many household tips from the past in VINEGAR OF THE FOUR THIEVES: Recipes & curious tips from the past. Makes a great gift!