THE WIFE'S COMMANDMENTS
Published in the Union Springs' Times June 13, 1866
Union Springs, Alabama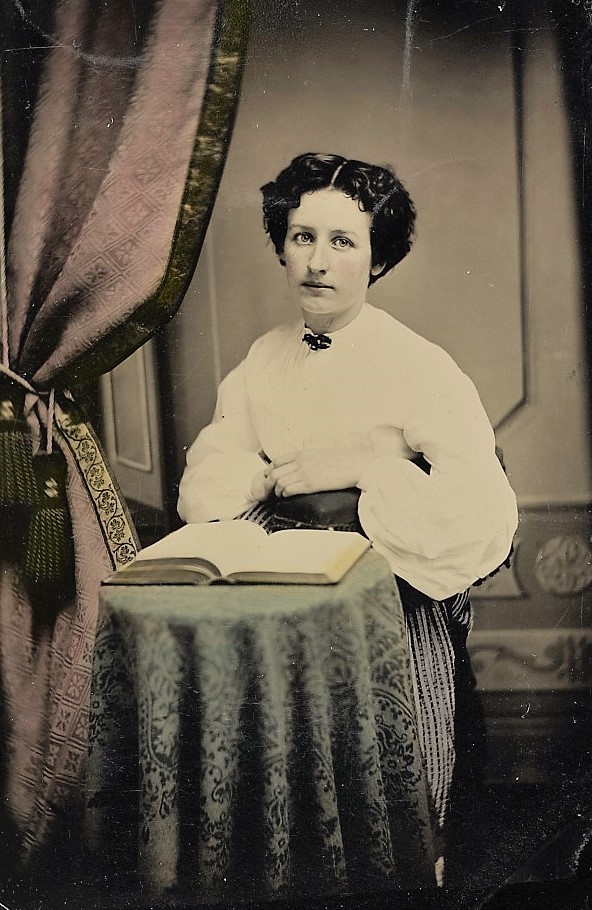 Woman seated at a table ca. 1866 Stacy, J. G. (James G.), 1837-1894, photographer (Library of Congress)
Thou shalt have no other woman but me, for I am thy true and lawful wife, whom thou didst promise to love and cherish.
Thou shalt not have a picture or any likeness of any other woman but me; for I only am thy wife, and a jealous wife.

Remember the market day and replenish the larder; thy wife's commandments, and keep them sacred.

Love and cherish thy wife, that we may live happily together in the house thou gavest unto me.

Thou shalt not find fault when thy wife goes out to spend money, buying fashionable shawls and dresses; for I am thy wife and thou must abide by it. Thou shalt not scold, but shall keep her decently clad and in good repair. Thou shalt furnish buttons and thread, that thine and thy children's shirts may be kept in order; herein, fail not at thy peril.

Thou shalt not play at dominoes; neither at any game of chance. Thou shalt not gad after sunset, nor in any way neglect thy wife; neither the children she gave thee.

Thou shalt not dress thyself in fashion unless the wife of thy bosom is dressed fashionably also.

Thou shalt not go to any slight-of-hand or spiritual meeting, neither to speak thyself, nor to hear others speak: Thus saith thy wife.

Thou shalt not find fault if thy wife should fail in getting the meals in due time: for it is written, Knowest thou, O man, better late than never.

Thou shalt not drink lager or any other beer; no spirituous liquors of any kind; neither shalt thou chew or smoke tobacco, nor use snuff, for I, thy wife abhorreth it. Knowest thou, also that it consumeth money, which I, thy wife, can better dispose of, even to the last farthing of thine earnings; verily, verily, I say unto thee, I am mistress of the house thou gavest unto me.
Faith and Courage: 2nd edition -A Novel of Colonial America 

In this action packed novel, George Willson witnesses the execution of King Charles II and is forced to leave the woman he loves to witch hunters in 17th century England as he flees to his sister, Mary, and her husband Ambrose Dixons home in Colonial American. Ridden with guilt over difficult decisions he made to survive, George Willson and the Dixon's embrace the Quaker faith which further creates problems for their existence in the New World.