This interesting biographical anecdote reveals what old-time teachers were like in Indiana during the early days of its settlement and a story of personal experience with Abraham Lincoln.
(born April 4, 1824, Kentucky – July 24, 191, Indiana)
William H. Cottingham was born in Carlisle, Ky., April 5, 1824, and was only five months old when his parents moved to Noblesville. There were then but three or four cabins in the place, which was merely an Indian trading post, and Mr. Cottingham remembers seeing 700 Indians in procession when the government moved them to a reservation further west.
He attended the first school in the town with Curtis Mallory, who had already taught one term on his own farm, as teacher, and among his fellow pupils were Guss Shirts, John and Garrett Ridgeway, William Davis, and Garrett and Ketchum Wall.
Curtis Mallory had unique ways to of discipline
This first school house was of very rough construction, made in true pioneer fashion, and the teacher was as truly of the olden time. At a recent school meeting and exhibition Mr. Cottingham related various stories of Mal's dealings with his pupils, all corroborated by Mr. Shirts.
The little boys were seated on teeter board, supported in a notch cut in a hockeye (?) log, and the teacher would force the fellows to the edge until they were afraid falling off. He invented most of his punishments and a favorite one with him was to make the boys in winter take off their shoes and place their big toes over an auger hole in the floor, so that, as he said, "the snakes could bite them."
Another unique punishment was "afflicted on the oldest boy then in school, who was compelled to suck the dried teat of a cow, " which so mortified the boy that he never went to school again.
Mallory seldom used the rod except when a boy took his toe off the auger hole, when he would apply it most heartily. Mr. Cottingham went here to school until he was nine years old, for after his father's death he was with an uncle on a farm, until old enough to take care of himself.
He walked to Springfield, Illinois and saw Abraham Lincoln
In the winter of 1838-39, when about seventeen, Mr. Cottingham went to Springfield, Illinois, making the journey on foot, with a knapsack on his back. It was hard work, for the houses were sometimes twenty miles apart, and wolves were still numerous, as were also deer, prairie chickens and other game.
At Springfield he found employment in the blacksmith shop of Robert Eckler, on the south side of the Square.
Lincoln at that time had an office on the north side, and Mr. Cottingham frequently heard him make speeches. Temperance was a leading topic just then, and in the meetings held in the brick Presbyterian Church, Lincoln often spoke. Mr. Eckler was another local orator, although a confirmed drinker.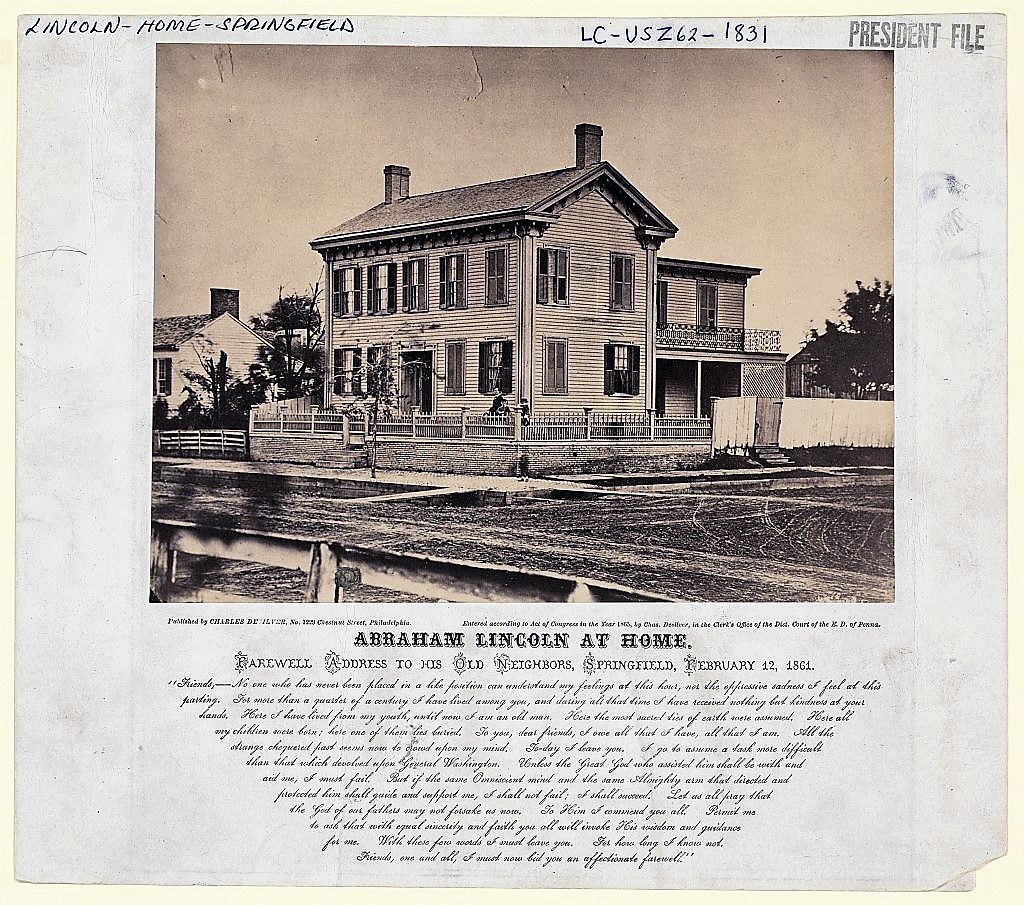 Photo shows the house where Abraham Lincoln lived in Springfield, Illinois, with presidential candidate Abraham Lincoln standing on the terrace, with his sons Willie and Tad. John Adams Whipple photographer 1860 (Library of Congress)
Returned to Indiana
Mr. Cottingham remained in Springfield for some time, and one of his jobs there was hanging the car-house doors for the first railroad in Springfield.
On returning to Indiana, Mr. Cottingham engaged in farming, and also did threshing all through the region. He owned the first threshing machine in the county, made in Richmond, but for the first year his enterprise failed, for he was paid in grain and prices were so low that he could not sell what he had. There was no sale at all for wheat, even at 30 cents a bushel, while oats brought but ten cents, and corn 6 ½ cents cash, with hogs bringing only a dollar a hundred.
As conditions improved, Mr. Cottingham went quite extensively into dealing in stock, and before he was able to ship by railroad to Buffalo he used to drive cattle to Cincinnati. For forty years he bought and sold hogs, sometimes shipping as many as 1,400 in a day, while he has fed 800 head.
Owned a warehouse in Noblesville
From 1854 to 1858 he owned a warehouse in Noblesville which proved very profitable, and then bought a farm again, the 120-acre homestead of John Davis. He sold this later, and at once purchased the Wainwright farm as another investment, paying fifty dollars and soon selling it for $100. He has also bought and sold much valuable property in Noblesville, and once owned the site of the present opera house. (1908)
For three years, from 1861 to 1864, he was in business there as a merchant, and ran a hardware store. He had at first owned two there, but combined them. In 1868 he bought the farm on which he has since resided, paying eighty dollars an acre for the original 100 acres, to which he later added sixty acres. As soon as he acquired possession he built a good, substantial two-story brick house and good substantial barns.
On Jan. 8, 1846, in Noblesville, William H. Cottingham was wedded to Miss Elizabeth Hare, who was born near Xenia, Ohio, March 4, 1823, daughter of Jacob and Elizabeth (Freshour) Hare, and granddaughter of Daniel. She died Oct. 30, 1907. The Hare family Bible gives her father's birthday as Oct. 28, 1791, and her mother's as four days earlier.
William and Elizabeth Cottingham had five children, all daughters, Nancy M., Amanda, Almarine, Mary and Hattie, of whom Mary remains at home, caring for her aged father. William Cottingham has always been characterized by unusual energy and force of character and has been markedly successful in his undertakings. Casting his first vote for W. H. Harrison, he has been most of his life a good Republican, voting for every candidate of that party from Lincoln on.
Fraternally he is affiliated with the Odd Fellows and was a charter member of the Noblesville Lodge.
SOURCE
Commemorative Biographical Record of Prominent and Representative Men of Indianapolis and Vicinity J. H. Beers & Company, 1908 – Indianapolis (Ind.)
Discordance: The Cottinghams (Volume 1)

 

Paperback
 

Filled with drama, suspense, humor, and romance, DISCORDANCE continues the family saga from the Tapestry of Love series with the children of Mary Dixon who married Thomas Cottingham.

Inspired by true events and the Cottingham family that resided in 17th century Somerset, Maryland, and Delaware, Colonial America comes alive with pirate attacks, religious discord, and governmental disagreements in the pre-Revolutionary War days of America.

Orphaned at an early age, the Cottingham siblings face pirate attacks, illness, injuries, and the disappearance of a loved as they try to establish their lives in the wilds of early America. Will they prevail or be torn apart over the issue of slavery?