Eleanor Kirk was a 19th century novelist whose husband deserted her after a decade of physical abuse and infidelity. She became a suffragist and was a strong advocate for the rights of the unborn. The interesting article below about "women asking for money from their husbands" by her was published in The Sunday Morning Star of Wilmington, Delaware on April 20, 1890, reveals much about life for married women at the time.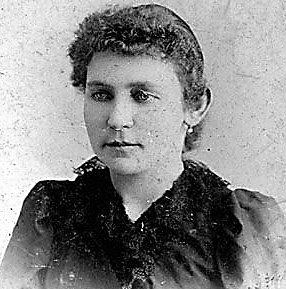 Eleanor Kirk ca. 1890
Brooklyn, April 19, 1890 – The following extract from a letter lately received is by no means a novelty. In fact the frequency of such communications seems to me as startling as it is significant.
"I beg you will not think that I do not love my husband, when I tell you that I cannot bear to accept money from him," my correspondent writes. "I have been married five years, and I have never yet asked him for a dollar, though the necessity for doing so has often been very great. I cannot reconcile this reticence with perfect love, but I do not think any woman ever cared more for her husband than I do for mine. Can you tell me what this means?"
No woman likes to ask for money
It is my opinion that if a consensus of sentiment could be reached it would be found that at least half of our married women feel the same way. Perhaps I can go farther and say that no woman of spirit and sensibility was ever yet known to like to ask her husband for money. Such a think should not be required of a woman. A stated sum should always be placed at her disposal, and the suppliant act abolished.
Another woman writes: "Why I had rather go bareheaded and in rags, than ask my husband for money to buy clothes." Life is very hard for such wives, since the disbursement of money in the family and the shop forms a large part of the average existence. Women who have given up independent occupations to become wives, perhaps feel more keenly than others in this regard. I have very serious convictions as to the advisability of sacrificing a paying business for a doubtful support. If a man can comfortably maintain his wife, and is man enough to make such an arrangement that she need never feel the sense of dependence, then it is perhaps safe enough to give up an active for a passive independence, provided of course an honest affection is the foundation of the contract. But even under such circumstances, with my experience and observation, I should feel like having a string tied to the source of my past revenue. Surely, one cannot be too careful.
Wives should contribute to the new house
I never could see why a woman who was independent in a trade or a profession need give up either. There is always some arrangement that can be made to tide over times when marital exigencies call a halt. Why should not the wife contribute to the new house? Why should she not own some stock of her very own? Why may not husband and wife meet in business as in the domestic circle? "The home will suffer," say some of my readers. The best regulated homes that I know of to-day are those in which the husband and wife have an interest in the making, and the most unhappy are those where the wife is compelled to submit to a servile dependence upon a man who feels that she is not to be trusted with money. Every wife should have her own purse, and this should be filled according to the circumstances of her husband. But the purse which gives the most satisfaction to every properly constituted woman, is the one in which some of the dollars at least are her very own, earned by her own energy and talent.
VINEGAR OF THE FOUR THIEVES: Recipes & curious tips from the past Do you want to know Thomas Jefferson's recipe for Vinegar of the Four Thieves or how to make Ox Tail Soup?
Have you ever had 'blueberry pickles', 'batallia pie' or 'snow birds'? You will learn all this and more in "Vinegar of the Four Thieves." This book is a collection of household tips, medical cures, clothing care and old recipes from the 1800's and 1900's. Many of the tips, such as the household cleaners, cooking tips and ways to control pests, still work and are helpful in today's 'green' environment while others such as 'how to cure a dog of eating eggs' will make you laugh. Either way, this book will help you appreciate the difficult life your grandparents endured.
With Bonus: First two chapters of novel

Ribbon of Love