Transcribed from The Lewiston Daily Sun October 11, 1902, Lewiston, Maine
A HOUSE BUILT OF BISCUITS
Some Ways of Earning a Living if Ill Fortune Comes
When there comes to a woman a sudden necessity to become self-supporting, if she is living in one of the smaller cities, she often finds that positions for women are not easy to find, and the large cities seem so alluring, so full of golden possibilities – until she personally investigates and finds that for every vacancy there is a long "waiting list" and sees many other applicants at the door when she arrives.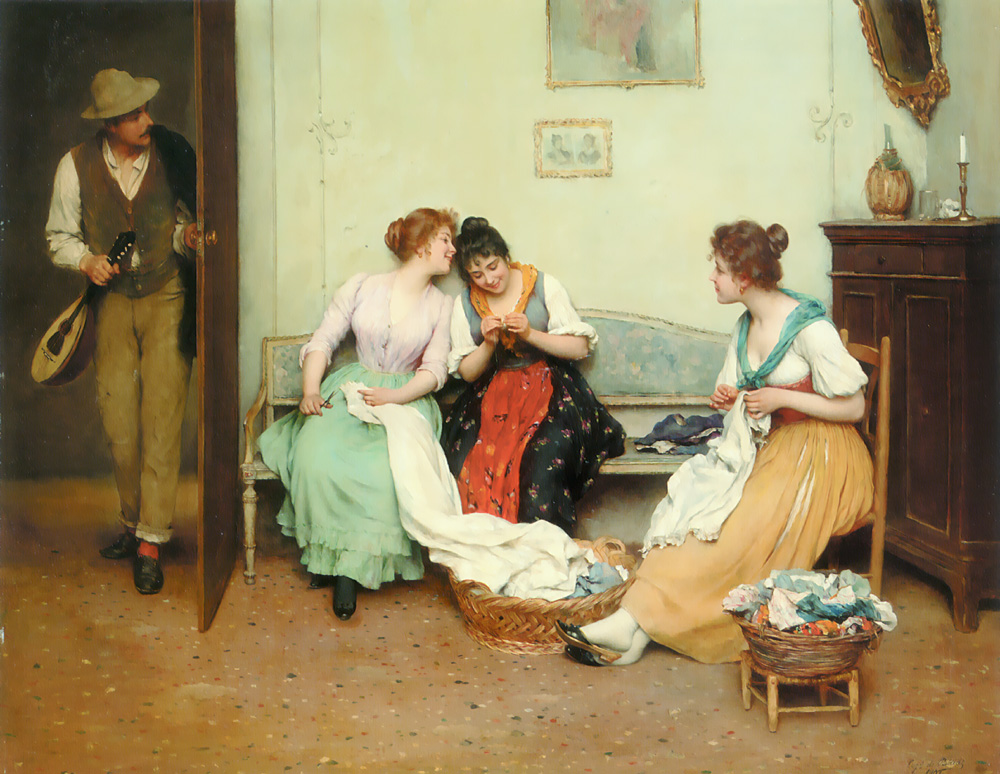 Stayed at Home
Some women, however, have stayed at home in the smaller towns and earned comfortable incomes in unusual ways. There was one who came to be known as the "Little Biscuit Woman," because she so excelled in making beaten biscuits, and which she disposed of through a woman's exchange.
In a few years, she had earned sufficient money to build a small, pretty home. Some people smilingly speak of it as "the house built of little biscuits."
They don't stop to think of the amount of womanly skill, hope, determination and energy that went into every one of those biscuits. She succeeded because she made such good biscuits that everyone wanted them.
Raised hyacinths, and lilies-of-the-valley
A teacher's health became so seriously impaired because of the strain of her duties in an overcrowded country school that she was ordered to give up teaching and live an outdoor life. But how to do it, that was the question. Her widowed mother was dependent on her, and though they owned and lived on a small farm, they could not make it pay.
One afternoon in the early spring, while walking about the big front yard, she noticed a quantity of hyacinths sprouting, and found that they had so multiplied that they were springing up in the barren fields. It suddenly occurred to her, why not have a hyacinth farm and raise the bulbs for sale.
After discussing the possibilities of such a business with a number of florists, she undertook the raising of bulbs, and so shrewdly disposed of them that she now has a comfortable income and meanwhile has regained her health.
A little old woman in the West supported herself by the combined efforts of raising lilies-of-the-valley, sewing a little and taking a few lodgers.
She had been thrown upon her own resources early in life. She was a dressmaker, and, longing to own a home, she had sewed early and late, and had denied herself many comforts, and after long years of unceasing toil had saved enough to buy an old, weather-beaten two-story frame house on a side street. It looked rather gaunt and spare, like its toll-worn mistress, but all within was so cozy and clean and homelike that she never lacked for lodgers. She raised quantities of the lilies with loving care, which she shipped to a florist in a nearby city.
She only sews three days in the week now, for old patrons, and said that left her plenty of time to rest and take life easy.
Sewing and needlework was popular
Two sisters make shirtwaists and neckties so well that they command large remuneration and have time to go out and enjoy themselves.
Another young woman, whose mother had her taught to do beautiful needlework when a schoolgirl, because she thought it such a womanly accomplishment, now makes infant wardrobes (all hand sewing), and her skill commands large prices.
A girl trimmed her own hats so becomingly that neighborhood friends asked her to trim theirs, as they found they often "looked like frights" in hats some milliner persuaded them to buy.
She succeeded as well with her neighbors' hats as with her own, and now has a millinery parlor in her own home, which she laughingly calls her "chapeau atelier."
One who achieved simple and modest dresses for herself from inexpensive muslins and ginghams was besought by her friends to make them duplicates. This she finally consented to do.
She confined herself to one specialty – dainty, inexpensive cotton frocks – and made a financial success of the enterprise. (Boston Journal)
Prior to statehood, Alabama was a vast wilderness with a large Native American population. It is only natural that when new immigrants from other states arrived, conflicts over the land would arise. Soon, these small conflicts exploded into war.
Alabama Footprints Confrontation is a collection of lost and forgotten stories that reveals why and how the confrontation between the Native American population and settlers developed into the Creek-Indian War as well as stories of the bravery and heroism of participants from both sides.
Some stores include:
Tecumseh Causes Earthquake
Terrified Settlers Abandon Farms
Survivor Stories From Fort Mims Massacre
Hillabee Massacre
Threat of Starvation Men Turn To Mutiny
Red Eagle After The War