HUMBLE BEGINNINGS
BY
From early days the school has been a gathering place for the community. I remember when my children were in elementary school there were some upcoming court rulings that would adversely affect our neighborhood school. We parents gathered peacefully outside the school after our children were inside for their classes.
After my children graduated from the local high school, another call went out for interested residents to gather by that school's sign. Several of us met to show our support for the school. School buildings often house churches that don't have congregations large enough to support their own buildings. Some school buildings are used for voting precincts.
One December day, parents of students who attend the same elementary school my children attended sent out the call for people to gather. This time the gathering was to pray for those students. This was following the killing of twenty students and six other people at Sandy Hook Elementary School in Newtown, CT. As I looked around at the parents, some whose children I know, I realized that I was older than the grandmothers of those students! Even so, the interest in the neighborhood school was still there, as well as concern for the students.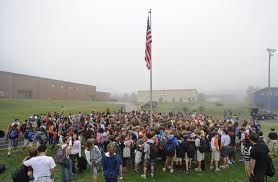 See You at the Pole was begun in 1990 with ten students praying at their school. Twenty years later millions pray on their campuses on the fourth Wednesday in September. See You at the Pole is a student initiated, student organized and student led event. Those students meet at the school flagpole before school to pray for their friends, families, teachers, schools and nation. Do you suppose this interest was instilled by parents who took the time to gather at the local school?
Court records dating back to the 1630s create historical accuracy as the reader is taken back to the primitive days of colonial Virginia and Maryland where the Pattendens encounter life-changing difficulties with Indians, ducking stools, illness, massacres, death, loneliness, love, and greed.
READER REVIEW OF 

RIBBON OF LOVE: 2nd edition – A Novel of Colonial America 

 Book one: The exhilarating action and subplots keep the reader in constant anticipation. It is almost impossible to put the book down until completion. – Dr. Don P. Brandon, Retired Professor, Anderson University