The Way We Were
by
Joyce Ray Wheeler
Edmonson County in rural Kentucky where I grew up was known as the poorest county in the state.  My father, a bachelor at this time, owned the first car in the county.  It was a Ford, and on the day of the purchase, someone showed him how to start and how to stop it, and he drove it proudly home.
In those years women never wore trousers except when doing farm labor in gardens, corn fields, or tobacco fields.  While doing such work, they wore old pants belonging to a husband or a brother.  Tying a heavy cord around the waist to hold the pants up, they would pick up a hoe and head for the fields.
1930s-1940s pants for women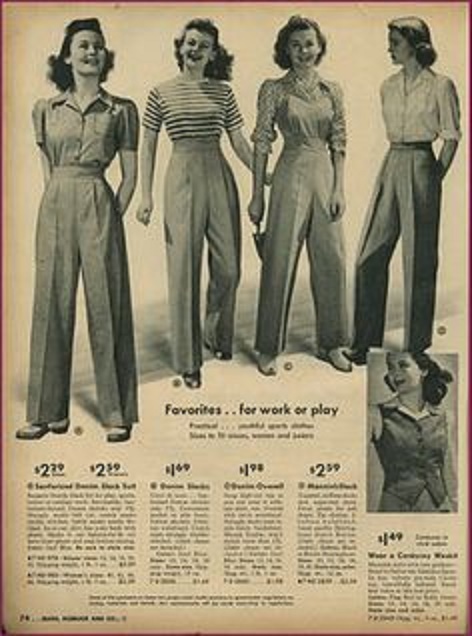 One of the good things about our location was its proximity to Mammoth Cave.  I attended school in Brownsville, the county seat, graduating in 1943.  (Perhaps it will surprise the younger generation to hear that high school trips in the spring were "cool" even back then!)  The junior class trip was always to Mammoth Cave; the seniors went to the Smokies.
My class chose the cave tour which included a passage within the cave appropriately called FAT MAN'S MISERY – a narrow cork-screw spiral leading ever upward.  Each student—BOYS AND GIRLS – must follow close behind one another.  Chatter among the girls indicated dresses and skirts absolutely could not be worn!  I knew my dad would never allow me to wear pants.
A friend solved my problem; she brought an extra pair of slacks to school.  I put them on there, wore them on the trip, and changed back to my skirt when we got back to school.  All of the girls assured me my dad would never know!  Cameras for students were very scarce back then, but somebody had one!  A group picture was made and there I was front and center in my slacks!  Dad saw the picture; he did not scold me, but the disappointment in his eyes hurt me deeply.
No more slacks for Joyce —until the 1960's.  Pant suits had become the fashion of choice for business women and every one else.  A dear friend and I discussed the matter seriously.  Finally one fine spring morning the two of us drove to downtown Birmingham to Tillman Levinson's Discount Store.  She bought pants and vest in tiny-checked brown and cream; I bought a navy blue jacket and pants.
I never wore my fashionable purchase in my dad's presence.  Even today – many-pant-suits later – I remember dad!
Family Surname Books – use the Search box to find your ancestor
New Historical Series on Colonial America
Shop Amazon Gift Cards – Instant Delivery or Free One-Day Shipping