BEARS AMONG THE GREENERY
BY
Skid Marks on embankment
A few years ago some friends and I spent a few days in a chalet in Gatlinburg.  When we arrived at the chalet, I discovered some skid marks down an embankment to the deck.  I decided those were bear skids and refused to sit with my back to the outside entry to the deck.
I suffered a lot of teasing from my friend, Jean.  Inez:  "No bear is going to slip up on you!"  As we traveled around the area, we noticed that all trash cans had bear proof lids.  Hmm!  Sounded like a warning to me!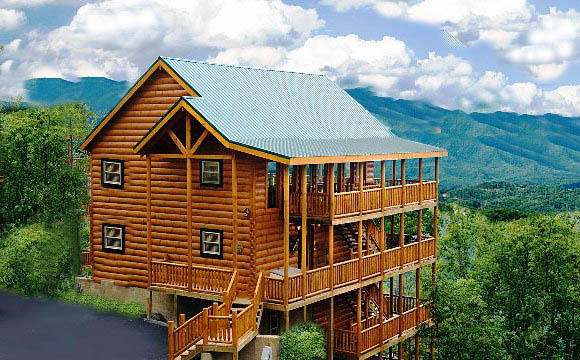 Posed at State Line
We continued to take in the beautiful scenery as we drove through the Great Smoky Mountains National Park.  We walked part of the Appalachian Trail, a few feet anyway.  We proudly posed by a sign marked "Tennessee North Carolina State Line" and stepped back and forth from one state into the other.
The nice spring days were perfect.  Each afternoon, we would return to the chalet and sit on the deck surrounded by Mother Nature.  Of course, I was always facing that outside entry to the deck.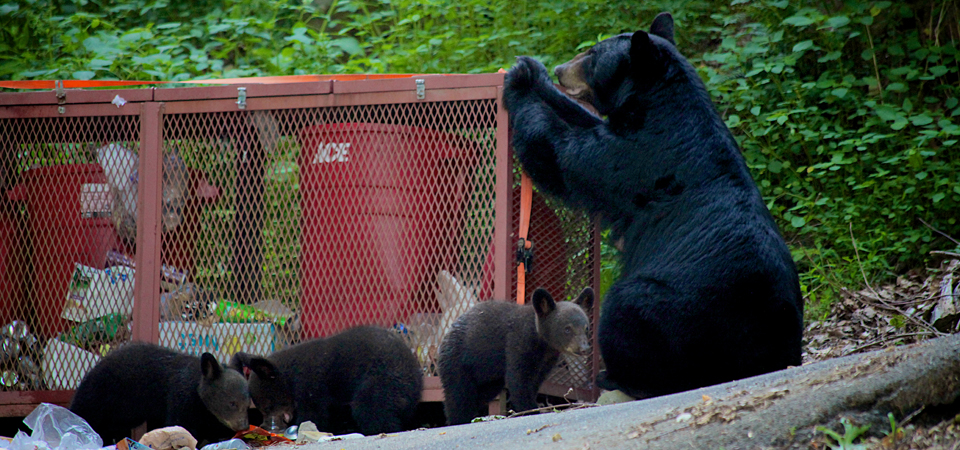 Mother bear and triplets
One day as we drove through the Park, cars were lined up along the road and people were standing with cameras aimed toward the wooded area.  There was a mother bear and her triplets.  With distance between us and those bears, we thoroughly enjoyed that experience.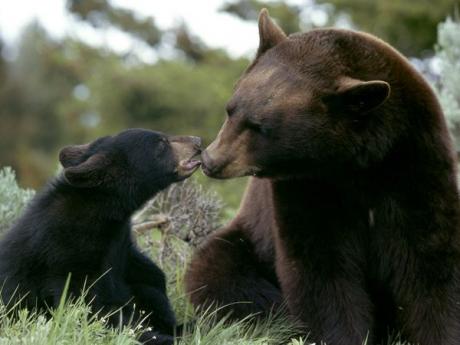 She made a mad dash
A few days later as we prepared to leave the chalet and make our journey home, Jean took the garbage out to the trash can.  Suddenly she screamed and made a mad dash for the door of the chalet.
Jean had come face to face with a bear looking for his/her breakfast.  With all the commotion, that bear strolled across the street to a quieter place to scavenge. We still giggle about that experience.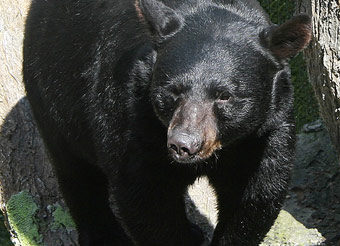 Black Bears in southeast Alabama
Recently, I read with interest an article about black bear sightings in Alabama.   Those bears have established a home range in Dekalb, Cherokee and Etowah counties in northeast Alabama.
Black Bears have now been seen in southeast Alabama.  Folks, take a look at your maps!  We are surrounded!  Is it time to locate a source for the bear proof garbage cans?  When outside, shall I begin sitting with my back to the wall?
Did you know that all E-books can be downloaded immediately from Amazon.com – Read eBooks using the FREE Kindle Reading App on Most Devices?
On sale at Amazon.com – Free Shipping with Amazon Prime
Join Amazon Prime – Watch Over 40,000 Movies & TV Shows Anytime – Start Free Trial Now