Bluebeard's Castle is a historic property dating back to the 1600's in St. Thomas, Virgin Islands. The island was owned by Denmark in 1666.
In 1683, the colony became fearful of an attack by the English so certain measures were taken to protect the little town. Bluebeard's castle dates back to this time. The castle was used as a fort until 1735. The Danish West Indies and Guinea Company was taken over by the Danish Crown in 1754, and the tower remained government property until 1818 when the tower passed to G. L. Einem. It passed through several hands since then.
Bluebeard's Castle, Frederiksberg Estate, Charlotte Amalie, St. Thomas, VI ca. 1933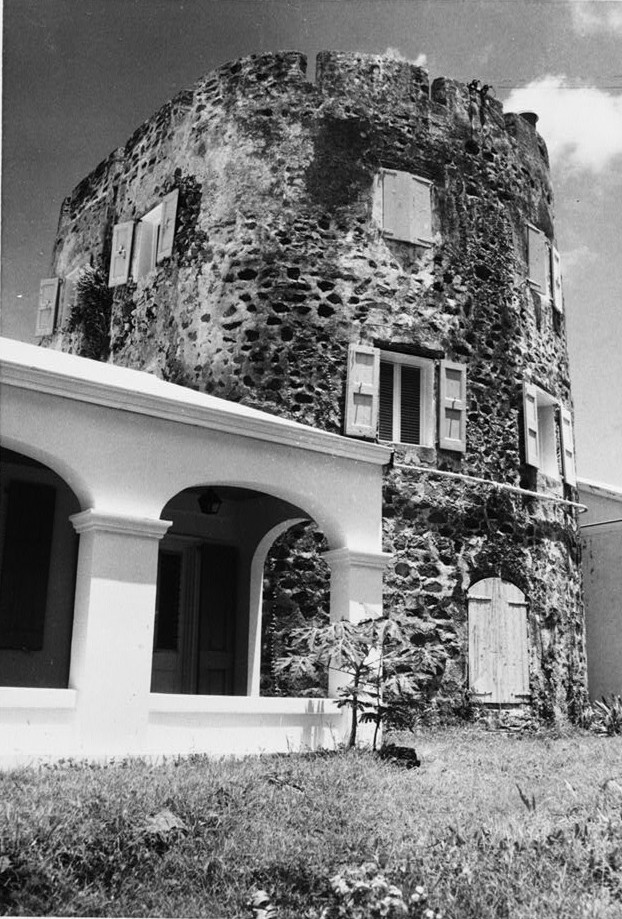 When the United States acquired the tower in 1933 it was part of a program to develop the tourist trade on the Island proposed by the first civilian governor after the 1917 sale of the Virgin Islands to the U.S., Paul M. Pearson, and the buildings on the estate were converted to a hotel.
Bluebeard's Castle, Frederiksberg Estate, Charlotte Amalie, St. Thomas, VI ca. 1933 Interior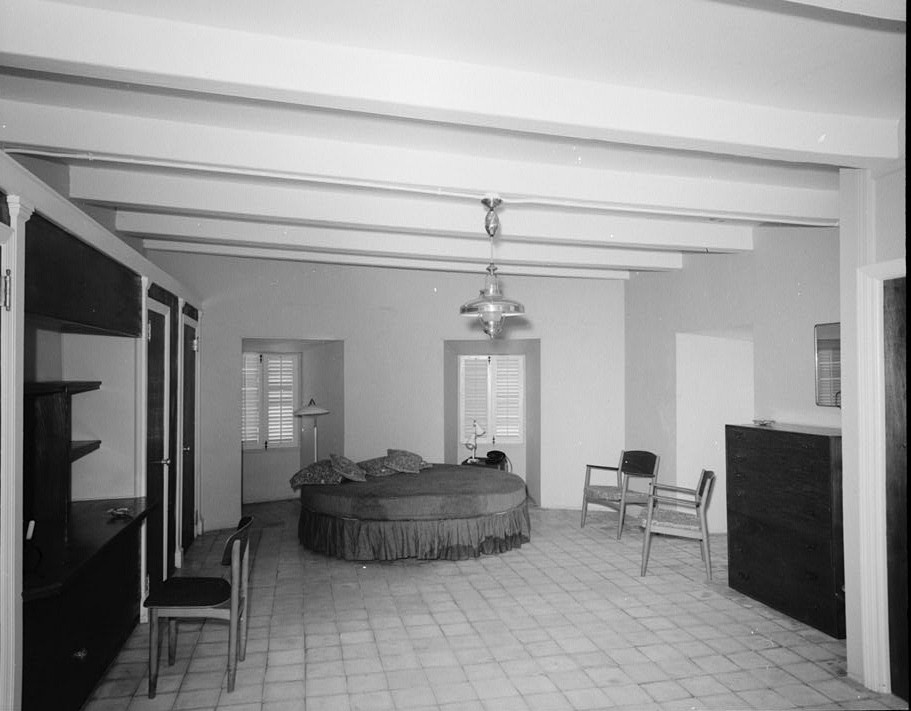 President Franklin Roosevelt visited the Hotel on 7 July 1934. With the new government administration in 1952, it was decided to dispose of the venture, and the sale to a private organization was effected in 1954. The buildings surrounding the tower have been considerably augmented since the estate was converted to a hotel.
Bluebeard's Castle, Frederiksberg Estate, Charlotte Amalie, St. Thomas, VI ca. 1933 front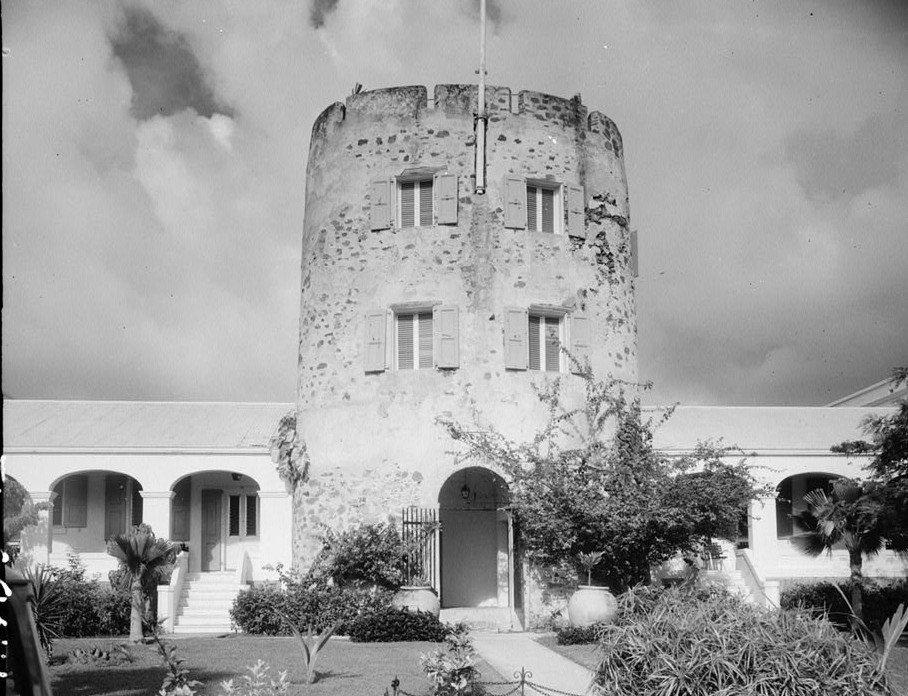 The popular name for the tower, "Bluebeard's Castle," stems from the nineteenth century when many stories, none substantiated, were told connecting the pirate, Bluebeard, with the tower. A number of these legends have been expanded, written, and published, chiefly by Charles Edwin Taylor and J. Antonio Jarvis.
Photocopy of a measured drawing (original delineated by Tyge Hvass, 1919) PLANS, SECTIONS, AND ELEVATIONS OF CASTLE – Bluebeard's Castle, Frederiksberg Estate, Charlotte Amalie, St. Thomas, VI

Built on a hill 224 feet high, rising sheer from the shore on the eastern side of the harbor, the Tower of Bluebeard's is claimed to be approximately 34 feet high. The tower consisted of two stories, each with two windows facing the town.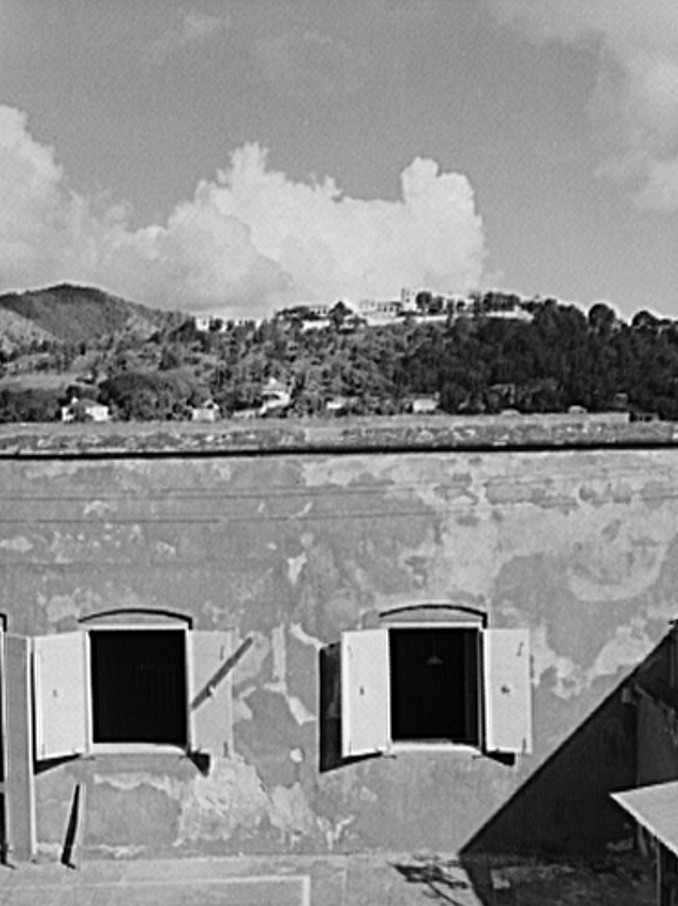 While there is no historical proof of Bluebeard's Castle ever being inhabited by a pirate, it has had a full share of adventure and a colorful past and pirates, such as Blackbeard were believed to have inhabited the island.
Charlotte Amalie, seen from Bluebeard's Castle Hotel. Saint Thomas, Virgin Islands by photographer Jack Delano Dec. 1941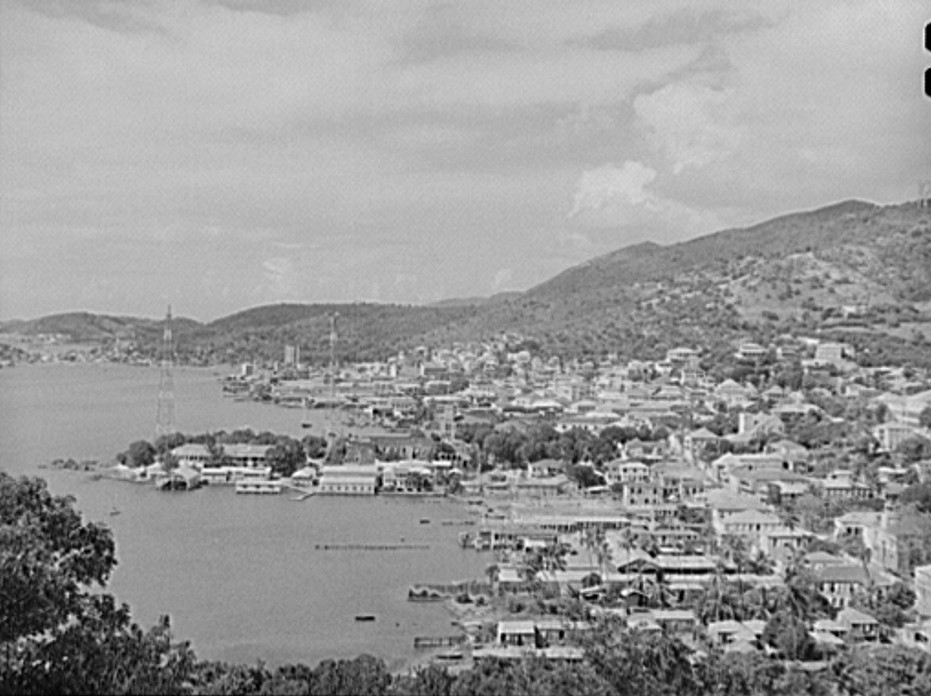 However, Bluebeard was never actually a pirate. He was actually the monster of Charles Perrault's tale Barbe Bleue, who murdered his wives and hid their bodies in a locked room. The similarity of names, Bluebeard with the actual pirate, Blackbeard, caused some confusion. George Melies produced the silent film below about Bluebeard in 1901.
https://www.youtube.com/watch?v=9aj41N5ET5Y
Today, Bluebeard's Castle is a timeshare resort that is centrally located near downtown Charlotte Amalie in the US Virgin Islands. It is located on a hill with beautiful views of the harbor. While it does not have its own beach, you are within a very short drive to numerous gorgeous beaches either on St. Thomas or nearby in St. John or the BVIs
SOURCES
http://lcweb2.loc.gov/pnp/habshaer/vi/vi0000/vi0029/data/vi0029data.pdf
Bluebeard: A Reader's Guide to the English Tradition By Casie Hermansson Univ. Press
Tapestry of Love: Three Books In One Paperback – January 29, 2018
REVIEWS:
The exhilarating action & subplots keep the reader in constant anticipation. It is almost impossible to put the book down until completion,Dr. Don P. Brandon, Retired Professor, Anderson University, Anderson, Indiana
This is the first book I have read that puts a personal touch to some seemingly real people in factual events.Ladyhawk
Love books with strong women…this has one. Love early American history about ordinary people…even though they were not 'ordinary'…it took courage to populate our country. This book is well researched and well written.Julia Smith
A picture of love and history rolled into one. A step back in time that pulls you in and makes you a part of the family and their world.Ken Flessas
Each book's writing gets stronger, characters become real, the struggles and sorrows that laid the foundation for this country.Addictedtobooks
Not only is the story entertaining, it opens the eastern shore of the early Virginia Colony to the reader as a picture book….I know this story will touch many peoples' hearts.B. Thomas
At the age of sixteen, Mary and her husband, whom she barely knows, are forced to escape the only home they've ever known and settle in the primitive 17th century world of America where they shape their family's destiny for generations.
Inspired by actual people and historical events of colonial America, "The Kingdom of Accawmacke" is revealed and secrets about America's history are discovered in this well-researched series. The story begins in 17th century England during the reign of Charles I and continues a family's journey to the eastern shore of Virginia and Maryland.
>