The phrase
BATS IN THE BELFRY

means crazy or eccentric.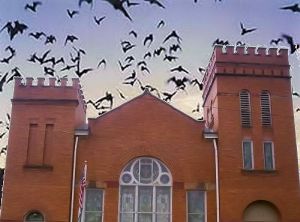 The phrase has the sound of a phrase from 'Olde Englande' and it certainly has the imagery to fit into any number of Gothic novels based in English parsonages or turreted castles, but it comes from the USA and is not especially old. This article from the Ohio newspaper The Newark Daily Advocate, October 1900 includes the phrase:
"To his hundreds of friends and acquaintances in Newark, these purile [sic] and senseless attacks on Hon. John W. Cassingham are akin to the vaporings of the fellow with a large flock of bats in his belfry."
Where Do I Start?: HINTS and TIPS for BEGINNING GENEALOGISTS with ONLINE RESOURCE

 Do you need some guidance in your genealogy search? Save time and avoid pitfalls in your research. This book provides simple, no-nonsense instructions to help you get started. Many FREE research links included.
Tips include:
WHERE TO FIND – on-line resources, experienced genealogists will not be aware of many of these.
COURT RESEARCH – how to do courthouse research, where to find birth, death, social security records free on-line.
EIGHTY – ONE QUESTIONS – you should ask your elderly loved ones before it's too late.
TIPS ON BREAKING DOWN THE WALL – Everyone faces some difficulties in research, often called a 'brick wall' but WHERE DO I START? provides suggestions for overcoming them.