FRUIT CAKE, ANYONE?
BY
The fruit cake is the proverbial joke this time of the year. There are stories about re-gifting them into the following year. Me? I happen to be quite fond of them. I purchase the bar type and keep it in the refrigerator. It doesn't go anywhere since I am the lone connoisseur of them. At one time I had recipes for baked or un-baked fruitcake and fruitcake cookies.  I checked my recipe box today and apparently had thrown those recipes away since they are expensive and no one in my family likes them anyway.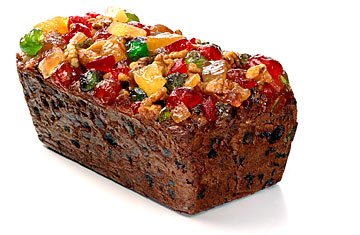 My Mother baked them a few years; but apparently ran into the same problem–too expensive and not enough eaters.  A neighbor always baked fruit cakes and soaked them in wine, then she would place the wine in the hole in the middle of the cake before covering it.  Some of us teenagers spent the night with this lady once and there wasn't much wine left the next day.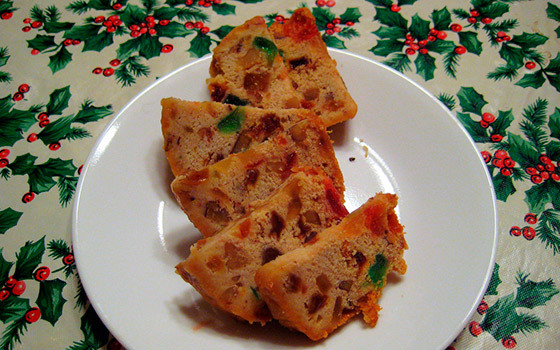 I recently read a book by Debbie Macomber in which a reporter was given an assignment to interview three contestants in a fruitcake contest.  One was the regular fruitcake, one was chocolate with pineapple and one was unbaked.  The reporter did not like fruitcake; but by the end of those interviews, she had developed a taste for them.  She decided that a lot of the popularity with these contestants was their life style and their experiences along the way.
Someone gave me a new cookbook recently; but, alas, no fruitcake recipes.  I did find a Gingered Fruitcake in the latest edition of Better Homes and Gardens Magazine. This particular cake had dried apples and apricots and was wrapped with cheesecloth which had been soaked in Orange Juice.  I did not save the recipe.  I probably would have to eat the whole thing.
Amazon.com – Read eBooks using the FREE Kindle Reading App on Most Devices
Try a trial Membership by clicking the link below. Join Amazon Prime – Watch Over 40,000 Movies & TV Shows Anytime – Start Free Trial Now
You can now give a gift of Amazon Prime  = click this link to learn how – Shop Amazon – Give the Gift of Amazon Prime
Check out old fashioned recipes and tips in the book – Vinegar of the Four Thieves: Recipes & Curious Tips from the Past
Books make great gifts!