Alabama contributing Author, Joyce Ray Wheeler, shares a personal July 4th in Kentucky that turned out quite differently than expected. 
JULY 4TH FIREWORKS
By
(b. January 4, 1926- d. November 1, 2012)
A tragedy for our tiny Kentucky town occurred at midnight on July 4, 1941, when I was fifteen years old. The stillness of the night was broken by the loud voice of a man running down our one little gravel street shouting "Fire! Fire! Fire!"!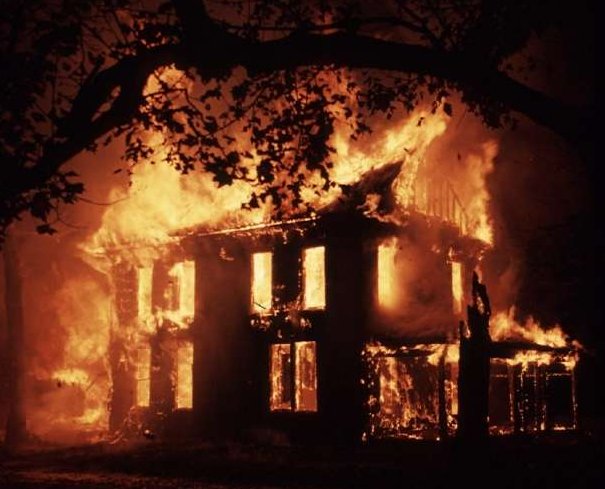 There were tiny places of business and homes all along this street. The fire began in a tiny "one chair" barbershop which shared a wall with our little post office which shared a wall with our "drug store." The drug store was taller than the adjacent buildings, so at that point, a shift in the wind sent the blaze across the street to burn the Wheeler General Merchandise Store and the Wheeler home next door.
There was no fire department nor running water. When it was realized that the Wheeler buildings could not be saved, the decision was made to dynamite the two buildings to save the rest of the town.
There was only one house between our house and the starting point of the fire so Mother and I began carrying out special things in case the fire came in that direction. I brought the family Bible out, and Mother and I carried and dragged my cedar "hope chest" down the steep stairs.
A few things were saved from the Wheeler home: A sofa, a refrigerator, and their daughter's big-brimmed Sunday straw hat. The Wheeler's son was in Nashville attending Business College.
The Wheeler family asked us to keep their refrigerator until they found a place to live. We had only a wooden icebox into which we put big 40 lb. blocks of ice. Needless to say, after we experienced the wonders of a refrigerator, my dad soon purchased one.
I may have been the only one to witness one funny thing that happened which we could laugh about later. Our next door neighbor was a very dignified man who always wore a long-sleeved white shirt with a black bow tie. He had helped carry "stuff" from the Wheeler house, had gotten overheated, and was sitting in a chair in our driveway fanning himself with the big straw hat with blue ribbon streamers which belonged to the Wheelers' daughter. Suddenly as the wind changed, Mr. Roy put that hat squarely on his head – – ribbons and all. The Wheeler's son had been called about the fire, and he rode a Greyhound bus home the next day
On Sunday he walked to the little white church. As he passed the Ray house, I came out to walk to church with him relating all the details about the fire and how frightened I had been. I thought he wanted to hold my hand. Perhaps this was an early step toward our 66 years of marriage which we celebrated in May.
My memories of July 4, 1941, are very clear.
–

Court records dating back to the 1630s create historical accuracy as the reader is taken back to the primitive days of colonial Virginia and Maryland where the Pattendens encounter life-changing difficulties with Indians, ducking stools, illness, massacres, death, loneliness, love, and greed.
Tapestry of Love: Three Books In One Paperback