Hightstown, New Jersey – Moving day and a surprise statue
"As finally completed, the town section of Jersey Homesteads contained 200 white, concrete-block homes of from five to seven rooms, located on small homestead plots of approximately one acre."
(The two photos below are of the Model house near completion in June 1936 by photographer Dorothea Lange)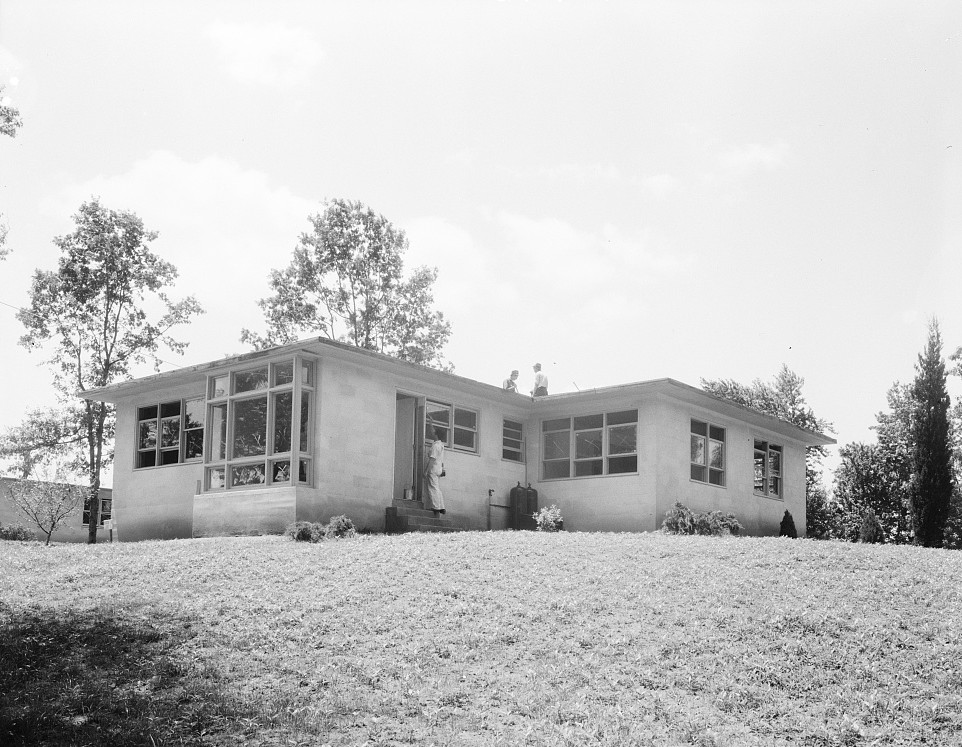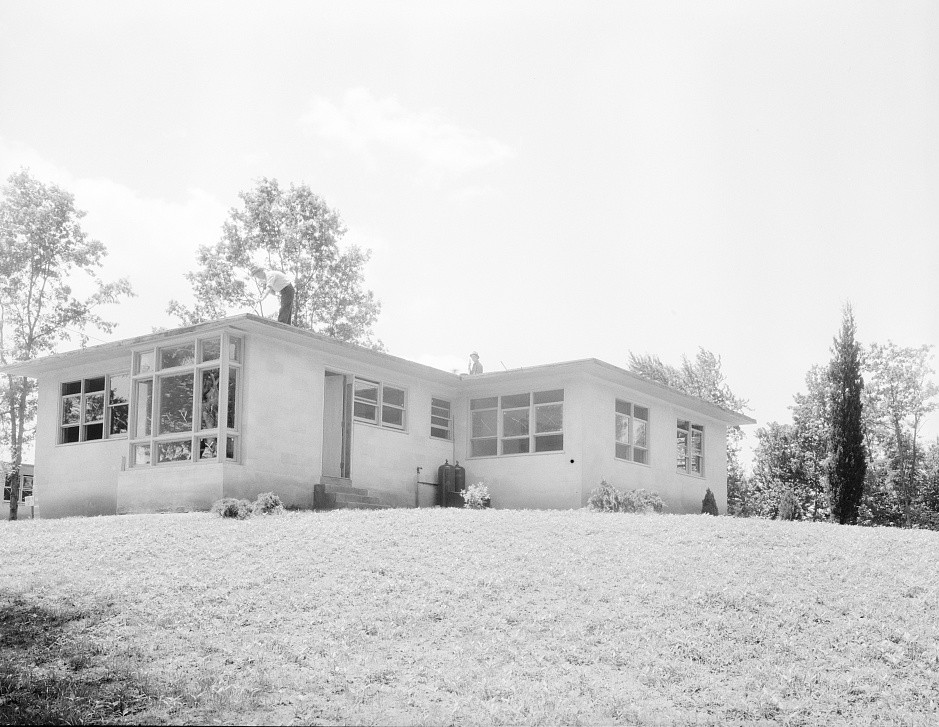 "The homes, although not beautiful from the outside, included modern baths, oil furnaces which air-conditioned the homes in summer, and electric refrigerators. Each homestead had a combination garage and workshop."1
(This type house was for two families (incomplete) Ready for occupancy July 1936 – photo by Dorothea Lange June 1936)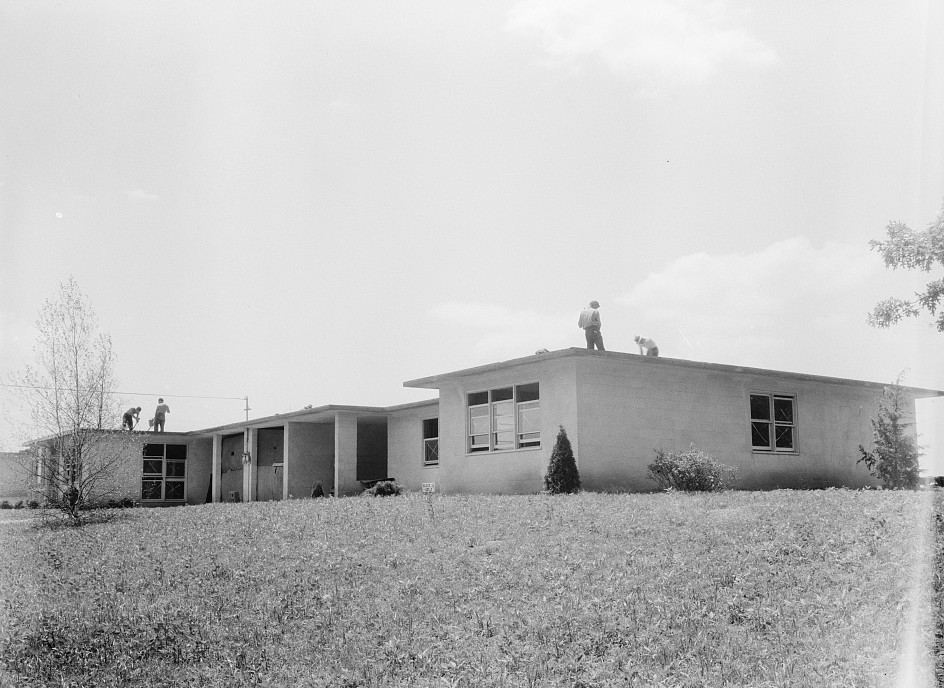 (House at Hightstown, New Jersey – completed June 1936 – photo by Dorothea Lange)
"The town contained the garment factory, a modern sewage disposal plant, a water tank and water lines, a town hall, which also contained a day nursery and library, a combination elementary school and community building, a co-operative store and butcher shop, a clothing store, a tearoom, and a medical clinic."
(Building the road to the community  by Dorothea Lange June, 1936)
(Consumers-cooperative which they expect to enlarge as the colony grows. The photo below shows manager Nathan Dubin doing a flourishing business in his temporary store in 1936.)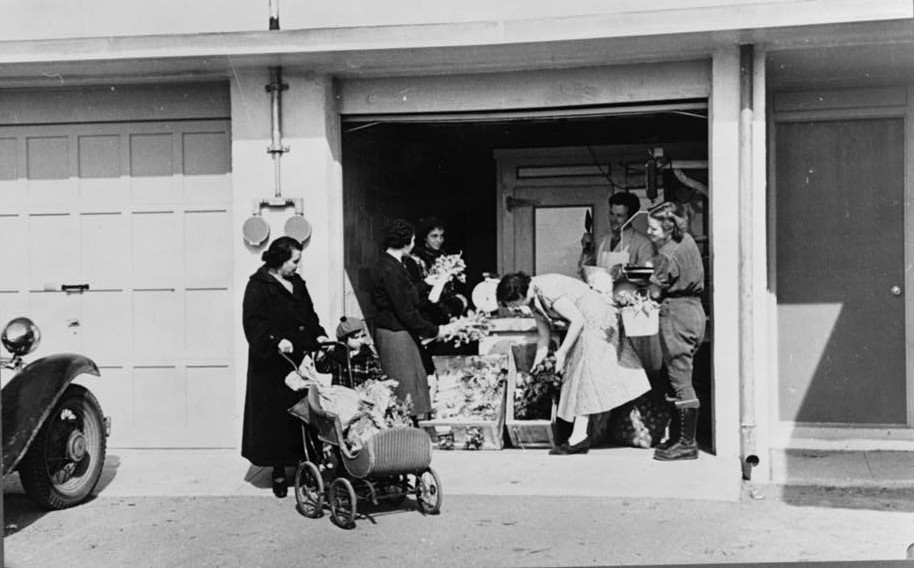 Surveying Hightstown, New Jersey Homesteads 1936 photographed by Russell Lee
Jersey Homesteads was the only New Deal community to be settled by a completely homogeneous population with strong religious ties. From the beginning the homesteaders were a cohesive and enthusiastic group."2
( Member of the farming group on the project. Polish-Jewish born, served in the American Army, World War I photo taken June 1936 by Dorothea Lange)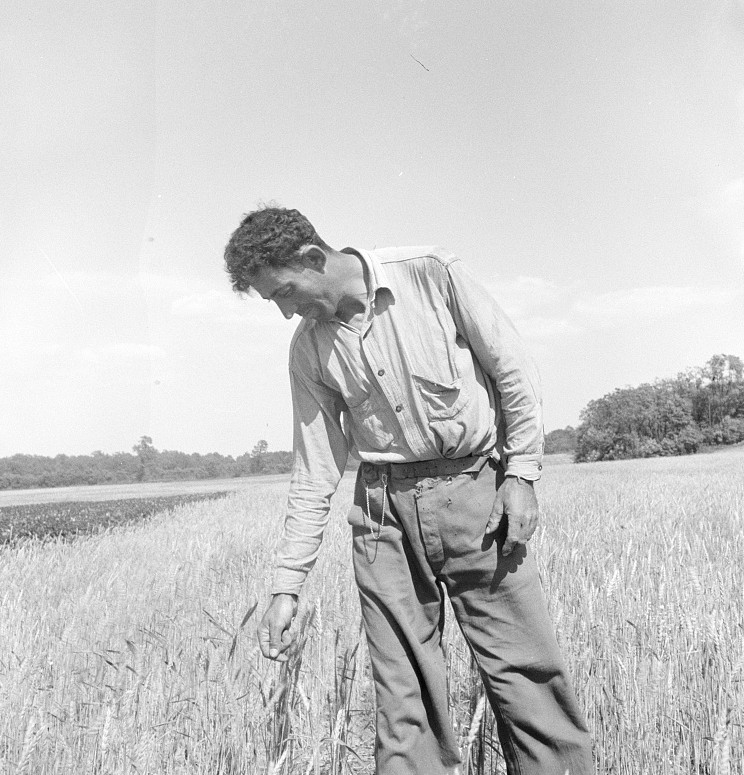 (Interviewing applicant for the Hightstown Homestead, New Jersey June 1936 Dorothea Lange)
"Almost all of foreign extraction, inured to persecution in Russia or other foreign lands, they had practically been forced into the garment industry on arriving in America, since almost a third were illiterate, since they arrived with less funds than any other major immigrant group, and since, in most cases, they were skilled only in the needle trades because of occupational limitations imposed upon them in Russia."i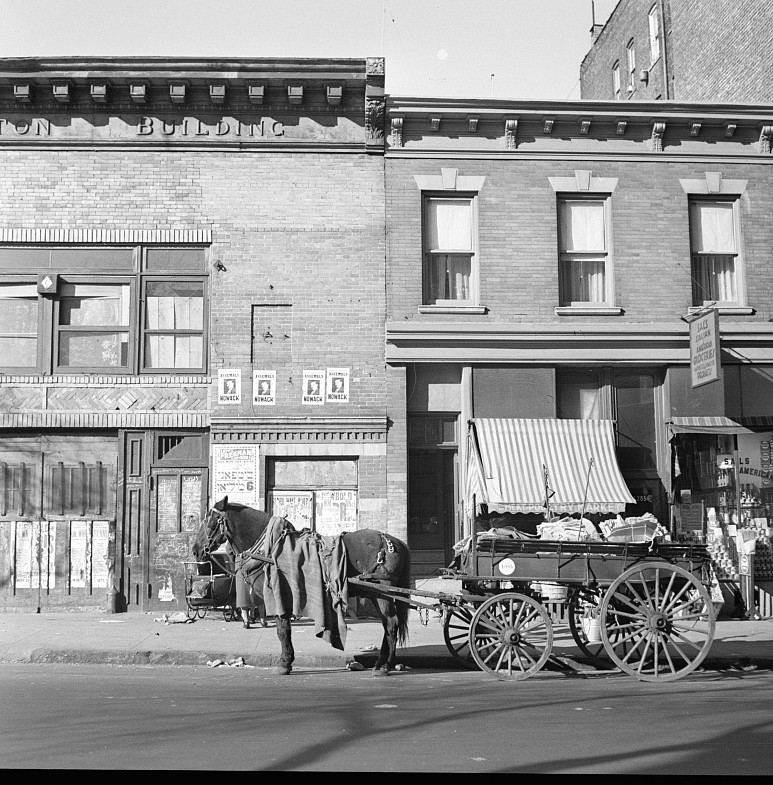 Play street for children. Sixth Street and Avenue C, New York City. Photo by Dorothea Lange June 1936.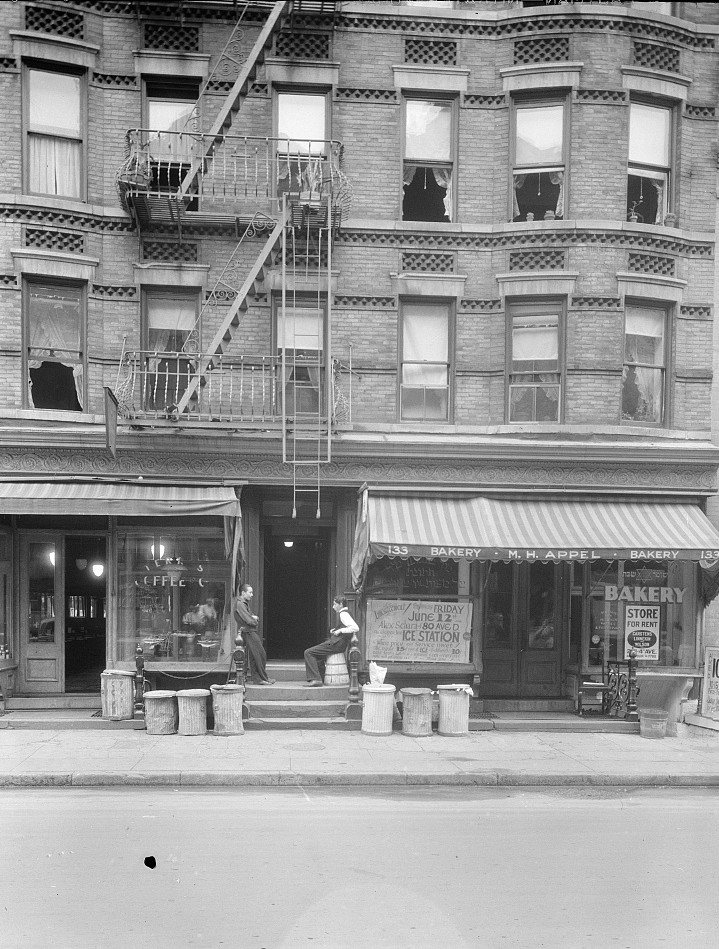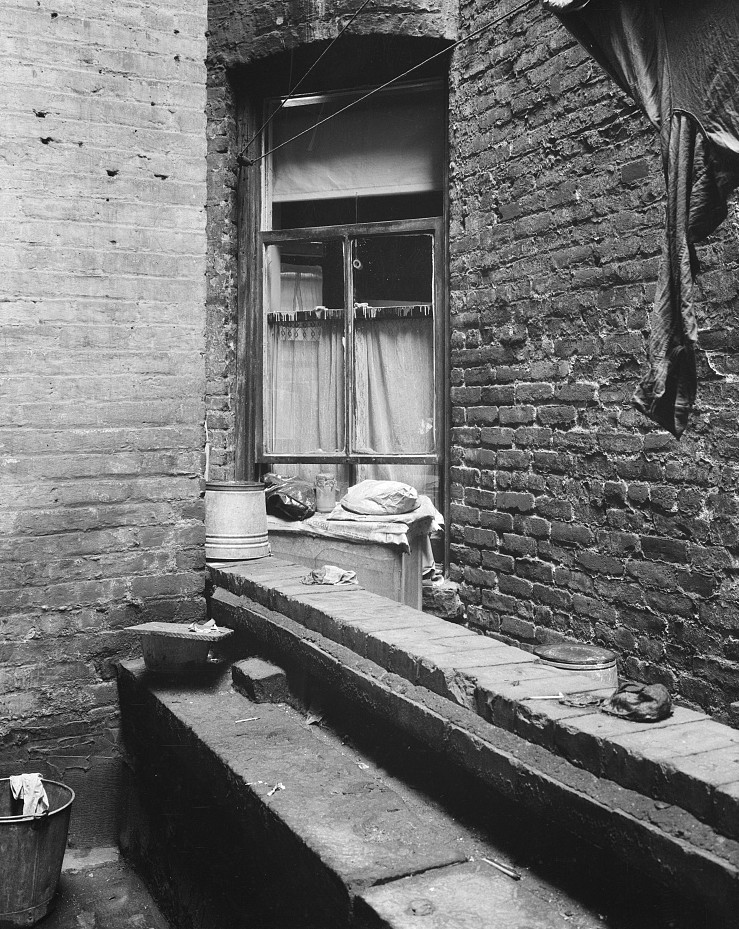 The Solomon family who were resettled at Hightstown, New Jersey lived in the neighborhood pictured in the the photos above. This Resettlement Administration project includes two hundred and fifty homes, four hundred and fourteen acres of farmland, a modern factory, utilities, including water system, recreation area and lake. Each family will have a modern home and an opportunity to work in a cooperative factory. Also a small plot of land for raising garden vegetables.
"In the garment districts of New York City they had not always found the economic security for which they longed. The opportunity for a homestead in the country, with their own people as neighbors, seemed to be a second migration, away from an insecure, chaotic, and highly competitive world to a modern promised land. They were all as eager as children to get into their new homes.

As early as May 17, 1936, the homesteaders and friends picnicked on the grounds of the uncompleted project, disappointed only because no important Resettlement Administration official attended."2
(New homesteader in her kitchen at Hightstown August 1936 by Carl Mydans)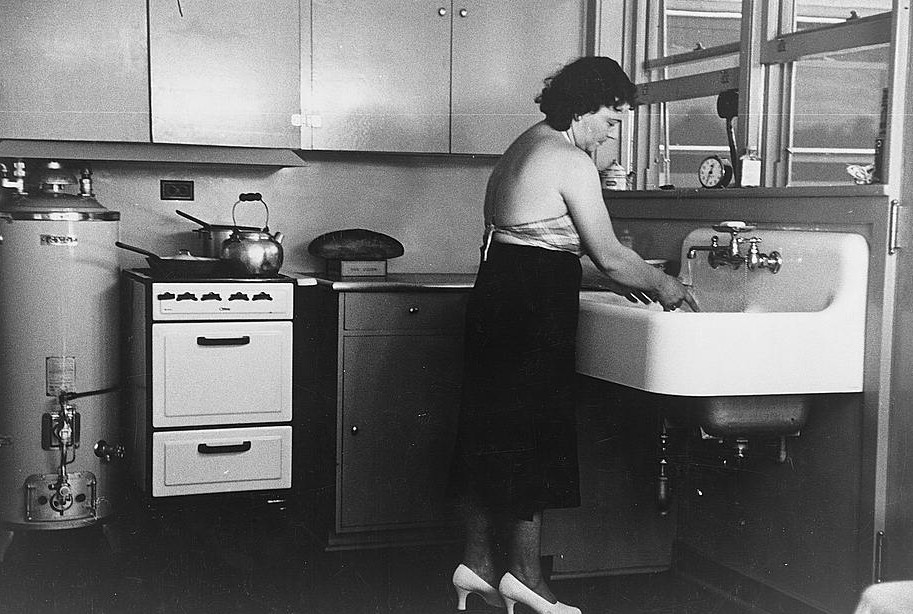 "The first moving day at Jersey Homesteads was on July 10, 1936, when seven families arrived after dark. Their fifty-mile trip from New York City was delayed by a bridge that was out and by the loss of three trucks in heavy traffic. Elaborate opening ceremonies had to be canceled, and the homesteaders unloaded in the face of a thunderstorm, delayed by a publicity director who insisted on recording the event on a newsreel."3
"With the completion of the project, visitors were allowed, with approximately 5,000 inspecting the project on July 12. The first settlers were soon greeted by the "doers of good" or the "eager helpers and amiable zanies," depending on the point of view, that represented the Special Skills Division of the Resettlement Administration."4
"There were lectures on preserving, co-operation, and drama and, to a group of frugal Jews, on the necessity for economy. On the day of moving an interior decorator came from Washington with a load of furniture and set up a model cottage, despite the fact that homesteaders were on the way from New York to move into every completed home. On her departure a van came to the house and unceremoniously removed the model furniture and placed it in storage. Soon after the first homesteads were occupied, a large surprise package arrived a huge modernistic statue depicting a woman at a sewing machine."6
(Statue by Lenore Thomas at Jersey Homesteads. Hightstown, New Jersey Photographed byArthur Rothstein 1938)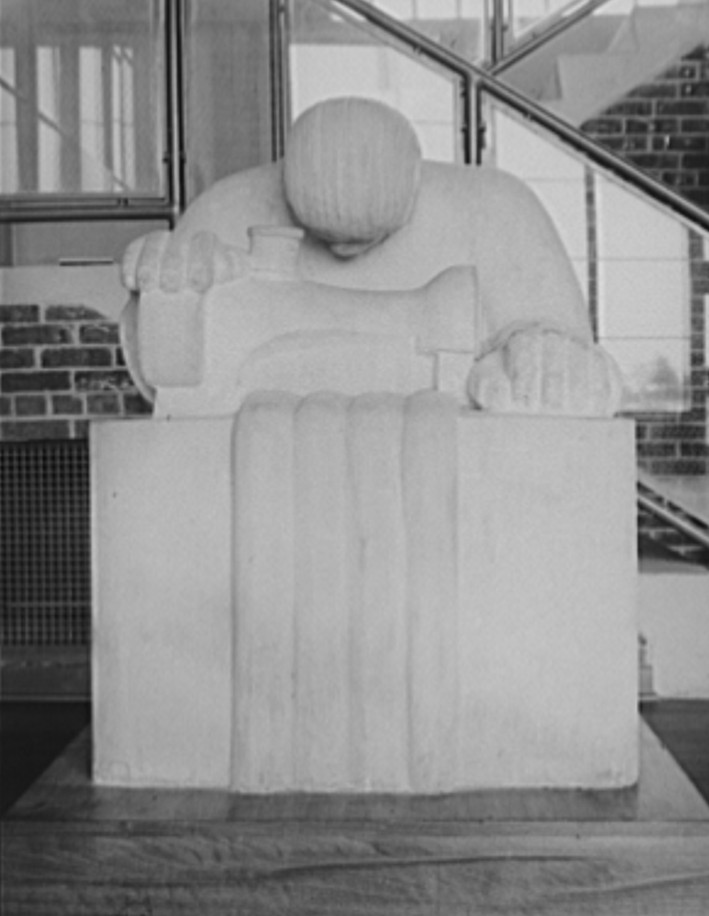 FreeHearts: 2nd edition A Novel of Colonial America
Col. John Washington (ancestor of President George Washington), Randall Revell, Tom Cottingham, Edmund Beauchamp ward off Indian attacks and conquer the wilds of Maryland's Eastern shore in 17th century colonial America in this historical novel, inspired by true events.