To
rack one's brains

 is to strain mentally to recall or to understand something. 

The term is used whenever something or someone was under particular stress.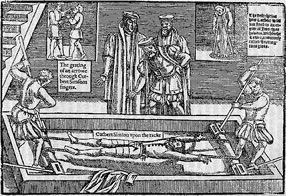 The rack was a medieval torture device. The crude but, one presumes, effective racks often tore the victim's limbs from their bodies. It isn't surprising that 'rack' was adopted as a verb meaning to cause pain and anguish.
The first recorded use of this being specifically applied to brains is in William Beveridge's Sermons, circa 1680:
"They rack their brains… they hazard their lives for it."
Faith and Courage: 2nd edition -A Novel of Colonial America 

Inspired by real people and actual events, the family saga of colonial America continues with Ambrose Dixon's family. Faith and Courage

presents

the religious persecution of Quakers in Pre-Revolutionary War days of America intertwined with a love story.