The idiom
To RAISE CAIN

means to behave in a rowdy or disruptive way.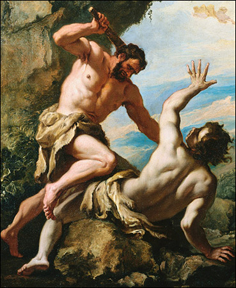 In the late 19th century; from the St. Louis' Daily Pennant, May 1840 this pun was used: "Why have we every reason to believe that Adam and Eve were both rowdies? Because they both raised Cain."
Cain was the first murderer according to scriptural accounts in the Bible – Genesis 4 – The biblical account, tells of how Cain and Abel, the two sons of Adam and Eve, bring offerings to God, but only Abel's is accepted.Cain kills Abel in anger and is cursed by God.
Faith and Courage: 2nd edition -A Novel of Colonial America 

Inspired by real people and actual events, the family saga of colonial America continues with Ambrose Dixon's family and their life during

 Pre-Revolutionary War days of America, intertwined with a love story.