During the 17th century, much of the land in Tidewater Maryland was patented in huge tracts to the first settlers. The acreage of these often being more than one family could farm, they were divided into smaller tracts during the 18th century. On these parcels, the colonial planters built their homes, usually dwellings of frame or brick with one or two rooms, often enlarged at a later time.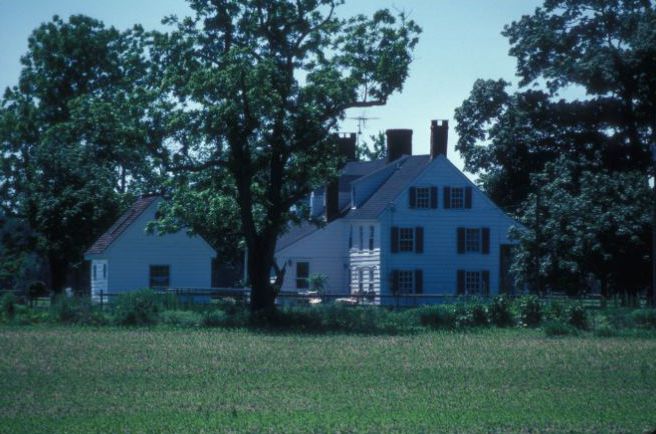 Property divided into smaller parcels
Camell's Worthmore originally contained 1,150 acres of land and was surveyed in 1682.
"In 1683 a patent was granted to William Marr and Thomas Collins for 1 150 acres called "Camwells Worthmore" (variously spelled Camelsworthmore, Campbells Worthmore, etc.) then part of Cecil County. The property was subsequently divided into several smaller parcels, one of which Richard Bennett, Rent Roll Keeper of the Eastern Shore, acquired and later devised to his cousin Edward Neale in 1749.
Land was sold
Neale sold this land to James Tilghman, an Eastern Shore attorney living in Philadelphia. James Tilghman was Chancellor of the Province of Pennsylvania and father of Col. Tench Tilghman, Washington's aide-de-camp. In old St. Paul's Churchyard James Tilghman lies buried and his tomb is plainly marked, giving some of the history of his life. Tilghman owned the property for fifteen years, then sold it to John Angier, a farmer and resident of Kent County.
On the tax assessment of 1783, Angier was assessed for 445 acres of Camelsworthmore, almost twice as much as he had obtained from Tilghman. On this property were several "Good wooden dwellings and cammon necessary Houses." The setting was listed as forest and the soil as "Good old Land." Angier owned eleven slaves at this time and had several free persons in addition to his family living on the property. He was apparently quite successful as a planter; the inventory of his personal estate came to slightly over &1000, considered to be the point separating those of middle income from the truly wealthy of the eighteenth century.
Members of the local parish
The Angier, Brooks and Medford families were large landowners and with few exceptions were members of the parish in which they lived—Shrewsbury.
"Thornton," 1,000 acres, the Brooks property, and "Buckingham," another large grant, 1,300 acres, were among grants in this neighborhood that date back to the very earliest in the Province. "Drayton," a manor of 1,200 acres, granted Charles James in 1677, and long the home of the Janvier family, was not far distant to the west. This same Charles James received a grant for 100 acres in 1687 which he gave to the vestry of Shrewsbury Parish. This property was called "Mayford."
"Denbigh," 700 acres, granted in 1671, at the head of Churn Creek, and "The Grange," 900 acres, granted the same year to John James, on the north side of Still Pond Creek, were famous colonial homes in their day.
Chapel of Ease built at Chestertown
In 1765 the Assembly passed an act erecting Chester Parish out of St. Paul's and Shrewsbury Parishes, authorizing the purchase of two acres of land "at or near the cross roads at the place called I. U. and a parish church to be built on the land. The land and church to cost not more than 130,000 pounds of tobacco." The chapel of ease was already built at Chestertown. The first vestrymen were: Aaron Alford, Macall Medford, Joseph Rasin, Thomas Perkins, St. Leger Everett and William Ringgold.
Sold half to each of his sons
Angier sold approximately half of his Camelsworthmore property to each of his sons, 233 acres to Unit in 1789 and 212 acres to Thomas in 1791. The former paid about $700 for his share and the latter $1200 for his, indicating that the house and outbuildings probably stood on the second tract. Thomas sold his parcel to Unit in 1799.
When Unit Angier' died intestate in 1824, his property was sold to pay his debts. The last of the Angiers who owned "Camell's Worthmore" lies buried in the garden back of the old colonial home.
Property named Shepherd's Delight
Thomas Hepbron, Jr., of Kent County, purchased the part of Camelsworthmore that includes Shepherd's Delight. This property was devised to the Reverend Sewell Stavely Hepburn (earlier spelling Hebron) in 1882. Apparently during his ownership the property was called Shepherd's Delight, the name by which it is still known. The property has remained in the Hepburn family until the present day.
Shepherd's Delight was a frame structure
Shepherd's Delight, built c. 1767 to 1783, was added to during this period and again c. 1810. Like the majority of dwellings on the 1783 and 1798 tax assessments, it is a frame structure. Most of these houses have disappeared today, making Shepherd's Delight a rare survival of a once common house type. Also unusual is the survival of the 18th century outbuildings, including a barn, smokehouse, and dairy.
Reverend Sewell S. Hepburn, a minister of the Protestant Episcopal Church, was at onetime pastor of I. U. Church and is the grandfather of Katherine Hepburn, the actress.
Actress Katherine Hepburn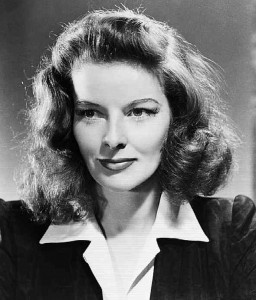 Shepherd's Delight walls six inches thick
The walls of Shepherd's Delight, with brick nogging, are clapboarded but only six inches thick. The hall is paneled with vertical random-width boards. The living room has a mantel carved by hand with 19 sizes of auger bits (these bits are still in use) and a chair rail with 5,000 hand-made holes. The kitchen's hand-hewn rafters are still visible, but the old brick floor has been covered with flooring and the fireplace bricked up. Around the house is much boxwood hedge laid out like the old English gardens.
Land patented in 1682
Across the fields can be seen Hebron, owned by the Hebron family (also called Heborne and Hepburn) but built by James Corse, Quaker son of Colonel Henry DeCourcy, secretary of Maryland in 1660. The land was patented in 1682 for James Heborne.
In September 1888 the original tract of land Camelsworthmore was down to 325 acres as evidenced by this notice in The Cecil Whig, Elkton, 1888: Cecil Co., MD
"Camelsworthmore" a valuable Kent county farm of 325 acres belonging to Mr. Wm. R. Gale, adjoining Lynch's station was sold at public sale last week by Hope H. Barroll, Esq., trustee. It was purchased by Benj. F. H. Caulk, Esq., for $13,406.25.
SOURCES
Physical description based on field work including field notes and photography undertaken by the Center for Historic Architecture and Design for the Maryland Historical Trust, 1997; "Shepherd's Delight," K- 1 1 1 , National Register of Historic Places nomination form, Maryland Historical Trust. Historian: Susan Taylor and Rebecca J. Siders Center for Historic Architecture and Design University of Delaware Newark, Delaware 19716 July 1997 http://udspace.udel.edu/bitstream/handle/19716/1525/CHAD8.pdf.txt?sequence=3
Maryland's Colonial Eastern Shore: Historical Sketches of Counties and of Some Notable Structures – Swepson Earle, Percy G. Skirven Weathervane Books, 1916
Library of Congress
Check out all books and novels by Author Donna R. Causey
FreeHearts: 2nd edition A Novel of Colonial America (Tapestry of Love Series Book

3)

Inspired by true events, Col. John Washington (ancestor of President George Washington), Randall Revell, Tom Cottingham, Edmund Beauchamp ward off Indian attacks and conquer the wilds of Maryland's Eastern shore in 17

th

century colonial America in this historical novel.
REVIEWS
5.0 out of 5 stars Can't help but be drawn into the storyline Reviewed in the United States on January 16, 2014 Verified Purchase For those who enjoy historical fiction, this is a fun read. The historical characters and setting seem so real, you can get a sense of being there with them–experiencing their trials and joys. From a family historian's point of view, the historical fiction novel is a way of putting flesh and bones on our ancestors and making them more true to their being–more than just names and dates on dusty old records, even if largely in our imagination. I appreciate Donna Causey's passion for history and ancestry expressed through her novels. LRed
5.0 out of 5 stars FreeHearts Reviewed in the United States on January 18, 2014 Verified Purchase This is the third of Donna's novels I have read! Each one just makes you want the next one more. mj
Just waiting now for the next one!