The idiom
'Chip on your shoulder'

means to be angry about something that happened in the past.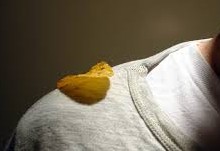 The phrase appears to have originated with a 19th U.S. practice of spoiling for a fight by carrying a chip of wood on one's shoulder, daring others to knock it off. A 'chip' can be defined as a piece of timber or wood. Depending on the amount and size, timber can be quite heavy, and oftentimes people carried heavy things on their shoulders.
Check out best-selling books by Author Donna R. Causey
Faith and Courage: 2nd edition -A Novel of Colonial America 

Inspired by real people and actual events, the family saga of colonial America continues with Ambrose Dixon's family and their life during

 Pre-Revolutionary War days of America, intertwined with a love story.