Speak of the devil -This phrase is used to acknowledge the coincidence of someone arriving at a scene just at the time that they are being talked about.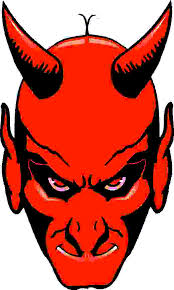 The full form goes like this – "speak of the Devil and he will appear". The phrase originated in England, where it was, and still is, more often given as 'talk of the Devil'. People once believed that you could actually summon the Devil by saying his name.
FreeHearts: 2nd edition A Novel of Colonial America
Col. John Washington (ancestor of President George Washington), Randall Revell, Tom Cottingham, Edmund Beauchamp ward off Indian attacks and conquer the wilds of Maryland's Eastern shore in 17th century colonial America in this historical novel, inspired by true events.