The California Gold Rush in 1840's made many people millionaires overnight and you would assume that the people who discovered the initial gold nuggets would be the wealthiest. However, this is not the case.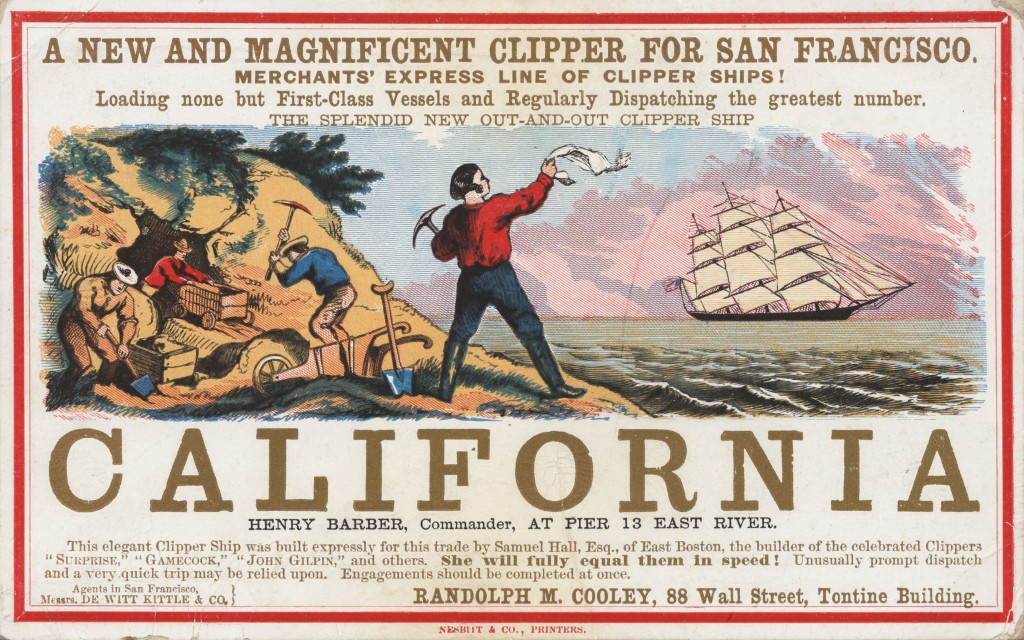 Sutter employee discovers the first gold nugget
In 1848, James W. Marshall, a trusted carpenter and employee of John A. Sutter, was building a mill on the South fork of the American River when he stooped over and picked up some pieces of yellow stone. Was it gold?
Actual spot where gold was discovered in California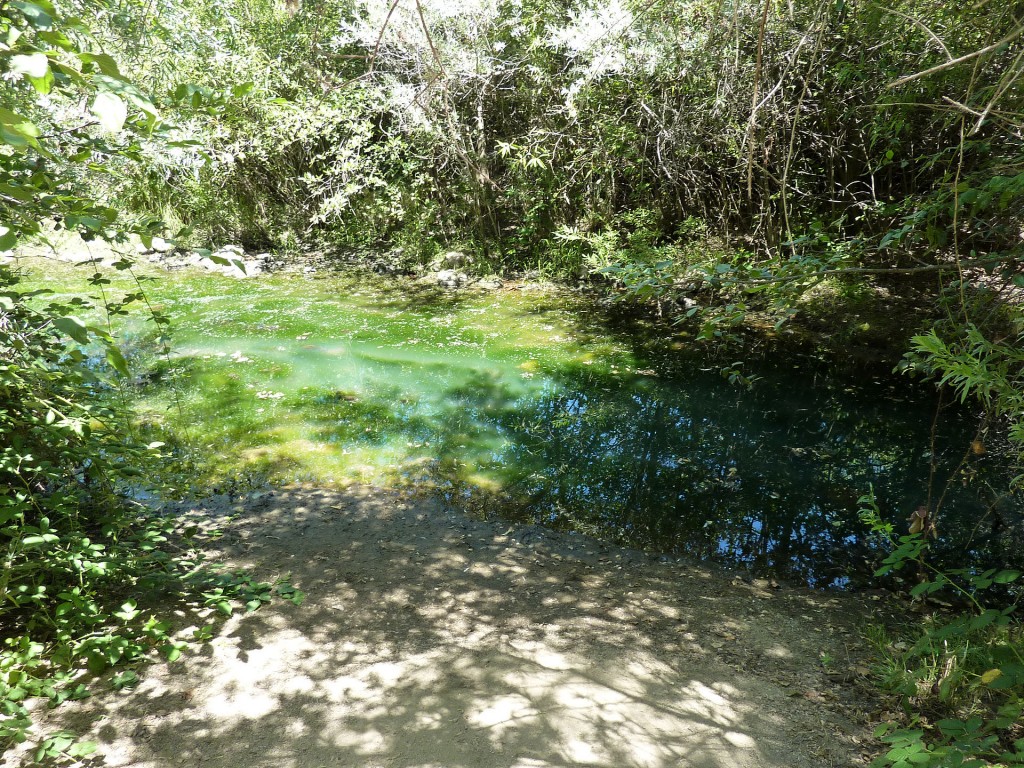 He showed them to another workman and the metal was confirmed to be gold after members of Marshall's crew performed tests on the metal—boiling it in a lye solution and hammering it to test its malleability. It gleamed like a tiger's eye.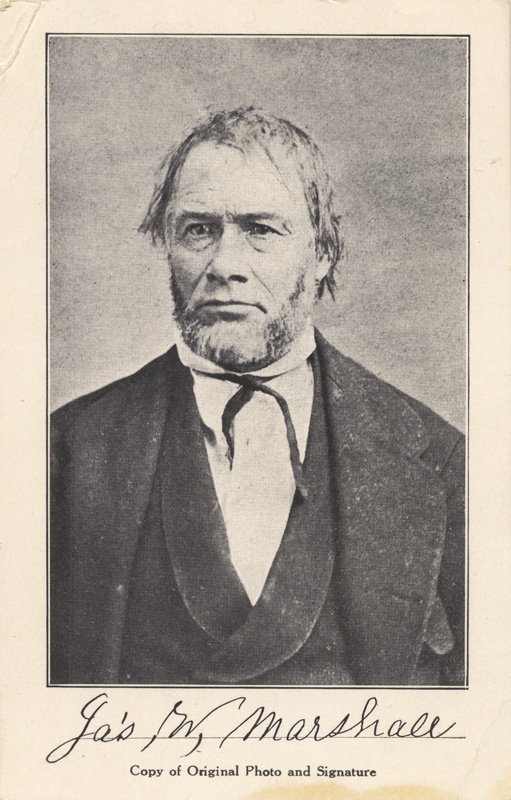 Marshall, still primarily concerned with the completion of the mill, permitted his crew to search for gold during their free time.
Four days later, James W. Marshall returned to John A. Sutter's ranch house. He pulled the nugget from his pocket, and they both stared at it in wide-eyed excitement.
Sutter read an encyclopedia on gold and performed tests. The tests confirmed that the nuggets were  "of the finest quality, of at least 23 karat [96% pure].". He then ordered Marshall to keep quiet about the discovery while he gained legitimate title to as much land near the discovery as possible.
Their secret was revealed
Samuel Brannan was an American settler, businessman, journalist, and prominent Mormon who founded the California Star newspaper in San Francisco, California. He is considered the first publicist of the California Gold Rush and was its first millionaire.
In 1847, he opened a store atSutter's Fort, in present-day Sacramento, California.
Samuel Brannan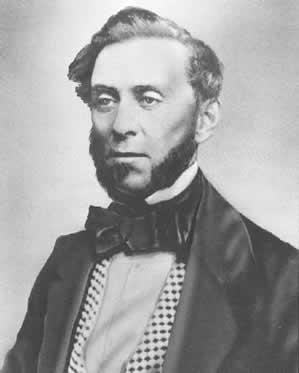 Early in 1848, employees of John Sutter paid for goods in Brannan's store with gold they had found at Sutter's Mill. Brannan went to the mill and, as a representative of the LDS Church, he received the tithes of the LDS workers at Sutter's Mill from the gold they had found in their spare time.
His California Star paper could not publish the news as the staff had already left for the gold fields. "Brannan moved to New Helvetia, where he opened a store at John Sutter's Fort. When gold was discovered, Brannan owned the only store between San Francisco and the gold fields — a fact he capitalized on by buying up all the picks, shovels and pans he could find, and then running up and down the streets of San Francisco, shouting "Gold! Gold on the American River!" He paid 20 cents each for the pans, then sold them for $15 apiece. In nine weeks, he made $36,000. Brannan opened more stores to sell goods to the miners (his Sutter Fort store sold $150,000 a month in 1849), and  he began buying land in San Francisco.
The cat was out of the bag
The 'cat was out of the bag'. Brannan had unleashed a force that was destined to shake the continent. Crowds of people rushed to Sutter's Mill. Within a day, all the men on Sutter's ranch left, and in a mad frenzy of greed, they began scratching, digging and panning for gold.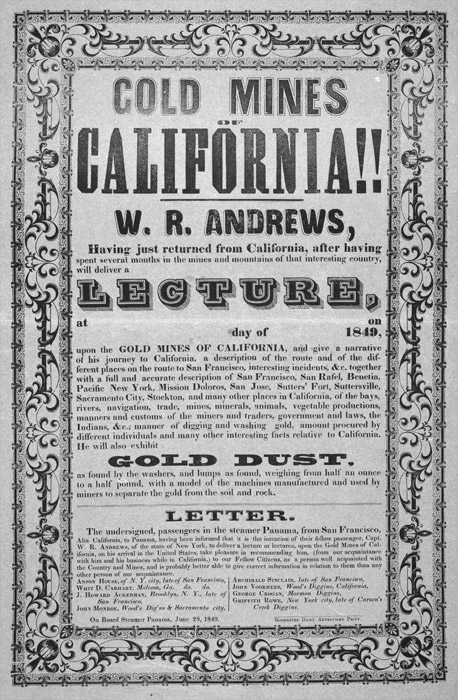 By week's end, the whole countryside was in turmoil. Other ranches were deserted. Cows and other livestock were left unattended as excited men with pick and shovels were soon making from a thousand to five thousand dollars between sunrise and sunset.
Telegraph spreads the word and President Polk confirms it
The recent invention of the telegraph reported the news of the successful gold discovery and once President Polk confirmed the validity of the claims, the news spread like wildfire. Soon people across the country from all walks of life left jobs, home and family to seek their fortune in gold.  Ignoring his land claims, they overran his land and destroyed everything Sutter had built.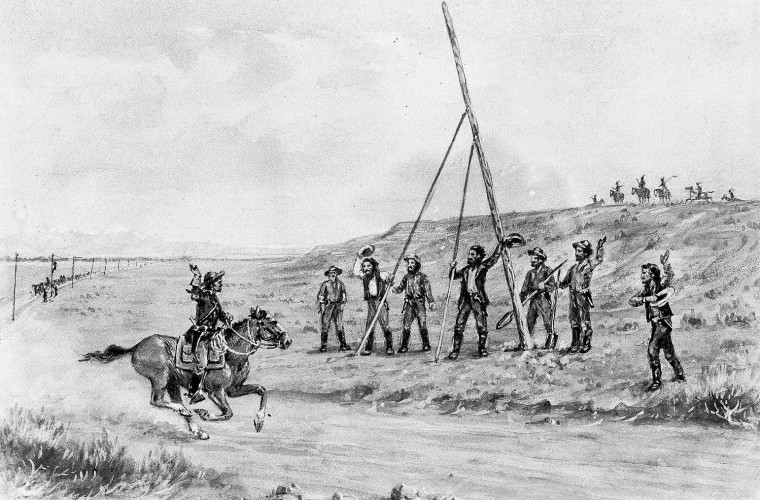 By the Spring of 1842, an almost unbroken line of wagon trains, drawn by horses and oxen strung across the prairie, all seeking their fortune in the California gold rush. Thousands more came by sea. Packed in whaling ships and cargo boats, they rounded Cape Horn under whining sails and creaking masts.
In 1849, more than seven hundred vessels dropped anchor in San Francisco Bay. The sailors deserted the ships and fled to the hills in search of gold.
San Francisco Bay Gold Rush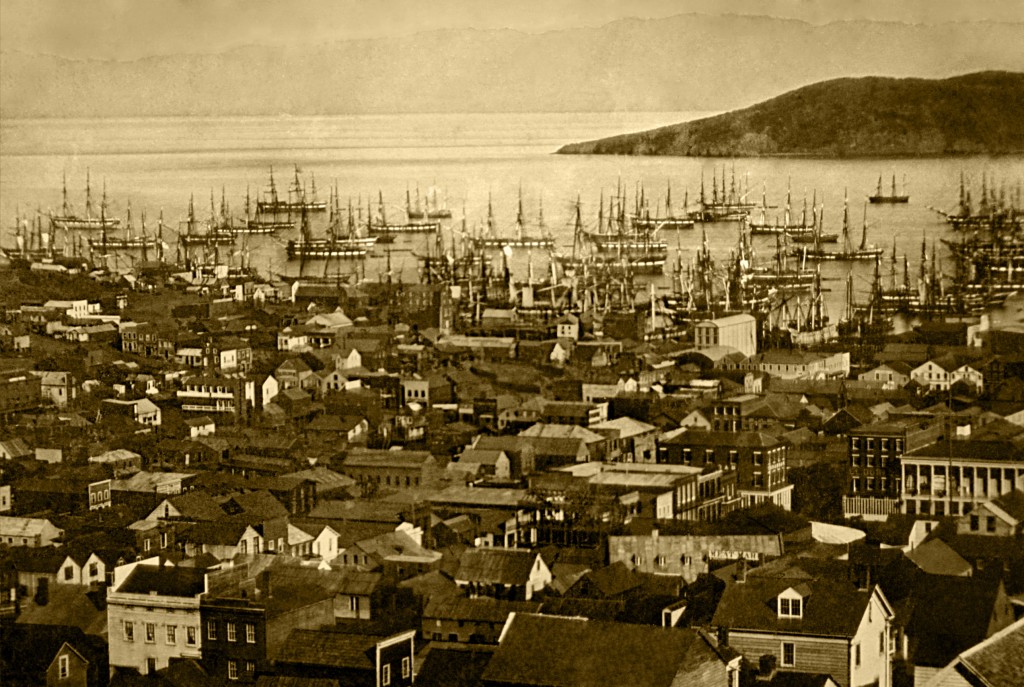 Sutter's ranch was in shambles
The grain on Sutter's ranch was trampled and stolen for bread. They destroyed his barns and built shanties and slaughtered his cattle for beef. Some even built towns on his private property.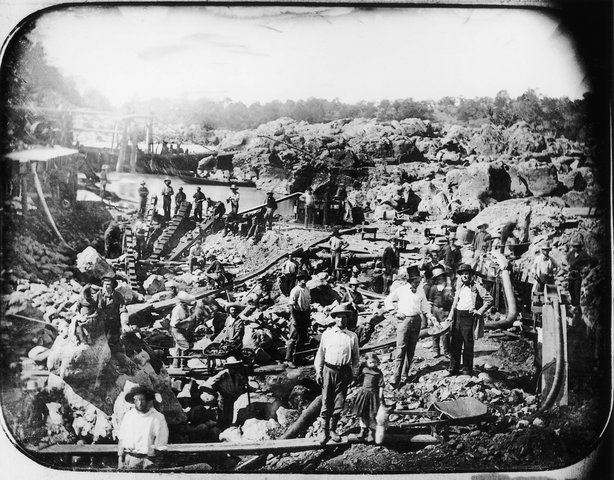 John A. Sutter looked at the chaos in helpless rage as men bought, sold and resold his land as if he had never existed.
John Sutter came to America in 1834
John Augustus Sutter had been born Johann August Suter on February 15, 1803 in Kandern, Baden, Germany, when his father came from the nearby town of Rünenberg in Switzerland.
John Augustus Sutter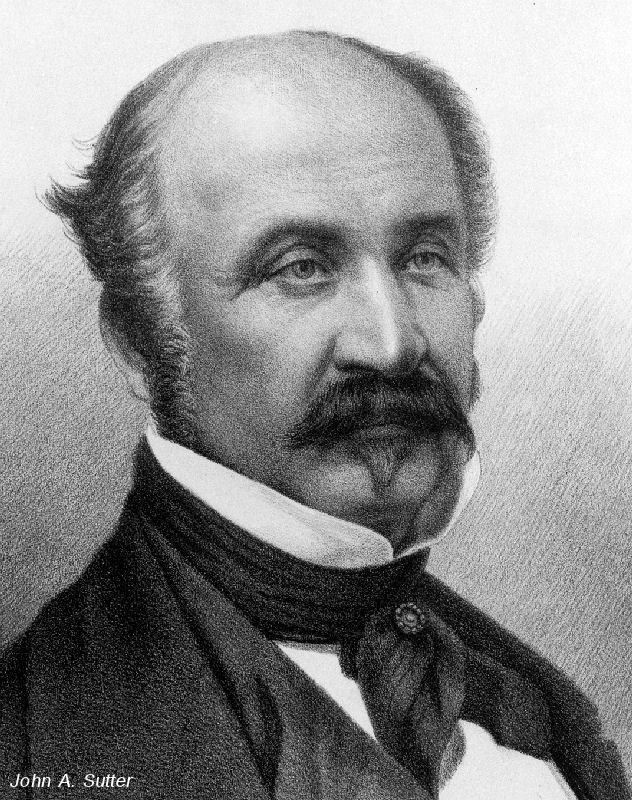 Johann went to school in Neuchâtel, Switzerland and later joined the Swiss army, eventually becoming captain of the artillery. At age 23, Johann married Annette Dübold, the daughter of a rich widow. He operated a store and after a series of business failures, Sutter"s decided to seek his fortune in America.
In May 1834, he left his wife and five children behind in Burgdorf, Switzerland, and with a French passport he boarded the ship Sully which traveled from Le Havre, France, to New York City where it arrived on July 14, 1834.
He made friends with Mexican Gov. Alvarado
Sutter traveled extensively in America and tried various enterprises and acquired friendly relations with the important people in the Euro-American community. By 1839, he arrived in Alta California, a province of Mexico with a population of only about 1000 Europeans and over a 100,000 Native Americans.
Gov. Juan Bautista Alvarado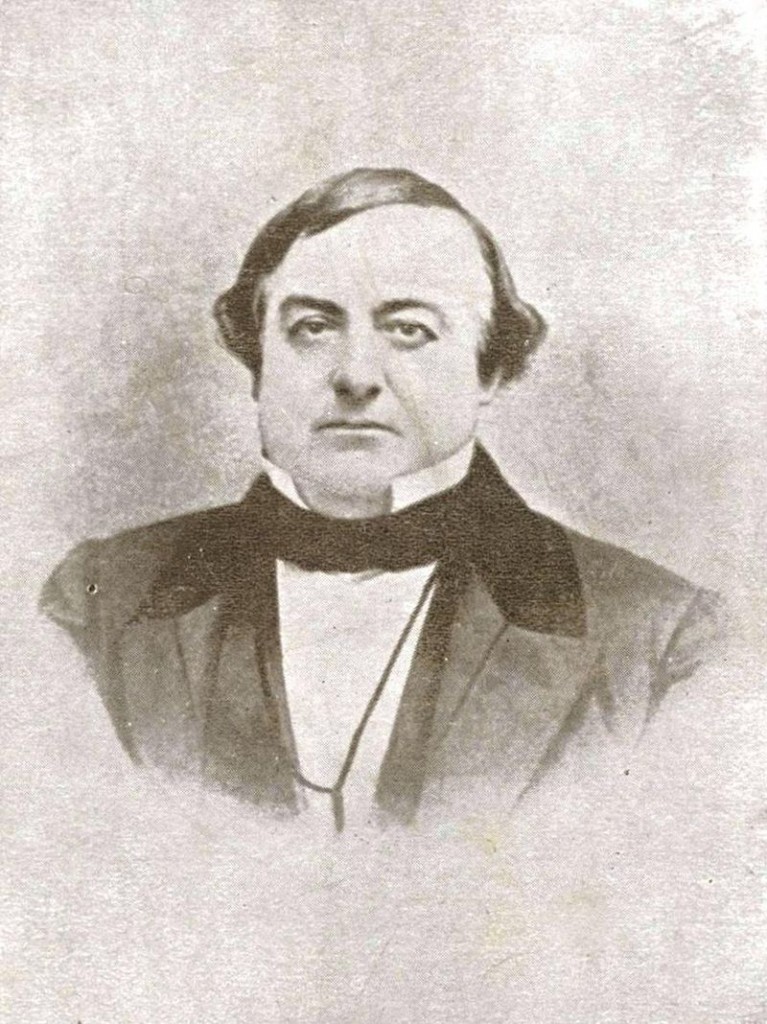 He obtained permission from Governor Juan Bautista Alvarado to settle in the territory. The governor stipulated however that for Sutter to qualify for land ownership, he had to reside in the territory for year and become a Mexican citizen, which he did on August 29, 1840.
Construction begins on New Helvetia
Construction on a fortified settlement was began in August 1839, which Sutter named New Helvetia, or "New Switzerland," after his homeland, "Helvetia" being the Latin name for Switzerland. Sutter often began to identify himself as 'Captain Sutter of the Swiss Guard'. Completed in 1841, on 18 June, he received title to 48,827 acres on the Sacramento River. The site is now part of the California state capital of Sacramento.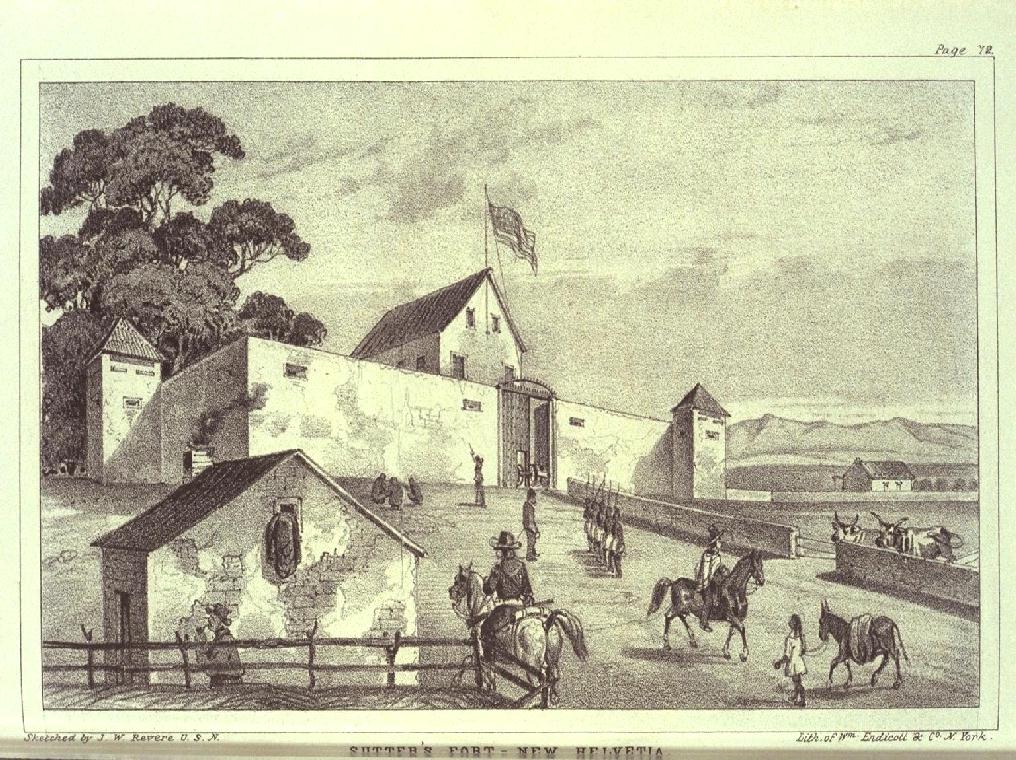 Sutter made peace with the local native Americans, the Maidu people and over time, the Maidu helped Sutter and the Kanakas (Hawaiians) build a fortified settlement. Prior to the Gold Rush, the New Helvetia settlement was the destination for most immigrants entering California via the high passes of the Sierra Nevada, including the ill-fated Donner Party of 1846, for whose rescue Sutter contributed supplies.
Sutter's "New Helvetia" and Sobrante land grants, stretched from about what is now Redding to south of Sacramento. It finally comprised over 150,000 acres, not including pasture land. He also had purchased Fort Ross from the Russians.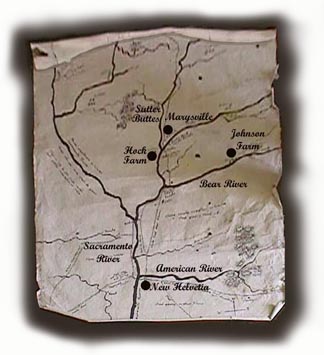 After the discovery of gold, Sutter's family joined him in California. In an attempt to avoid losing everything, Sutter deeded his remaining land to his son, John A. Sutter, Jr. who had come form Switzerland to join his father in September 1848. Young Sutter saw the commercial possibilities and started plans for a new town which he named Sacramento after the Sacramento River, while John A. Sutter retired to Hock Farm. John A. Sutter, Sr. regained control of his land after he had a disagreement with his son over some decisions his son made.
Hock Farm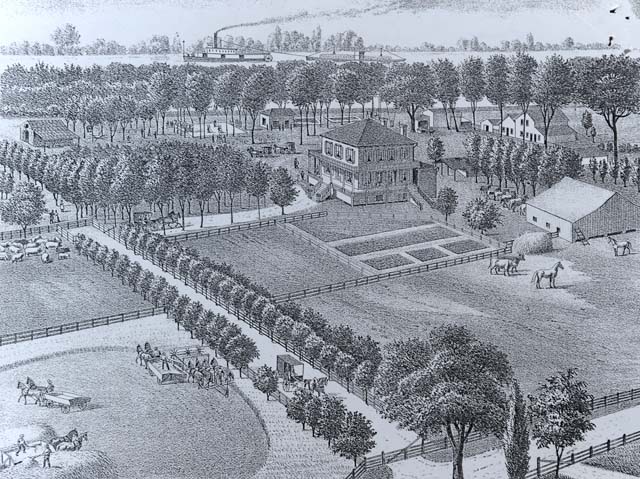 John A. Sutter files a lawsuit against 'Squatter's
In 1850, California became a part of the United States and the order of law now ruled so Sutter started the biggest law suit in history. He declared that San Francisco and Sacramento were both built on his private property and he should be allowed to prosecute every 'squatter' living in those towns and ordered them to get off his land at once. He sued the state of California for twenty-five million dollars as compensation for the private roads, bridges and canals that he had built and the State had appropriated for public use.
"Sutter demanded that the US Government pay him fifty million dollars for the damage he had suffered and he also demanded that he be paid a royalty for every dollar's worth of gold dust that had been carried away from his property."
Waterfront Sacramento, California ca. 1849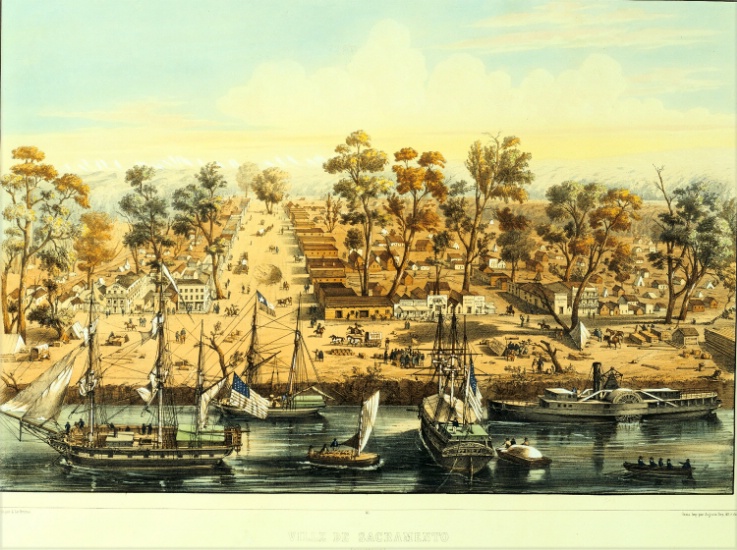 He fought his case in court at great expense for years and his attempts to regain his land often led to riots by the 'Squatter's'
Supreme Court of California affirms his claims
Eventually, the highest court in the State of California declared that the cities of San Francisco and Sacramento, as well as scores of other towns and villages, were built on his private property. The Squatter's tried to appeal, but the appeal was denied.
San Francisco, November 1849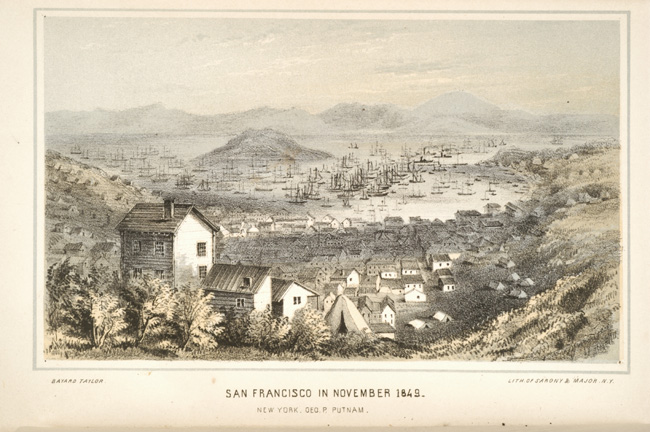 The news rocked the inhabitants of San Francisco and Sacramento like an earthquake. Many denied Sutter's claims and declared they had 'Squatter's Rights' and would not be driven from their homes.
Large tracts of ground, covering the city and vicinity of Sacramento were now held by grants from Capt. Sutter. A detainer was brought against several of the Squatters, and a writ of restitution issued, but the officer who attempted to execute it was met by a body of armed squatters who resisted him on this occasion, Saturday, the August 10th in Sacramento.
Riots break out
The 'Squatter's' held meetings and resolutions passed to resist the law. Some Squatter's were arrested in Sacramento and in an attempt to gain their release, riots began taking place in which the Mayor, city assessor and several citizens of Sacramento were killed.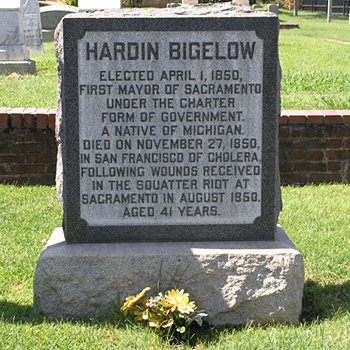 The riots were devastating to Sutter. The Squatter's set fire, and blew up his and other setter's houses, barns and buildings. They cut down fruit trees, shot cattle and turned his ranch into a smoking desolation.
By 1852, New Helvetia had been devastated and Sutter was bankrupt. He and his wife, Anna Dübelt, lived at Hock Farm, California until his house was burned in 1865 by a disgruntled employee.
He and Anna Dübelt moved in Oct 1866 in Lititz, Lancaster County, Pennsylvania; a tiny town with Moravian inhabitants, good schools and near enough for visits to Congress. John A. Sutter spent the rest of his life seeking compensation for his losses from the state and federal governments. On June 16 of 1880, Congress adjourned before passing a bill which would have given him $50,000. Two days later he died.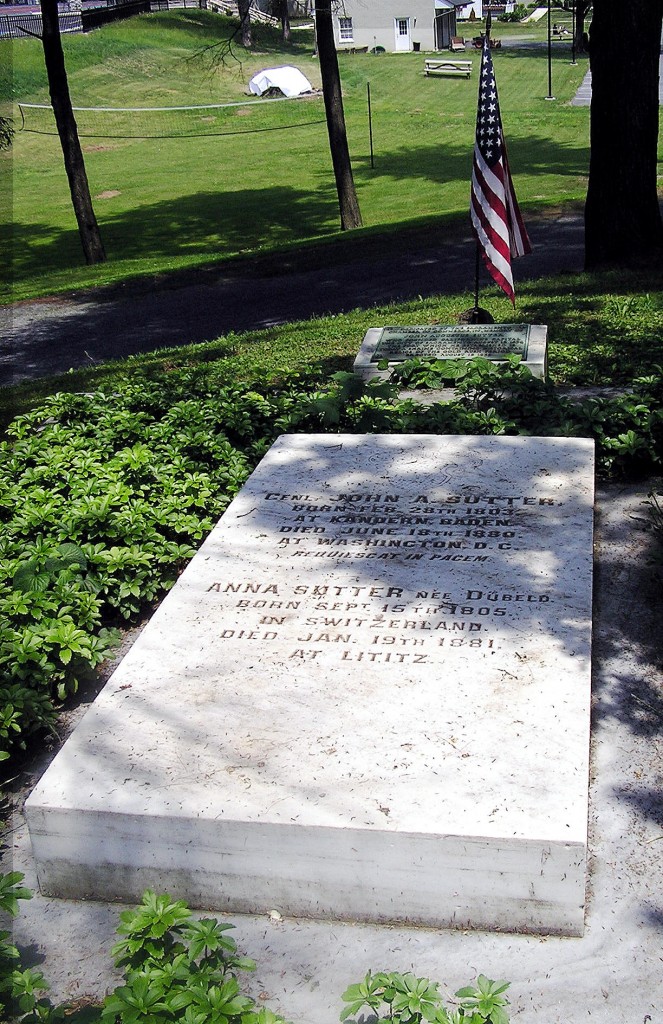 James W. Marshall, who discovered the first nugget, died alone five years later in his squalid cabin. He didn't even leave enough money to pay for cheap coffin.
Three Novels by new Alabama Author