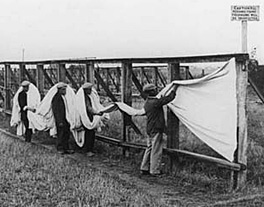 This is one of the most misquoted sayings. The word tenterhooks is often stated as tenderhooks. To be on tenterhooks is to be filled with painful or anxious anticipation or suspense, such as when you're waiting for the result of an important medical test.
A tenterhook is a metal hook that holds the cloth in place on the tenter, and the frames were set out in fields so the wool could dry.
After woven wool was pounded in a mixture of clay and water to clean and thicken it. This was called fulling. Then the wool was stretched on a frame called a tenter to dry. It was hung on tenterhooks. So if you were very tense, like stretched cloth, you were on tenterhooks.
FreeHearts: 2nd edition A Novel of Colonial America
Col. John Washington (ancestor of President George Washington), Randall Revell, Tom Cottingham, Edmund Beauchamp ward off Indian attacks and conquer the wilds of Maryland's Eastern shore in 17th century colonial America in this historical novel, inspired by true events. – Great gift!