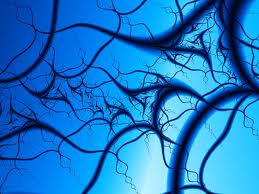 For centuries the Arabs occupied Spain but they were gradually forced out during the Middle Ages. The upper class in Spain had paler skin than most of the population as their ancestors had not inter-married with the Arabs. As they had pale skin the 'blue' blood running through their veins was more visible.
Translated from the old Spanish phrase "sangre azul", blue blood derives from the Medieval belief in Europe (among other places) that the blood of the royalty and nobility was blue; since the royal family and aristocrats were wealthy and powerful enough to pay commoners to labor in the fields for them, their skin was translucent and pale enough for their blue veins to stand out.
Of course all blood is red but it sometimes looks blue when running through veins. So blue-blooded came to mean upper class. Today the term is still applied to aristocrats.
From the time of the discovery of America restless, resolute, brave, and adventurous men and women crossed oceans and the wilderness in pursuit of their destiny. Many traveled to what would become the State of Alabama. They followed the Native American trails and their entrance into this area eventually pushed out the Native Americans. Over the years, many of their stories have been lost and/or forgotten. This book (four-books-in-one) reveals the stories published in volumes I-IV of the Alabama Footprints series.