NAME THAT TUNE
by
It happens frequently! On a busy morning of routine scheduling, I find myself almost inaudibly humming just a snatch of a tune. In fact, I don't realize I am humming until all of a sudden I pause and ask myself "What is the name of that old tune? It's something I've known a long, long time!"
————–
This happened again recently and after a couple of days of recurrent humming, I finally named the tune. It was "There's An Old Spinning Wheel In the Parlor." I even remembered the words!
"There's an old spinning wheel in the parlor, spinning dreams of the
long, long ago
Spinning dreams of an old-fashioned garden, and a maid and her
old-fashioned beau.
Covered with dust and forgotten, like the face upon the wall.
There's one souvenir of the days gone by I treasure most of all.
Turn back the years of my childhood as you turn old spinning wheel.
Just show me a lane with a barefoot boy as shadows softly steal.
In the early years of our marriage, we attended a reunion of my dad's family. One of many matters of discussion was that there had been a spinning wheel handmade by my great grandfather. No one was sure what had become of it. Having always been intrigued by family history and always preferring furnishings with a story behind them as opposed to some modern décor I began my search. Eventually, all the pieces of the spinning wheel were discovered in the dust and cobwebs of a long abandoned chicken house in Kentucky. No other family member was interested in these dusty old remains, so they came home with me.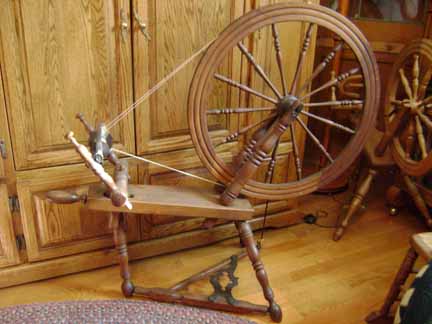 I scrubbed and sanitized the dirty mess and managed to reassemble the pieces into a reasonable facsimile of a spinning wheel. The wheel became a conversation piece in our den and at Christmas it was the first thing to be decorated. After fastening a big red bow on the center of the big wheel, we would tie fresh cedar branches around the circumference where we then added tiny twinkling alternating lights. This gave the effect of the wheel actually turning!.
One house where we lived had a long narrow front porch. Since I had always enjoyed colonial styles, we placed a deacon's bench under a double window and the spinning wheel at the other end of the porch.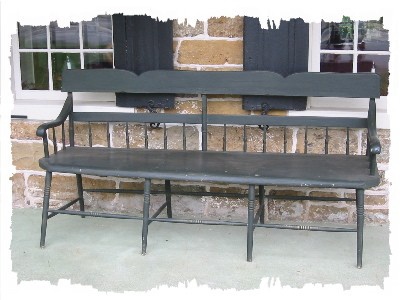 Some months later as I came out my front door, I was distressed to find that the spinning wheel was missing! At that time there was a small local newspaper in our community. The editor agreed to print a short article about my missing "treasure" – even giving our address.
A week later my next door neighbor called to say I needed to come over to her carport. There was my spinning wheel intact! Standing nearby was a rather weird looking young man (This was in the days when the word "hippy" had just been introduced to our vocabulary.) With his long hair, ragged jeans and sloppy shoes, this person was "hippy-like."
As he talked he slapped his thighs and waved his hands attempting to explain that he'd been driving his mother to work on highway 280 when he saw the spinning wheel in the ditch. He stopped and put it in his truck knowing it to be of great value to someone. Then he had hastened to return it. Something about his demeanor and his story just didn't fit. I learned he had a police record, and I was asked by the police not to give him a reward. I did thank him profusely because it was great to get "my treasure" home. Needless to say, it has never been on a front porch again!
Oh dear! There is a hint of another song in my mind! I do hope I can name THAT tune!
Court records dating back to the 1630s create historical accuracy as the reader is taken back to the primitive days of colonial Virginia and Maryland where the Pattendens encounter life-changing difficulties with Indians, ducking stools, illness, massacres, death, loneliness, love, and greed.
READER REVIEW OF RIBBON OF LOVE: 2nd edition – A Novel of Colonial America  Book one: The exhilarating action and subplots keep the reader in constant anticipation. It is almost impossible to put the book down until completion. – Dr. Don P. Brandon, Retired Professor, Anderson University