THE FOOD CHAIN
by
I could have titled this "Feed Them and They Will Come!" That would include a number of members of the animal kingdom. I have a cafeteria of food available for the birds at all times. This also attracts those cute, but pesky, chipmunks, as well as raccoons, possums, and squirrels. I suspect there is an occasional armadillo. I haven't seen them, but the evidence is there. The availability of birds attracts the neighborhood cats.
I have mentioned Motley, the mocking bird in a previous article. Motley was unable to fly, because of a wing injury. My son John brought him home and he lived in a cage in my kitchen until he was able to be released to the great outdoors. Whenever I see a mocking bird, I think of Motley. One or two grandsons once left the door to my sunroom open and two tufted titmice flew into the sunroom.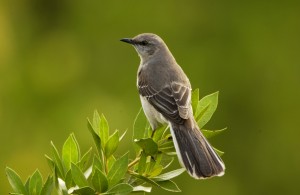 After closing the doorway to adjoining rooms, I was able to chase the birds outside. The other day, I had brought groceries in and put them away. By then, I was ready for a short rest and kicked back in my recliner. Just as I got comfortable, a brown head nuthatch flew by!
The nuthatch wasn't quite as easily removed from the house as the titmice had been. I did close off surrounding rooms to keep him in the den. After several attempts at bird removal, my son John stopped by for some quiet time (he thought). He checked the basement, unsuccessfully, for a butterfly net, then attempted to wrap a towel around the bird. That didn't work either. He was finally able to capture it in a quart size measuring cup and release it back outside to eat from the feeders.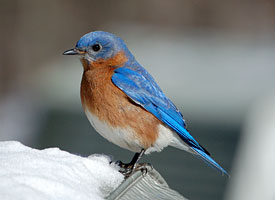 I had tried for several years to attract bluebirds to my yard. Whenever I would see a "bluebird of happiness" ornament, I would dream of the real thing. I have finally been able to get them to inhabit my yard to eat chipped nuts from a small feeder. They bring their young ones by and train them to eat from the feeders. I now have four bluebirds eating from the feeders year round. The others flew away to begin their own families. Motley's descendants tried to scare the bluebirds away a couple of summers ago. Of course, that didn't set too well with me.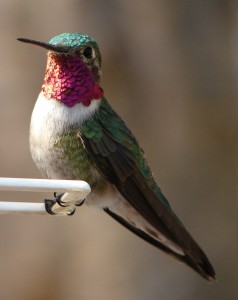 I love watching the ruby-throated hummingbirds at their feeders during the summer. During what I refer to as their "feeding frenzy", before they migrate further south, I maintain eight feeders and it is difficult to keep them filled. I went out of town one fall when the feeding frenzy was at its height. My son Joe kept those feeders filled. This task kept him quite busy.
An annual four-day event, the Great Backyard Bird Count (GBBC) takes place each February. It is sponsored by Cornell University and the Audubon Society. This program is very simple. You choose when you want to participate and record the various varieties of birds eating at your feeders or flitting around your yard. The first year I participated, I thought the word had gotten out to the birds. They avoided my property during my time peeking out the windows! Last year was much better. February 14-17 was the date this year. I counted 22 varieties of birds.
Inez McCollum - grew up in Etowah County.  Married Mack McCollum, a BI-vocational minister.  Moved to Birmingham to work while he worked and went to Howard College/Samford University.  Inez and Mack had three sons, Jay, Joe and John.  They bought their first home in what is now Hoover.  Inez continues to be active in Shades Mountain Baptist Church and some of the civic organizations in Hoover.  Inez also enjoys reading, travel and spending time with friends.