She began her film career at the age of twelve, with the encouragement of her mother. After the film, her mother gave her a make-over, bleached her hair platinum blonde, then she used false identification, and she got a film contract for her daughter.
When the deception was discovered, a short time later, she was fired.  Do you know this film star's name?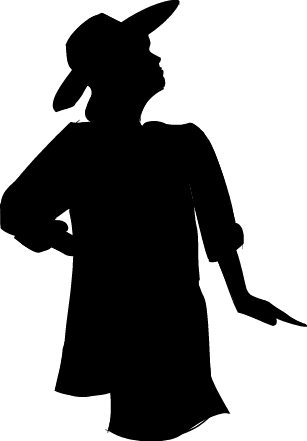 Born Elizabeth Ruth on December 18, 1916 in St. Louis Missouri to John Conn Grable and Lillian Rose Hofmann, Betty Grable was an American actress, dancer and singer during the 1940s and 1950s. Betty's film career started in 1929 at the age of twelve as a chorus girl in the film Happy Days.
After being fired from her second film due to her mother's deception,  Betty finally obtained a role as a Goldwyn Girl in Whoopee starring Eddie Cantor in 1930. She had contracts with RKO and Paramount Pictures during the 1930s, and appeared in several B-movies.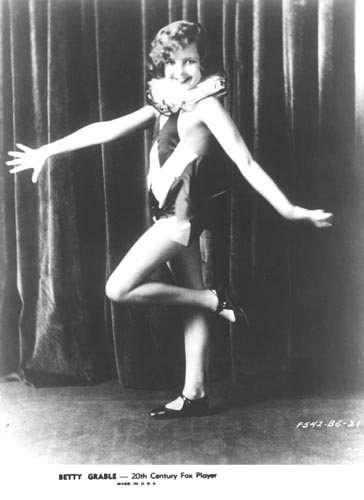 Her career started to rise after she appeared in a Broadway musical, DuBarry Was a Lady in 1939. The musical opened on Broadway at the 46th Street Theatre on December 6, 1939, transferred to the Royale Theater on October 21, 1940 and closed December 12, 1940, after 408 performances. Along with Betty Grable, the opening musical featured Bert Lahr, Ethel Merman, Benney Baker, Ronald Graham, and Charles Walters.
The photograph below is her first appearance on the popular Life magazine on December 11, 1939. According to Life, she "was 5 feet 3 inches tall, had honey-colored hair, and a pleasantly breezy manner on stage. She moved to Hollywood when she was 14 to enter dancing school. Without much publicity she danced in half a dozen movies, she toured with Jackie Coogan in vaudeville and married him in 1937."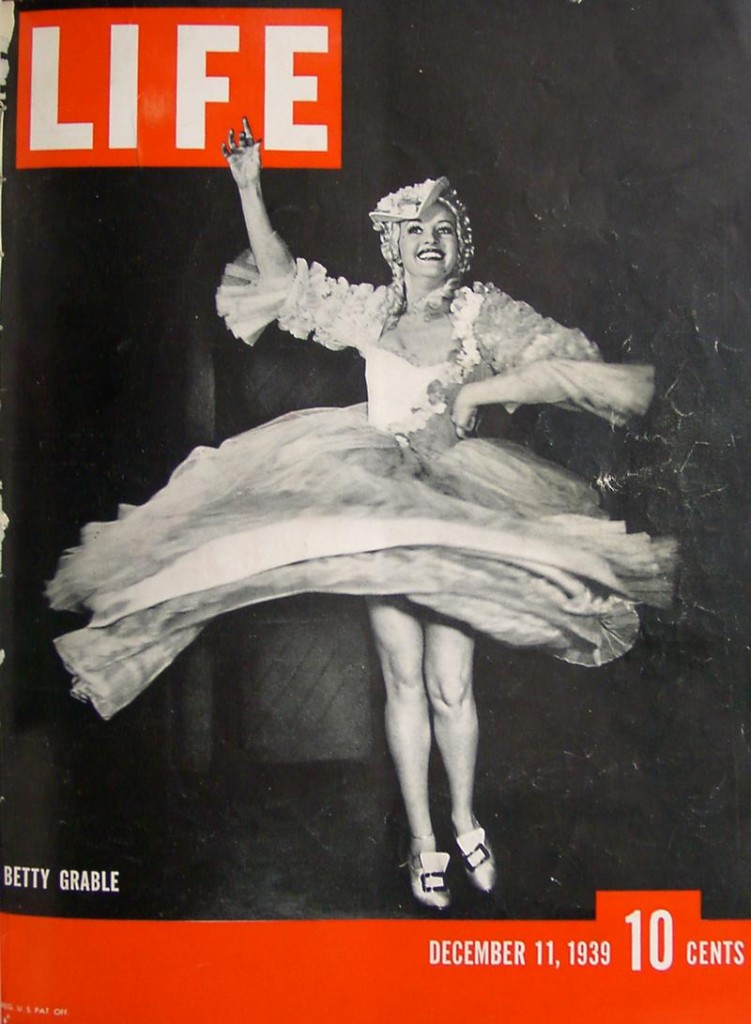 Below is the rare film footage of the day she and Jackie Coogan were married in 1937.
Her first Hollywood film was in Down Argentine Way in 1940 with 20th Century Fox. After that film, she became Fox's biggest film star throughout the remaining decade.
"Throughout her career, Grable was celebrated for having the most beautiful legs in Hollywood and studio publicity often photographed her featuring them. Her iconic bathing suit poster  (below) made her the number one pin-up girl of World War II, surpassing Rita Hayworth.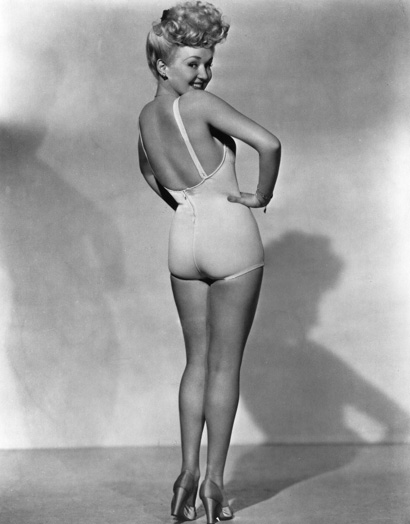 It was later included in the Life magazine project "100 Photographs that Changed the World". Hosiery specialists of the era often noted the ideal proportions of her legs as thigh (18.5 inches (47 cm)), calf (12 inches (30 cm)), and ankle (7.5 inches (19 cm)). Grable's legs were famously insured by her studio for $1 million with Lloyds of London."
Grable's 'famous legs' title grew out a low-budget B-movie, Million Dollar Legs, where she appeared with her husband Jackien Coogan in 1939. Grable and Coogan were divorced the same year.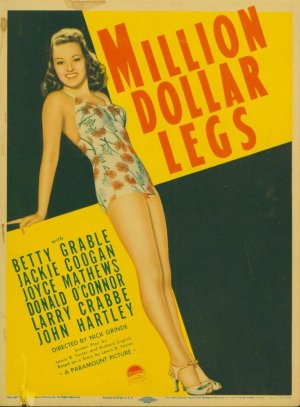 In a 1940 interview, Grable stated that she was "sick and tired" of show business and had decided to retire. Later she received an unsolicited offer to go on a personal appearance tour, which she accepted. The tour led to Darryl F. Zanuck's offering her a long-term contract with Twentieth Century-Fox.
In the never released record below, Betty Grable sings Happy Birthday to Timmy Newman in 1942 on 78 RPM Record. The record was PRIVATELY PRESSED from 1942, the person speaking is Alfred Newman,conductor 20th century fox.
In 1943, Grable's pin-up picture was taken and resulted in her being cast in Pin Up Girl and she married Harry James. The couple had two daughters, Victoria and Jessica.
Harry and Betty (Gable) James with daughters Victoria and Jessica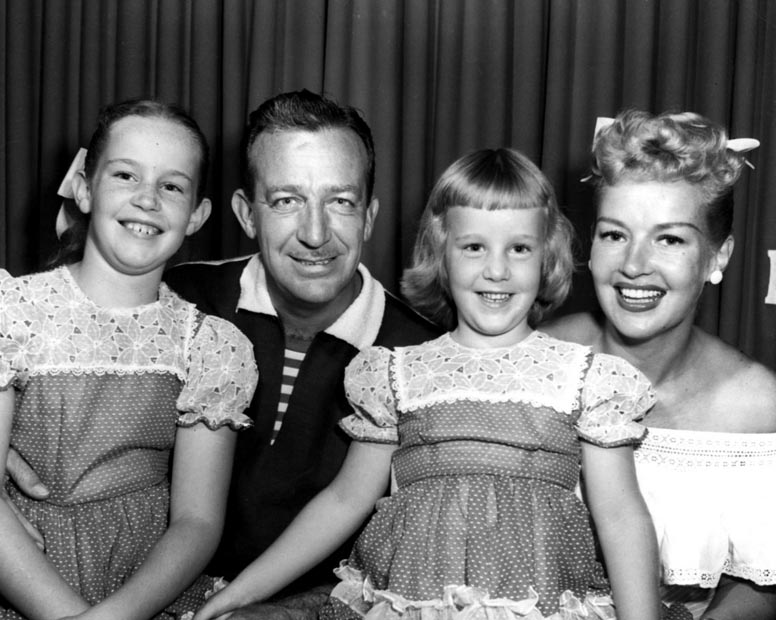 Grable's last mainstream success for Fox was in How to Marry a Millionaire (1953), with Marilyn Monroe and Lauren Bacall.
Her last musical film appearance was in Three for the Show (1955) with Jack Lemmon and her final film role was in the comedy How to Be Very, Very Popular (1955) with newcomer Sheree North.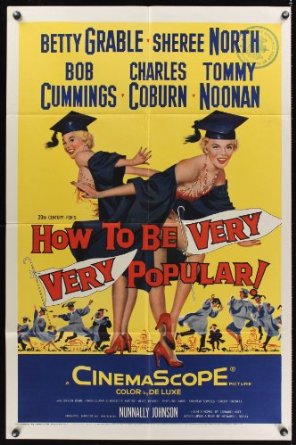 Her marriage to Harry James, "which lasted for twenty-two years, was rife with alcoholism and infidelity before they divorced in 1965. Grable entered into a relationship with dancer Bob Remick," several years her junior, with whom she remained until she died of lung cancer in 1973 at the age of 56 in Los Angeles, California.
"Hugh Hefner, founder of Playboy, noted on National Public Radio's Morning Edition on April 23, 2007, in an interview with Terry Gross, that Grable was his inspiration for founding the Playboy empire."
Clips are from the following movies.
The Dolly Sisters (1945)
My Blue Heaven (1950)
That Lady In Ermine (1948)
Pin Up Girl (1944)
Down Argentine Way (1940)
(At 0:48) -Springtime In The Rockies (1942)
(At 1:18)-Moon Over Miami (1941)
(At 1:43)-Coney Island (1943)
SOURCES
Life magazine
Wikipedia