Frequently, when I am conducting research for a story I am writing, I discover another very interesting story related to it and I often make a note to follow it when I find the time. Sometimes, I find some pretty pretty remarkable people and this is the case with this story.
My research started when I wrote, Did you know Birmingham, Alabama had two flourishing horse racetracks?
In a news story written by reporter Mike Bolton from the Birmingham News concerning Trotwood Park, he made these statements about the Alabama State Fairgrounds in Birmingham:
"On October 7, 1906, a motorcycle race was held on the horse track and automobiles used the track on Saturdays from October 10, 1906 though 1917. The track closed in 1921 due to dilapidated buildings, tracks and grandstands. In 1925, it opened again with a new track and seating for 10,000 and horses raced Monday through Friday. An estimated 30,000 fans witnessed Frenchman Jean La Costa set a world speed record of 60 mph (in an automobile) on a closed course that year."
Jean La Costa was not a man
I was curious about Jean La Costa so I tried to find more information and I quickly learned that Jean La Costa was a French woman, not a man. She held the world championship for women's speed driving in the 1930s. However, I could find little else about her and I wondered why.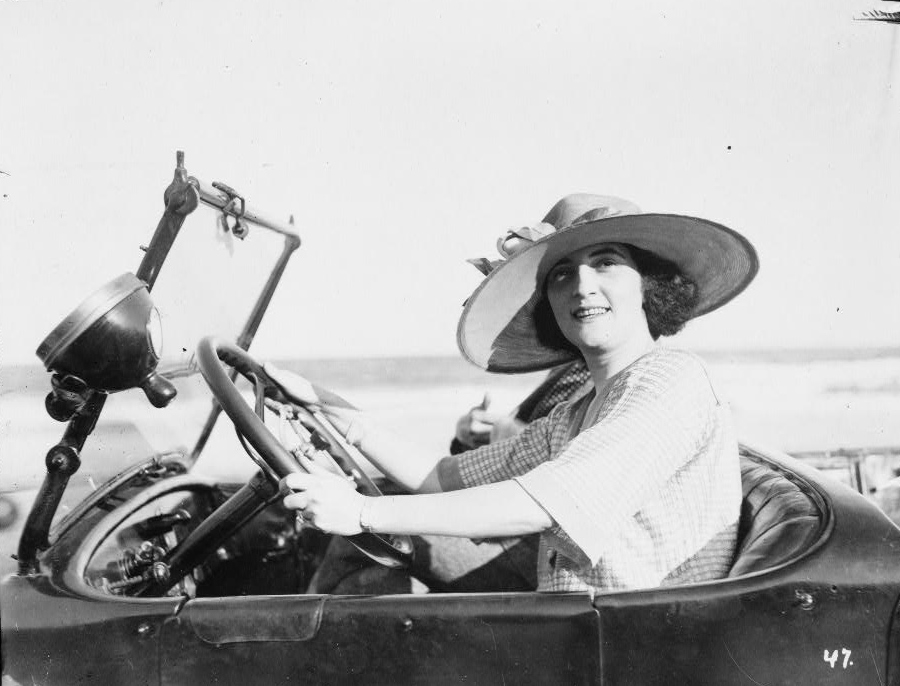 Should the law prohibit women from driving?
Then I ran across an article written in 1907 entitled, Should the Law Prohibit Women from Driving? in The Horseless Age, Volume 19.
The article stated:
"A century or more ago women, especially married women, could perform no legal act and were not recognized by the law as distinct legal persons and were classed as incompetents. The time of woman's legal incompetency is past; she can now perform all the legal acts and is recognized by modern law as possessing all the rights which belong to members of the opposite sex. This being the case, why should she not be allowed to operate an automobile on the public highway if she is able to make a machine, go; she being equally responsible if she negligently injures any— one? This question has recently been discussed in England, where a serious accident occurred while a woman was operating an automobile, and the competency of females to drive motor cars has been extensively considered editorially.
Of course, a woman, like any other person, should be allowed to drive an automobile. If more of our operators were women there would probably be less speeding and fewer accidents on the road. So far as the law is concerned there have been in no foreign country or State of the United States restrictions against women operating automobiles; age limits have been prescribed, but these limitations apply equally to all motor vehicle drivers. There is far more danger for a woman in driving a restive horse, danger not only to herself but to other users of the highway, than there is in the operation of an automobile at reasonable speed, and if any restrictions against driving by women are ever contemplated, the driving of 'restive animals which are apt to become frightened at the sight of automobiles should be prevented."
Women should not participate in competitive sports
Further research yielded a broadside written by John R. Tunis in September, 1930 that appeared in many papers throughout the United States in which he argued against women participating in competitive sports due to the brutality of competition. Included with the broadside was a small picture of Jean La Costa along with the fact that she had shattered most speed records for women automobile drivers.
This broadside certainly revealed how far women have advanced in sports since the turn of the century!
Joan Newton Cuneo, pioneer in auto racing
While, Joan Newton Cuneo is the more well-known pioneer women in automobile racing since she is considered the first women to break the barrier.  She received considerable fame in racing in the early 1900s. Despite her triumphs, the AAA decided to ban all women from racing in AAA sanctioned events in the Joan Newton Cuneo died in 1934 with little notice from the racing world.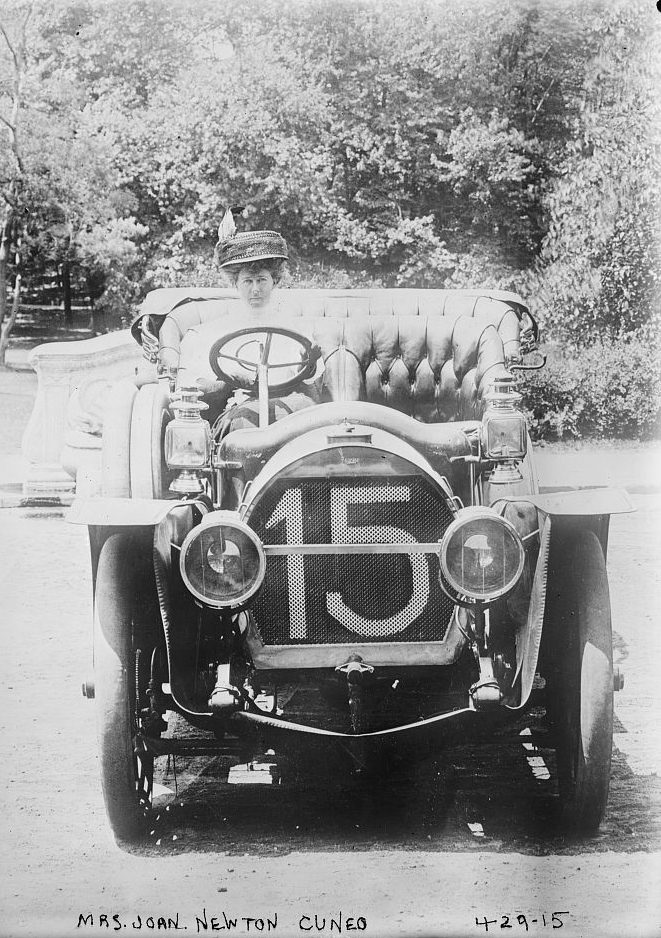 However, I found next to nothing in my search for information on Jean La Costa. Besides setting a record in Birmingham, she evidently appeared at some beachside speed exhibitions in Florida in the late 1920s and 30s as the excerpts below indicate.
Indiana Gazette
The following is from the Florida Times Union from 1926
"The 1926 state fair was the ninth in Jacksonville. It was the biggest of them all. Sixteen Florida counties had exhibits. Visitors jammed hotels. Thousands came on special trains. Macon sent a motorcade. Twenty-five thousand tickets had been distributed by opening day. Special stands and tents were built. Huge tractors arranged the midway. World champion woman driver Jean LaCosta and Italian racing star John DePalma headed a card of speed demons."
May 27, 1926 – GIRL RACING DRIVER DASHES INTO SURF TO EXTINGUISH FIRE Daytona Beach, Fla — Mile Joan La Costa, French girl racing driver, thrilled a host of spectators that lined the beach speedway to see her attempt to lower the world's 3-mile straight away record, when her racing car burst into flames. Going at nearly 138 miles an hour, the girl headed for the surf and jumped from the burning car just in time to save herself from serious injury if not death. The photo was taken just as she prepared to jump. (the photograph was too dark to reveal much)
Another report from the Milwaukee Sentinel – April 29, 1926 states – MAKING A QUICK GETAWAY – Leaping from her Wisconsin Special as it burst into flames, Mlle. Jean LaCosta, world's champion girl racing driver, hit the ground just as the machine plunged into the ocean at Daytona Beach, Fla. Despite the hazardous experience, she was undaunted and piloted another car in the races four days later, setting a fast pace.
I wonder what happened to this remarkable young woman. Please share below if you have additional information.
SOURCES
The Horseless Age, Volume 19 – Horseless Age Company 1907
Check out genealogy and novels by Donna R. Causey