Oldest Man in the United States died in Waco, Texas on September 1, 1909
(Transcribed from Florence Times, Lauderdale County, Alabama September 10, 1909)
Waco, Tex., September 1, Isaac Brock died here today aged 121. He was not only the oldest man in the United States but virtually as old as the United States itself. He was born in Buncombe county, North Carolina, on March 1, 1788, 12 years after the Declaration of Independence was written, and one year before the constitution went into effect.
Learn more about the difficulties our ancestors faced in this historical fiction series, Tapestry of Love, which is inspired by true events and an actual colonial family who settled on the Eastern Shore of Virginia in 1638 and migrated to Alabama
He fought in the war of 1812, the war with Mexico and the Civil War of 1861-65. He took part in the Texas republic's war with Mexico and for years fought Indians on the Texas frontier. It is worthy of note also that in all these conflicts Uncle Brock, as he was called, found time to marry two wives and to become the father of 16 children, four by his first wife and 12 by his second.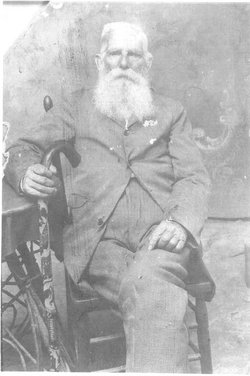 Isaac Brock – added to Findagrave.com by Annette Foster Ditto
Mr. Brock was a blacksmith by trade, but hunting and trapping was his avocation Up to 15 years ago when his eyesight began to fail, he was a famous marksman.
Brock had seen George Washington and was acquainted with "Light Horse Harry" Lee. The patriotic seal inspired by these associations as well as a natural love for firearms led him to enlist in the war of 1812. He fought the "Red Coats" and the Indians but escaped without a wound.
After peace was declared, Brock traveled to the Georgia frontier which was then believed to be the American El Dorado. After the Georgia mines played out Brock and a number of adventurers pushed on westward to Texas, then a Spanish possession. They settled in the Nacogdochees district where, after preliminary battles with the lawless element that infested the place, they founded a colony.
Additional information on Brock can be found through the links on Wikipedia  & Findagrave.com
Check these books by Alabama Author Donna R Causey