On November 12, 1936 Franklin Delano Roosevelt was elected President of the United States. You can see a timeline of his fairly uneventful day at: FDR Library
However, one major event in President Roosevelt's schedule shows that at   3:30 pm. "In Cabinet Room, pressed button to open San Francisco-Oakland Bridge (CA)."
Photographer Dorothea Lang was in California and took this photograph of some people in town on that important day.
Gov. Frank F. Merriam and President Herbert Hoover were among the dignitaries attending the epic event
Photographer Clyde Sunderland took the aerial view of San Francisco – Fifth Street Terminus during the Opening Ceremonies on November 12, 1936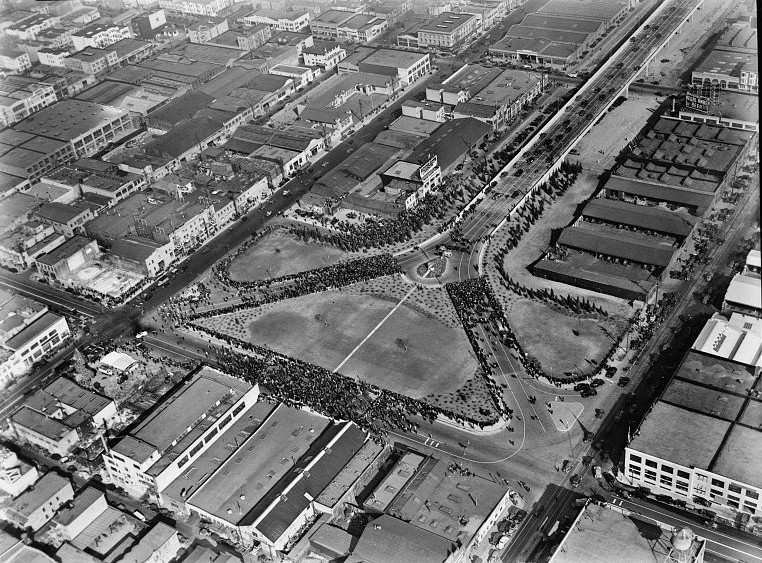 Photographer Charles M. Hiller took these photographs in 1934 of the bridge being built

 Clyde Sunderland, Photographer took these photographs May 11, 1934
Below is an aerial view of the floating caisson under construction

The film below is a Documentary from 1937 about building the San Francisco to Oakland Bay Bridge, the film was produced in association with US Steel – WDTVLIVE42 Archive footage
Amazon.com – Read eBooks using the FREE Kindle Reading App on Most Devices
VINEGAR OF THE FOUR THIEVES: Recipes & curious tips from the past  is a collection of household tips, medical cures, clothing care and old recipes from the 1800's and 1900's. Many of the tips, such as the household cleaners, cooking tips and ways to control pests, still work and are helpful in today's 'green' environment while others such as 'how to cure a dog of eating eggs' will make you laugh. Either way, this book will help you appreciate the difficult life your grandparents endured.
With Bonus: First two chapters of novel Ribbon of Love