You've probably heard the story of the robbers, Bonnie and Clyde, but have you ever heard of the Blonde Bandit? This story reminds me of the play and movie Chicago.
In February 1930, twenty-year-old Sally Joyce Richards, branded the "Blonde Bandit," was found guilty of first-degree robbery and sentenced to twenty years to life in Auburn, New York. Richards, along with Peter Dombkiewicz, twenty-one, and Stanley Przbybl, twenty-seven (dubbed "the Millionaire Kid"), were accused of robbing a jewelry store on Broadway. When lovestruck Richards attempted to escape from prison in April, her story was covered in the New York Times. The case eventually inspires a heavily fictionalized B-movie, The Blonde Bandit.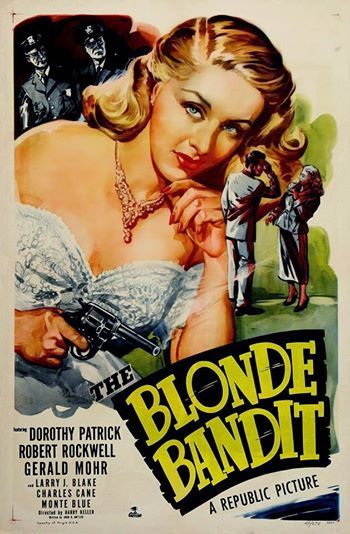 Caught in Montgomery, Alabama
She was caught in Montgomery, Alabama February 9, 1930 by Milton McDuff, superintendent of the Birmingham Bureau of Identification and taken back to New York. After she and her boyfriend were sentenced, Buffalo authorities sent word to Milton McDuff that Dombkiewicz confessed that he had hidden stolen jewelry in McDuff's automobile while the three prisoners, Joyce Richards, Eddie Palmer and Dobkiewicz were being driven from Montgomery to Birmingham. A search by McDuff yielded eight diamond rings worth $1,000 wrapped in a handkerchief and concealed in the upholstery.
Montgomery, Alabama court square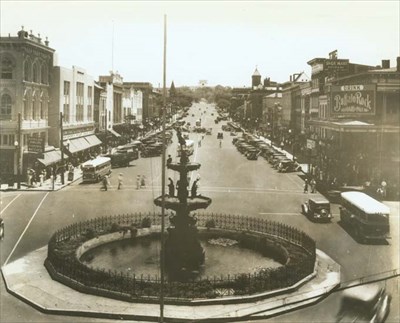 A newspaper story in the Auburn Citizen on Monday May 12, 1930, reported the following:
Sally Joyce Richards, 20. Buffalo blonde bandit and Amelia Bascom, 20, hold-up woman of New York, pleaded not guilty to indictments charging attempted escape from the Women's Prison during the early morning of April 28 before Justice Benjamin B Cunningham in Supreme Court this morning The two girls appeared happy when brought to court in charge of Miss Katherine Flannigan, prison matron, and accompanied by Prison Guards George Sullivan and John Foster They chatted and smiled in the court room while waiting for their arraignment by Justice Cunningham. They obligingly posed for a number of snap shots by photographers.
Both girls expressed a desire to confer with attorneys before pleading to the indictments. Justice Cunningham assigned Harry V. Clements to represent Sally Joyce Richards and Erwin Blanyelt to represent Amelia Baacom. The attorneys reserved their rights to change their pilea later and both were given a bill of particulars citing the details of the crime charged. Justice Cunningham sent the cases to county court for trial in case the defendants insist on a trial.
The girls were handcuffed together and were in an apparently joyous frame of mind they left the court room for their auto ride back to the Wail Street bastile.
Discordance: The Cottinghams (Volume 1)

 – 

A novel inspired by the experiences of the Cottingham family who immigrated from the Eastern Shore of Virginia to Bibb County, Alabama
Filled with drama, suspense, humor, and romance, DISCORDANCE continues the family saga from the Tapestry of Love series with the children of Mary Dixon who married Thomas Cottingham.
Inspired by true events and the Cottingham family that resided in 17th century Somerset, Maryland and Delaware, colonial America comes alive with pirate attacks, religious discord, and governmental disagreements in the pre-Revolutionary War days of America.