Are you planning a vacation? This is what you would have to deal with when traveling by car in 1943 in America.
EASING OF GAS BRINGS TROUBLES
Easterners Want To Make Short Trips
(Article from The Tuscaloosa News July 7, 1943)
WASHINGTON, July 7, 1943 – (AP) – The Office of Price Administration (OPA) headed for more gasoline rationing troubles today because it decided to permit vacation trips in the East.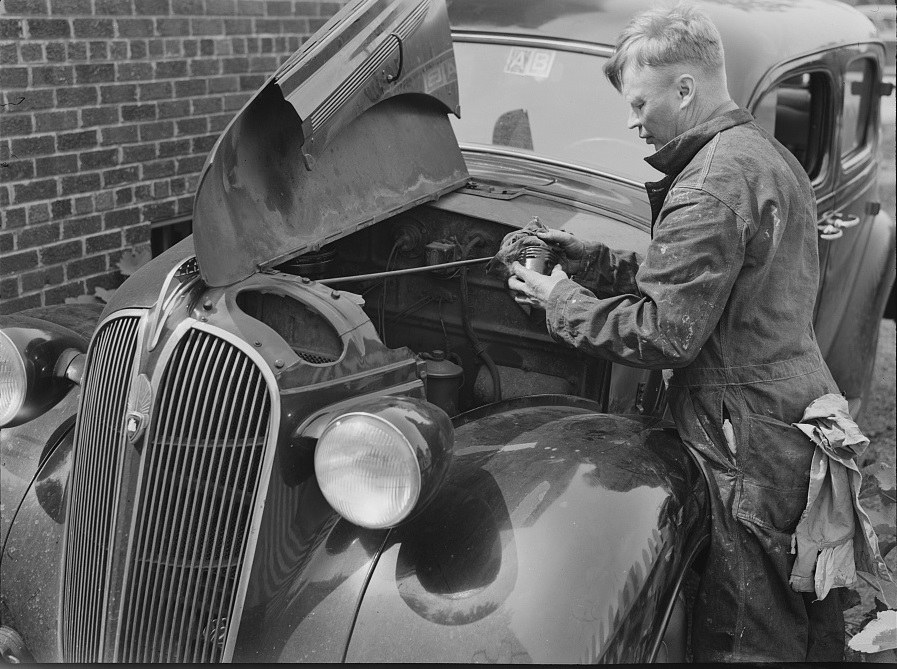 A man repairing his automobile. Silver Spring, Maryland 1943 (Photograph Ann Rosener, Library of Congress)
Pleasure riding was banned in the Eastern states
Price Administrator Prentiss M. Brown announced that beginning July 15, motorists in the 12 northeastern states where pleasure driving is banned, can get permits from their local boards for one round trip anywhere, as long as it can be negotiated on the driver's regular ration of coupons. Outside of these states, vacation driving to the extent of a driver's coupons has not been restricted.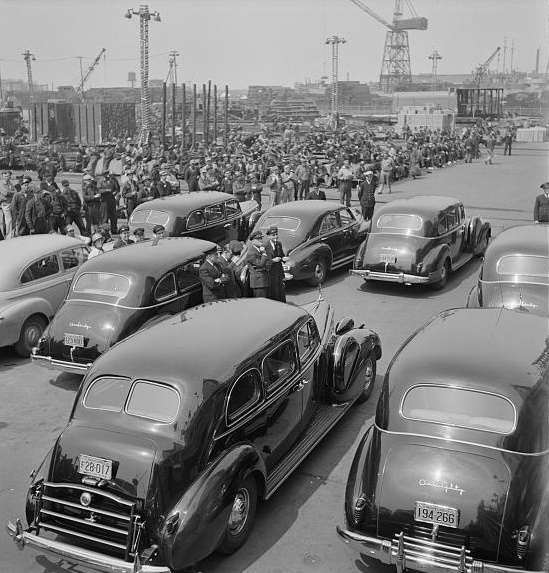 Bethlehem-Fairfield shipyards, Baltimore, Maryland. Automobiles used to transport a launching party (Arthur S. Siegel, Library of Congress)
Protests over Rule
The action immediately stirred protests, however, from many people who can't or don't want to make a long trip, but would like to drive a mile or so for a picnic or a swim, or to visit friends.
The official OPA explanation was "we simply haven't got the gasoline to lift the pleasure ban generally. The one round trip to a vacation place was the best we could do."
Officials conceded privately that enforcement of the ban will become more difficult as a result of the concession.
The vacation grant was extended to holders of "B" and "C" ration books, but OPA emphasized that motorists must make the vacation trips on supplies obtained out of the basic "A" ration only. Thus, the motorist must certify, and satisfy his ration board, that he has sufficient gasoline purchased on "A" coupons to make the complete trip.
Could drive westward if had coupons
One of the undecided questions about the plan is whether motorists will be able to drive out of the Eastern shortage area into the west. Officials explained there was no real objection to driving westward, but it involved technical coupon difficulties which have not yet been solved.
Until Midnight, July 21, the cross-boundary trip will cause no difficulty, because easterners have in their "A" books number 6 coupons which are currently valid in the West. In the East motorists are still using number 5 coupons and are supposed to have number 6 coupons for use in the four months following July 21.
Visitors could not get home?
The difficulty arises, however, from the fact that in the West, after July 21, gasoline coupons will come from a new book soon to be issued. As matters now stand, a vacationing Easterner would have no way of getting one of the new western books and hence could buy no gasoline in the west after July 21. Officials are studying proposals which might overcome this difficulty but said it, may be a week or two before decisions are reached.
Start researching your family genealogy research in minutes.

This inexpensive Ebook has simple instructions on

how to get started with FREE sources. Download the Ebook

WHERE DO I START? Hints and Tips for Beginning Genealogists with On-line resources

to your computer immediately or purchase a hard copy.
REVIEW:
"The book was clear & concise, with excellent information for beginners. As an experienced genealogist, I enjoyed the chapter with lists of interview questions. I'd recommend this book to those who are just beginning to work on their genealogies. For more experienced genealogists, it provides a nice refresher."