My Aunt Phyliss
by
Bob Doherty
My granddaddy, Mike, had nine children; four boys and five girls. My grandmother died before three of the children were old enough to take care of themselves. Since the oldest girl had married before her mother died the duties of the woman of the house fell to the second oldest girl, Phyliss. She cooked and cleaned and became more of a mother to the youngest children than a sister. Phyliss never married and I firmly believe it was because of her duties to the family. She never had time for a boy friend.
All of the children grew up and had families of their own. Except Phyliss. So Phyliss became a favorite aunt to her nieces and nephews. We called her Aunt P and Aunt P was unique. In her mind, her nieces and nephews could do no wrong. I'm firmly convinced that if anyone told her one of her nephews was beating his wife she would have said the wife probably deserved it.
After my parents divorced, my father lived with Aunt P. Her sister, Elizabeth, contributed greatly to her well being and during the early 1950s gave Phyliss a TV. It was the first TV anyone in the family had and on Friday nights you could find several relatives in her living room watching the Friday night fights, sponsored by Gillette.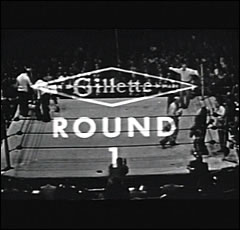 When I completed my tour in the U.S. Air Force in 1958, I stayed with Aunt P while I went to college. A couple of events that happened while I was there will always be etched in my mind.
One involved the day Aunt P went next door and asked her sister, Rena, to come help her find her teeth. She told Rena that he had been looking for them all morning and couldn't find them anywhere. They went back and combed Phyliss' house hunting the teeth. Finally, Phyliss said to heck with it and sat down to eat. After a few bites she told Rena eating without her teeth wasn't so bad. Rena looked at her and said "Fool, your teeth are in your mouth."
Another happened one night after we went to bed. I could hear moans coming from her room and I asked what was wrong. She replied that she couldn't move in the bed. The next morning I found out why she couldn't move. She had thirteen quilts and blankets on her bed.
Aunt P could always be counted on when her nephews (and probably nieces) needed a little money. If she was repaid every five and ten dollar loans she gave to them I believe she would have died a millionaire.
As I said earlier, Aunt P was unique and I loved her dearly.
Court records dating back to the 1630s create historical accuracy as the reader is taken back to the primitive days of colonial Virginia and Maryland where the Pattendens encounter life-changing difficulties with Indians, ducking stools, illness, massacres, death, loneliness, love, and greed.
READER REVIEW OF 

RIBBON OF LOVE: 2nd edition – A Novel of Colonial America 

 Book one: The exhilarating action and subplots keep the reader in constant anticipation. It is almost impossible to put the book down until completion. – Dr. Don P. Brandon, Retired Professor, Anderson University